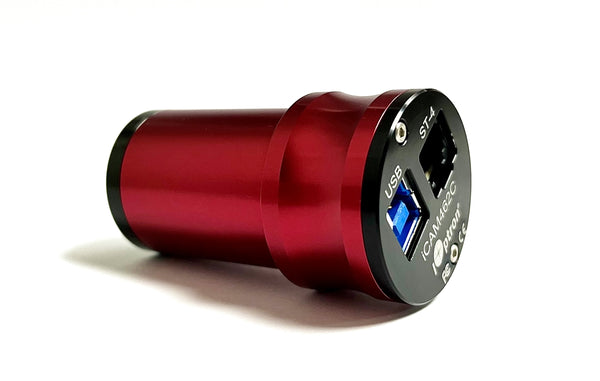 Free Expert Support
Why Purchase from All-Star Telescope?
Stress Free, Secure Shopping
Product Description
iCAM462C camera uses a Sony IMX462 color sensor. The imaging area is 1/2.8", with 2.9um pixel size, 2.1MP resolution (1944*1096) and diagonal of 6.5mm.
iCAM462C camera has a very high sensitivity. It is an ideal camera for planetary imaging. The camera has a very low readout noise. The testing results indicated that the readout noise is as low as 0.73e at a gain of 350 and around 0.7e at a gain of 400. The camera has a unique DPS (Dead Pixel Suppression) technology to eliminate the any abnormal/dead pixel by analyzing camera dark frames. The camera has a unique HCG mode, which will automatically turn on when the camera gain setting is ≥ 80. The HCG mode can greatly reduce the readout noise and retain the same high dynamic range as it at low gain. Due to its unique QE response, the sensitivity reaches the peak at 800-850nm. An IR850 or CH4 filter can be used with the camera for infrared imaging.
When the camera is connected to the USB3.0 interface and full-resolution preview is used, it can reach 136 fps in RAW8 mode (10bit ADC). During image recording, the actual recording speed is affected by the hard drive writing speed. It is recommended to use a high-quality solid state drive to record data to realize the full benefit of the USB3.0 data speed. The ST-4 guiding port allows one to connect the camera to a mount GUIDE port for ST-4 autoguiding.
Specifications
| | |
| --- | --- |
| Image Sensor | Sony IMX462 CMOS (color) |
| Sensor Size | 1/2.8" (5.6X3.2mm) |
| Max. Resolution | 1944 X 1096 (2.1MP) |
| Pixel Size | 2.9 µm |
| Frame Rate | 136 fps (at 10 bit, max. resolution) |
| Shutter | Rolling shutter |
| Exposure Range | 32µs ~2000s |
| Readout Noise | 2.6e~0.7e |
| QE | ~80% |
| Full Well | 12 Ke |
| ADC | 12 bit |
| HCG Mode | Supported |
| Optical Window | AR coated glass |
| Data Port | USB3.0 |
| Guide Port | ST-4 compatible |
| Telescope Adapter | 1.25" |
| Warranty | One year limited |
Why Should You Trust All Star Telescope?
We've Made All The Mistakes
So You Don't Have To
Learn More