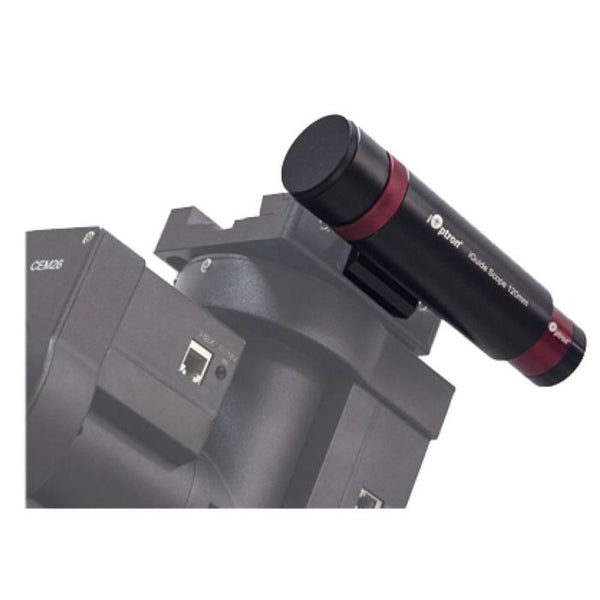 Free Expert Support
Why Purchase from All-Star Telescope?
Stress Free, Secure Shopping
Product Description
iOptron iGuiderTM compact autoguider system consists of portable mini guiding scope with a diameter of 30mm and focal length 120mm (Part # 3361) and a iGuider 1 Camera (Part # 3362).
The resolution of the autoguider is 6.44 arc sec/pixel, especially suitable for guiding with short to medium focal length telescopes. With dielectric AR-coated achromatic lenses, iGuider Scope is sharp in imaging and ensures high quality guiding. iGuider autoguider can mate with iOptron CEM26/GEM28/CEM40/GEM45* mounts seamlessly without any adapter. It also comes with a standard 19mm wide finder scope dovetail, readily fits with telescopes that have finder scope slot.
* For CEM40/GEM45 6" V/D dovetail saddle with 2XM3 mounting holes.
Specifications
| | |
| --- | --- |
| Weight | 200 g (including iGuide Scope and iGuider camera) |
| Aperture | 30mm |
| Focal length | 120mm |
| Focal ratio | F/4 |
| Mounting plate | 19mm dovetail bar |
| Pixel size | 3.75μm |
| Mega pixel | 1.2 MP |
| Chip size | 1/3" |
| Resolution | 6.44 arcsec/pixel (coupled with iGuide Scope) |
| Guiding method | Support Pulse Guiding (ASCOM Guiding), not support ST-4 Guiding |
| Dimensions | 1.25" telescope eyepiece adapter |
Not sure yet
As I have only used this guide scope two nights (only two cloudless nights in the last two weeks), I cannot say whether it is any better or worse than my QHYCCD miniscope and mathcing mono cam. I can only say that the spacing on the mount holes does not match that on my new Sky Hunter mount and that i see some odd vignetting on one side when there is too much light; but I am in Bortle 8, so tough to battle with that sort of thing. I will try to update the review when I am able to use the scope more.
ioptron mount
This mount works great, right out of]fthe box. Very nice
Why Should You Trust All Star Telescope?
We've Made All The Mistakes
So You Don't Have To
Learn More