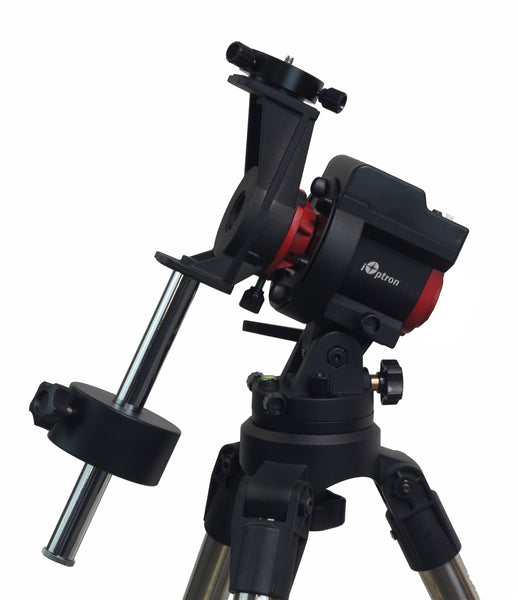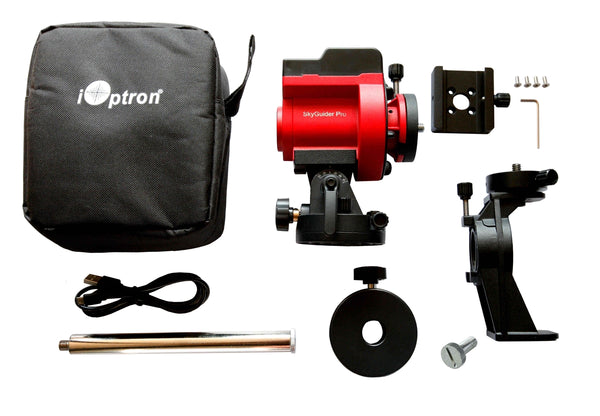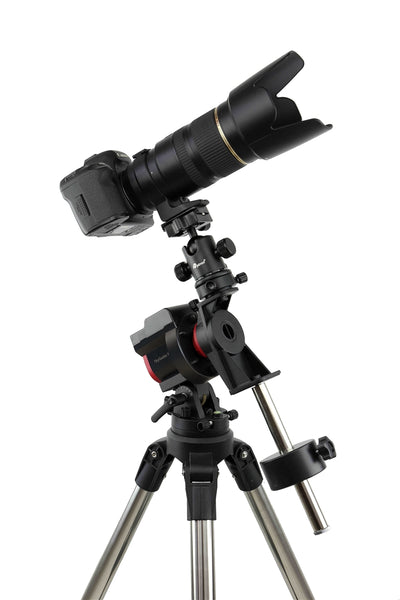 Free Expert Support
Why Purchase from All-Star Telescope?
Stress Free, Secure Shopping
Product Description
Having difficulty to polar align, especially in Southern Hemisphere? We have a solution: SkyGuider Pro with built-in iPolar! The SkyGuiderTM Pro -- iOptron's next generation camera tracking device! Leading the camera tracker market for nearly four years, iOptron's SkyGuider Pro pushes closer to perfection.
The redesigned SkyGuiderTM Pro mount head is more compact, small enough to fit on your palm, better precision, silent tracking, built-in rechargeable power source, ST-4 guiding port and camera trigger port. The DEC mounting bracket allows you to balance a heavy camera and/or lens better, or even mount a light telescope. The optional 8408 hand controller allows you to check the Pole Star position for the polar alignment, slew the mount, adjust the guiding rate, change the mount settings and control the camera trigger.
This mount has an integrated electronic polar finder scope known as the iPolar. This tool ensures the accurate alignment of a telescope, even when the pole star is obscured. There are large levers on the quick-lock drive engagement system; these large levers make it easy to snap the gears into place.
The SkyGuiderTM Pro features four tracking rates, 1X or sidereal, 1/2X for sky and landscape combined, solar and lunar. All 4 tracking rates work in both northern and southern hemispheres. We have also added a quick slew mode with both forward and reverse to help quickly reframing your image without disrupting the cameras position.
We have made big improvements on the SkyGuiderTM Pro's removable alt-azimuth base, which features a precision bubble level, degree markings for the altitude and a built in post for the azimuth control. You can also mount the SkyGuiderTM Pro head (without the base) directly to any standard photographic tripod with 1/4" or 3/8" threads.
The DEC mounting bracket package, which includes DEC mounting bracket, counterweight shaft, counterweight and Vixen-type dovetail saddle, makes the SkyGuideTM Pro mount suitable for a heavier camera/lens system, even a lightweight telescope.
The SkyGuiderTM Pro is certainly a must have tool for any photographer interested in astroscape or wide field astrophotography.
What's in the Box
Specifications
| | |
| --- | --- |
| Mount | Compact single axis tracking EQ |
| Payload (Max.) | 11 lbs (5kg), balanced |
| Mount weight | 2.2 lbs (1kg) with battery |
| Mount weight with base | 3.2 lbs (1.45kg) with battery |
| Body material | All metal |
| RA shaft | Φ35mm, steel |
| Worm wheel | Φ88mm, 144 teeth aluminum alloy |
| R.A. worm | Φ15.2mm, brass |
| Bearing | 4 pieces |
| Motor drive | DC servo motor with optical encoder |
| Tracking | R.A. automatic |
| Tracking speed | Solar, Lunar, Cel, 1/2 Cel, and N/S |
| Fast slew speed | 144X, forward and reverse |
| Guiding port | ST-4 compatible |
| Polar scope | iPolar Electronic Polar Scope |
| Camera trigger | Yes |
| Hand controller | Yes (with optional 8408 HC) |
| Power Requirement | Internal rechargeable battery |
| Battery type | Li-Poly, 3.7V, 2000mAh |
| Duration of operation | Up to 20 hours at 20ºC |
| Power charge port | Micro USB (5V), 80% charge in 5 hours |
| Camera mounting block | Φ62mm, 3/8" post thread |
| Body base connection | Vixen dovetail, 3/8" socket (1/4" converter) |
| Alt-Azi adjustable base | Vixen style saddle, 3/8" socket |
| Alt-Azi adjustable base diameter | Φ80 mm |
| Latitude adjustment range | -30º ~ 65º (with alt-azi base) |
| Azimuth adjustment range | ±5º |
| Level indicator | Level bubble |
| Body dimension | 133x115x95 mm (w/o alt-azi base) |
| Counterweight shaft | Φ20x200 mm w/ 3/8"-16 threads |
| Counterweight | 1.35kg |
| Firmware upgrade | Yes (via USB port) |
| Operation Temperature | -10ºC ~40ºC |
| Warranty | One year limited (90 day on battery) |
Why Should You Trust All Star Telescope?
We've Made All The Mistakes
So You Don't Have To
Learn More