Brand: Optolong
Optolong LRGB Filter Kit 2" Mounted (OPT-LRGB-KIT-2)
OPT-LRGB-KIT-2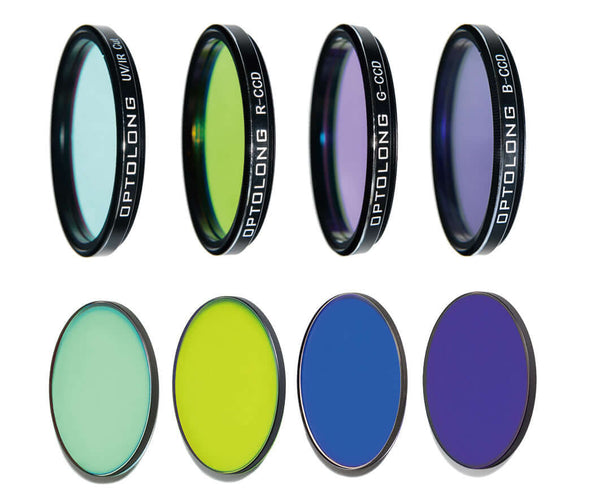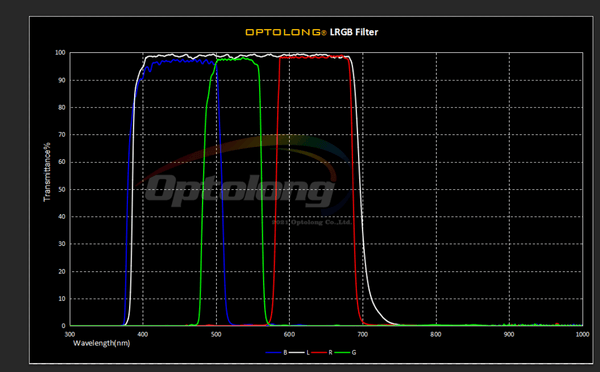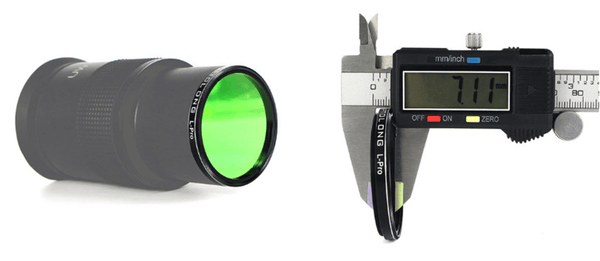 Brand: Optolong
Optolong LRGB Filter Kit 2" Mounted (OPT-LRGB-KIT-2)
OPT-LRGB-KIT-2
Free Expert Support
Why Purchase from All-Star Telescope?
Stress Free, Secure Shopping
Product Description
Optolong LRGB filter set is designed for maximum contrast and with extremely high gradients for clear differentiation of colours. The LRGB filter set divides the spectrum into its components red, green, blue and luminance.
OIII emission overlaps on blue and green filters with maximum transmission to allow high efficiency and natural colour imaging. Gap between green and red filters serves to block out the primary Sodium light pollution line at 589nm and improves colour balance and separation.

RGB, parfocal 1:1:1
Create images in their true original colours showing a wealth of natural detail
Steep bandpass filters to eliminate UV and IR interference
Include Luminance (UV/IR Cut), Red, Green, and Blue filters to reproduce the star's colour
Coating Technology

Multi-layers anti-reflection coating
Non-cementing optical substrate coating
Optolong L-Pro filter adopts precision coating based on Ion-assisted deposition coating technology for durability and resistance to scratching, as well as stability on CWL(central wavelength) no deviation affected by temperature change.
Planetary rotation system offers precision and homogeneity of coatings ensuring high value on transmission of pass-band and Optical density of off-band.
Warm Prompt

About colour: due to the influence of ambient light, colour difference of the display and flash photography, the colour of the product may have some colour difference. Detailed colour is in accordance with the final product.
About coating: the interference filter will show different colours under different light, which is a normal phenomenon. Please refer to the material object.
About the style: in order to improve the product, the change of design/appearance/parameters has not been updated in time. Please see the subject produce.
About the description: the series of this product have the same material, technology and design, different sizes only, please note.
Optolong LRGB 2' Filters
I have been using this set with an ASI 2600 monochrome camera and SW 120 Esprit -have been satisfied with performance to date. These filters divide the spectrum into its components red, green, blue and luminance. The price point is good, they are safely packaged in plastic casings. On inspection, they are professionally constructed and fit well with ZWO filter wheel. I have not done side-by-side comparison with similarly or more expensively priced filter sets, but performance to date has been solid. With deep space astrophotography, subs showed no star halos or any reflections and colors were clearly differentiated. Filters were all parfocal and images were contrasty.
Why Should You Trust All Star Telescope?
We've Made All The Mistakes
So You Don't Have To
Learn More