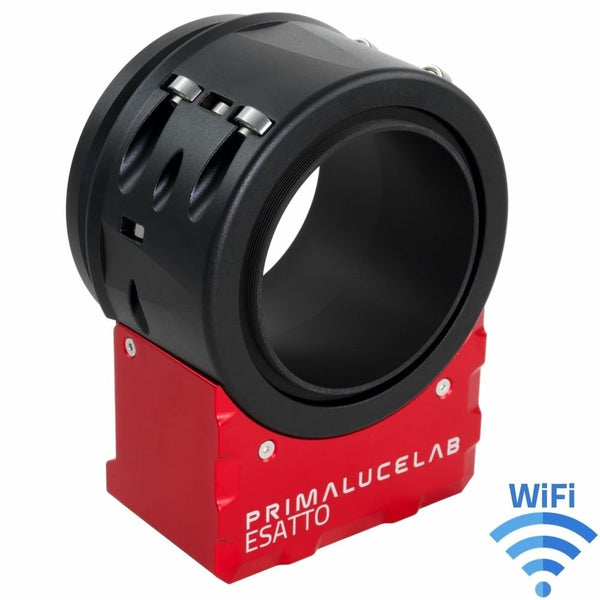 Free Expert Support
Why Purchase from All-Star Telescope?
Stress Free, Secure Shopping
Product Description
ESATTO 3" is the robotic focuser perfect for many telescopes like large refractors, Ritchey-Chretiens o Cassegrains! ESATTO is specifically designed for astrophotography but, thanks to specific technologies developed by PrimaLuceLab, it also has the Virtual HandPad with WiFi control from smartphone or tablet. Forget about external controllers and cumbersome hand pads - ESATTO is the ALL-IN-ONE focuser that has all the features you've dreamed of in a compact, sturdy focuser design.
Crayford style focuser with 28 ball bearings, specially designed for very high load capacity (up to 8 kgs) with no flexure.
Low profile design with only 58mm thickness (77mm with internal flange).
25mm focuser travel with an incredible resolution of 0.04 microns per step!
Special adapters to easily connect to many different telescopes.
Remotely controlled from EAGLE or any Windows computer, it's also provided with ASCOM driver.
USB-C connector offering greater reliability and can be connected to any USB type port thanks to the included cable.
It works also with PLAY astrophotography software, much more than a standalone program.
Remote control with WiFi from any smartphone, tablet or computer and Virtual HandPad app also for visual use!
Many camera threaded adapters with stop ring on the camera side to rotate and keep the camera in the optical axis.
ARCO port to easily connect the ARCO camera rotator and field de-rotator to the ESATTO without the need for additional USB or 12V power cables.
Weight: 1345 gr.
Large diameter for more free aperture and weight load capacity
Compared to the 2" model, ESATTO 3" offers a greater free aperture (76mm against 51mm of ESATTO 2") so it is perfect for astrophotography with telescopes such as large apochromatic refractors, Ritchey-Chretien or Cassegrain and heavy cameras with accessories like off-axis guiders, filter wheels and adaptive optics. The large free aperture also allows the use of special focal reducers or correctors. A special design with 28 bearings allows to increase the load capacity to 8 kg.
The best performance in a robotic focuser
ESATTO 3" has all the advanced features included in the ESATTO focusers: connection to Windows control computer (or EAGLE) with a robust USB-C port (you can connect ESATTO to any USB port thanks to the cable included in the package), control and setting software with ASCOM driver to use also with any astrophotography software (tested with Windows 10 computers), remote control via WiFi using the dedicated ESATTO Virtual HandPad app (to control it even without a computer).
Many adapters available to connect to many telescopes and cameras
We know that a perfect focuser is nothing without a solid connection to the camera. That's why, instead of using a normal 2" visual back, ESATTO 3" offers a M81x1 male thread and, through a complete series of optional camera adapters with stop ring, it allows you to directly connect the most common DSLR, mirrorless and CCD or CMOS cooled cameras directly at the focuser. The stop ring allows you to lock the camera at a precise angle to better frame the object to be photographed. The stop ring adapters are available in many different sizes: this way you can connect, with maximum rigidity and comfort, any camera or accessory. We have also prepared several adapters to connect ESATTO 3" to many telescopes!
Connect with a single cable to ARCO to remotely control also the camera rotator and field de-rotator
ESATTO includes a special port allowing ARCO, the camera rotator and field de-rotator, to be directly connected. With ARCO, you can remotely control the rotation angle of your camera in order to achieve perfect framing of the object you want to record. If you have an alt-az mount, you can use ARCO to de-rotate the field without the need of an equatorial wedge! ESATTO and ARCO are designed to work together - You will need only one short interconnect between the two!
Specifications
Dimensions

Why Should You Trust All Star Telescope?
We've Made All The Mistakes
So You Don't Have To
Learn More