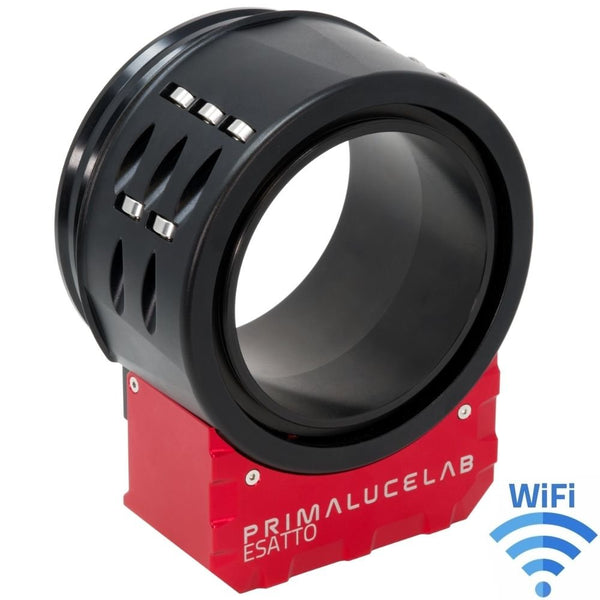 Free Expert Support
Why Purchase from All-Star Telescope?
Stress Free, Secure Shopping
Product Description
ESATTO 4" is the larger robotic focuser in the ESATTO family and, thanks to the large 102.2mm free aperture and high 10kg payload capacity, it's perfect for large professional telescopes usually found in observatories or for astrographs offering a large corrected image circle that require the use of focusers with large free aperture, like the Takahashi FSQ-106.
Crayford style focuser with 40 ball bearings, specially designed for very high load capacity (up to 10 kgs) with no flexure
Low profile design with only 65mm thickness (91mm with internal flange).
35mm focuser travel with an incredible resolution of 0.04 microns per step!
Remotely controlled from EAGLE or any Windows computer, it's also provided with ASCOM driver.
USB-C connector offering greater reliability and can be connected to any USB type port thanks to the included cable.
It works also with PLAY astrophotography software, much more than a standalone program.
Remote control with WiFi from any smartphone, tablet or computer and Virtual HandPad app also for visual use!
ARCO port to easily connect the ARCO camera rotator and field de-rotator to the ESATTO without the need for additional USB or 12V power cables.
Weight: 2050 gr.
All-in-one design for the best performance also with professional telescopes
ESATTO 4" has all the most advanced technologies that allow you to get the best performance from your telescope: incredible resolution capacity of 0.04 microns per step, design with 40 bearings to offer exceptional precision and load capacity, reversible USB-C port for control from EAGLE or any external computer, ARCO port for use together with the optional robotic rotator, dimmable status LEDs that can also be turned off, WiFi connection with Virtual HandPad included for use even without a computer.
The perfect focuser for Takahashi FSQ-106 astrograph
Thanks to special optics, Takahashi FSQ-106 is one of the best performing astrographs and it's used by the best astrophotographers in the world. The special internal corrector is so large that ir requires a very large focuser to use it. For this reason ESATTO 4" is the ideal focuser for the Takahashi FSQ-106 telescope thus allowing remote and high precision control even of very heavy cameras and accessories.
Special adapter for Takahashi FSQ-106 and to connect Takahashi photographic adapters
In order to allow you to install ESATTO 4" in place of the original Takahashi focuser, we have designed a special adapter that makes ESATTO 4" have the same thickness of the original focuser. In addition, we have created an adapter to be screwed to the M110x1 thread of the ESATTO 4" draw tube to convert it into an M92x1 female thread which is the same as the one on the original Takahashi focuser. In this way you can remove the original focuser, install ESATTO 4" with the optional adapters and you will find focus point with the same photographic adapters you used before!
Connect with a single cable to ARCO to remotely control also the camera rotator and field de-rotator
ESATTO includes a special port allowing ARCO, the camera rotator and field de-rotator, to be directly connected. With ARCO, you can remotely control the rotation angle of your camera in order to achieve perfect framing of the object you want to record. If you have an alt-az mount, you can use ARCO to de-rotate the field without the need of an equatorial wedge! ESATTO and ARCO are designed to work together - You will need only one short interconnect between the two!
Specifications
Dimensions

Why Should You Trust All Star Telescope?
We've Made All The Mistakes
So You Don't Have To
Learn More