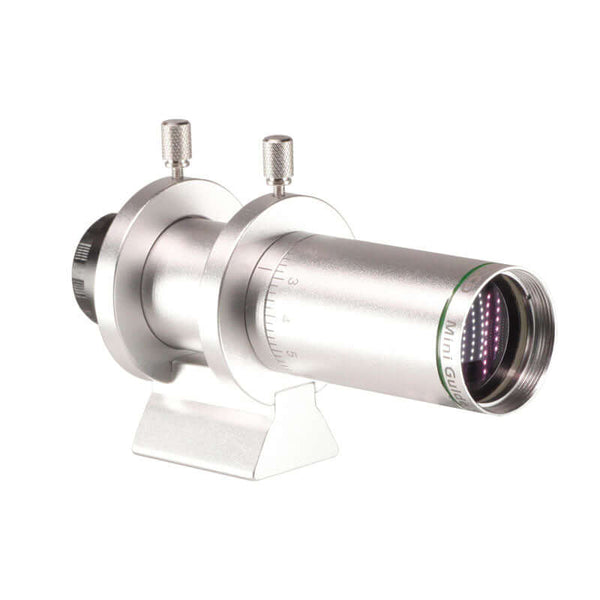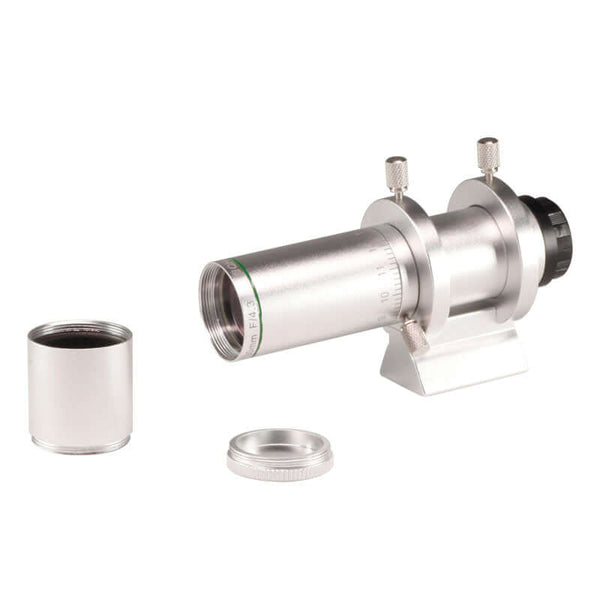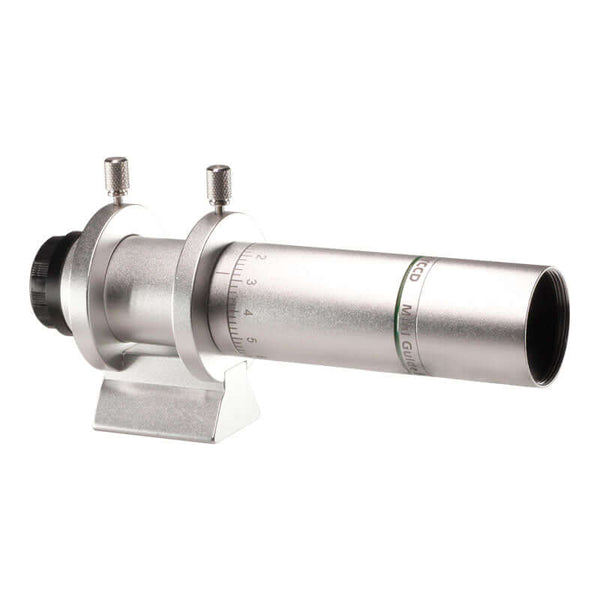 Free Expert Support
Why Purchase from All-Star Telescope?
Stress Free, Secure Shopping
Product Description
When the pixels of a guide camera becomes small and QE becomes high, you may not need a big guide scope, smaller pixels can detect the guide error in a shorter focal length. And, when the focal length is reduced, the FOV becomes larger, so it is easier to find bright guide stars.
QHYCCD's new miniGuideScope is based on just this idea. The miniGuideScope is a 30mm f/4.3 (130mm FL) ultra-small telescope. It has no complex focal adjust system. Just rotate the front of the OTA and it provides fine focal adjustment. Once focus is achieved, the tube can be locked into position and there is not need to focus again unless the system is moved.
The miniGuideScope provides pin-point star images as sharp as any lens in the industry.
Small with High Precision
The miniGuideScope has a focal length of 130mm and a diameter of 30mm. The weight is only 111g. The use of broadband anti-reflection coating on the achromatic lens assures image quality that is sharper then the use of a telephoto industrial lens. Sharper star images provide better feedback regarding tracking error, so the accuracy of the system is improved.
Focusing design
The front threaded focusing design with locking screw greatly simplifies the focusing mechanism without compromising accuracy. A number is engraved on the front focus ring to make it easy to remember the focus position. It can even be replaced with a short screw to permanently lock it in place once good focus is achieved.
Broadband AR coating Achromatic Lens
Broadband anti-reflection coating on the achromatic lens assures sharp star images thus improving the tracking accuracy of the system.
Pursuit of Excellence
In the era of high sensitivity and small pixel cameras, do you need a large and heavy guide scope? The answer is negative. Due to the high resolution (smaller pixels size) of the guide camera and the increase of the pixel density, the guide scope does not need to be a long focal length to sense the movement of the star image. As sensitivity is improved, it does not require a large aperture. As the focal length of the guide scope is shortened, the field of view increases, so that more
Compatible Cameras
QHY5III 178C
QHY5III178 M
QHY5III185
QHY5III174
QHY5III290
Specifications
Diameter
30mm
Focal Length
130mm
Aperture
1:4.3
Object Lens Type
Doublet
Focus System
Front Side Focuser
Focus Locker
Yes
Camera Interface
C/CS Mount
Compatible Cameras
QHY5II and QHY5III series
Anti-Scatter Light Matt Paint
Yes, Internal painted
Weight (OTA only)
111g
Telescope Connector
Optional Standard ViewFinder Scope
Connector with Tripod Screw Thread
Diameter of the OAT
31.6mm
Focus Adjustable Range
Inf. to 1.5 meter
Why Should You Trust All Star Telescope?
We've Made All The Mistakes
So You Don't Have To
Learn More