Brand: QHYCCD
QHYCCD QHY163M (Mono) Astronomy Cooled Camera / Guiding Scope (QHY163M)
QHY163M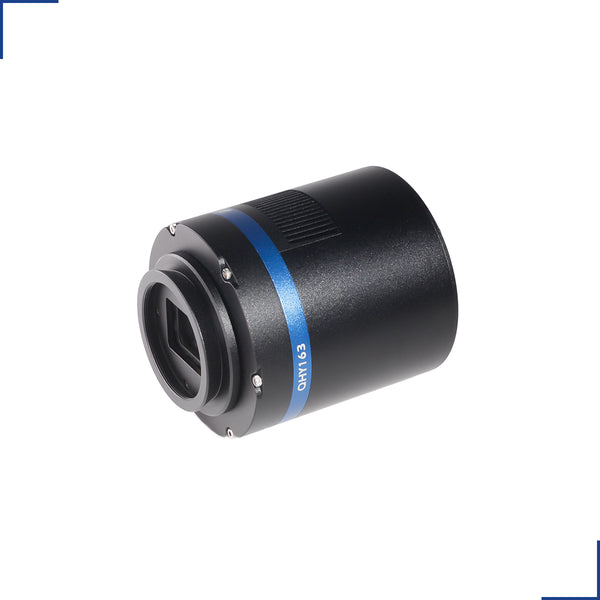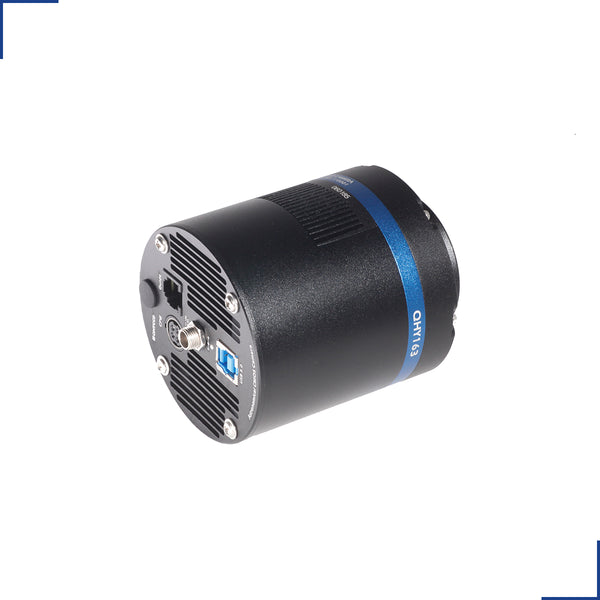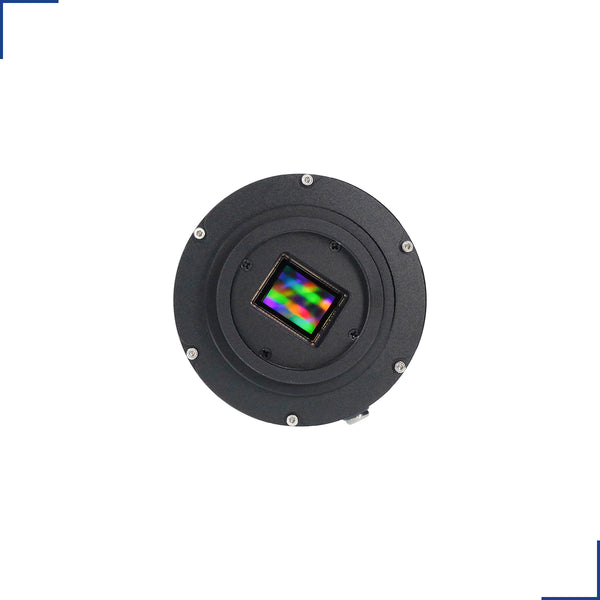 Brand: QHYCCD
QHYCCD QHY163M (Mono) Astronomy Cooled Camera / Guiding Scope (QHY163M)
QHY163M
Free Expert Support
Why Purchase from All-Star Telescope?
Stress Free, Secure Shopping
Product Description
QHY163 is a model designed for astrophotography beginners. It exhibits excellent sensitivity and low noise with its 4/3-inch sensor having about twice the field of view. It is well suited to planetary and deep-space imaging particularly when mated with the CFW3 filter wheel. This model has two-stage thermal electric cooling of the sensor to about minus 40 degrees C below ambient for maximum reduction of dark current noise in long exposures.
QHY163 incorporates QHY's Anti-Amp Glow technology to significantly reduce typical CMOS amplifier glow to a minimum, allowing excellent calibration by subtracting a dark frame.
QHY163 utilizes the Anti-Dew features common to the QHY COLDMOS cameras. Dew is moisture that condenses from the air onto the outside of the chamber window. Frost is water vapor that freezes when it comes into contact with the inside of the chamber window or the surface of the sensor. QHY has nearly 20 years of experience designing cooled cameras and these models benefit from those years of anti-dew and anti-frost design experience. To help prevent dew from forming on the chamber window heating elements are built into the light shield just above the chamber. To avoid frost from forming inside the chamber a desiccant tube is provided that can easily be attached by the user to the outside of the camera when needed to dry the internal atmosphere of the chamber and remove any built-up moisture.
QHY163 models can be used as guiding devices, too. The Opto-isolated guiding port is a standard ST-4 configuration using an RJ11 style Jack. A guiding cable is included with each camera.
The QHY163M uses a relatively large 4/3-inch, 16 Megapixel CMOS sensor, available in both monochrome and color. The QHY163M has exceptionally low readout noise (as low as 1 electron!), low dark current and two-stage cooling capable of reducing the sensor temperature to -40C below ambient. The sensor chamber is sealed and the optical window is heated to prevent dew. The camera's interface is USB 3.0 and delivers 23FPS@16 megapixel full resolution output, 30FPS@4K HD video output.
Specifications
CMOS Sensor
Panasonic 16mega pixel 4/3inch sensor
Mono/Color
Mono only (163C discontinued in 2020)
FSI/BSI
FSI
Pixel Size
3.8um*3.8um
Effective Area
4656*3522
Effective Pixels
16 mega
Sensor Size
Typical 4/3inch
17.7mm*13.4mm
Fullwell
18ke- to 20ke-
AD Sample Depth
12bit/10bit (output as 16bit and 8bit)
Max Full Frame Rate and ROI Frame Rate

22.5FPS@16mega Full Resolution
30FPS@4K HD Video
57FPS@1920*1080
60FPS@1280*1024
80FPS@1024*768
100fps@800*600

Readout Noise
2.4e @ low gain
1.0e @ high gain
Dark Current
0.006e/pixel/sec @ -20C
Exposure Time Range
60us-1800sec
Unity Gain
120
Anti-Glow Control
Yes
Shutter Type
Electric Rolling Shutter
Computer Interface
USB3.0
Built-in Image Buffer
128MByte DDR2 memory
Cooling System
Dual Stage TEC cooler (about -40C below ambient)
Note: Test temperature +20°
Optic Window Type
QHY163M: AR+AR High Quality Multi-Layer Anti-Reflection CoatingQHY163C: IR cut filter
Anti-Dew Heater
Silicon gel tube socket
Telescope Interface
M42/0.75
Back Focal Length
17.5mm
Weight
442g
Why Should You Trust All Star Telescope?
We've Made All The Mistakes
So You Don't Have To
Learn More