Brand: ZWO
ZWO 36mm OIII 7nm Unmounted Filter (ZWO-OIII7NMD36)
ZWO-OIII7NMD36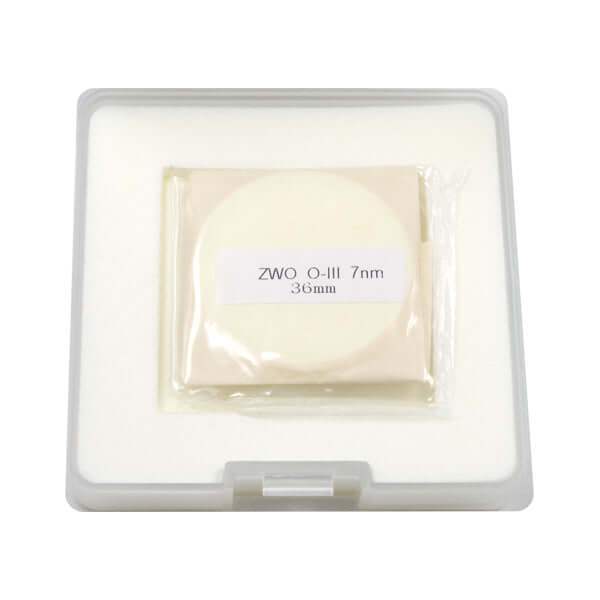 Brand: ZWO
ZWO 36mm OIII 7nm Unmounted Filter (ZWO-OIII7NMD36)
ZWO-OIII7NMD36
Free Expert Support
Why Purchase from All-Star Telescope?
Stress Free, Secure Shopping
Product Description
Narrowband filter do not eliminate the effects of light pollution or increase the object's brightness. In many cases, they increase the contrast between nebula and night sky, not brightening the nebula.
The ZWO narrowband O-III 7nm filter is designed for nebula observation allowing 7nm bandwidth of light centred on a wavelength of 500nm through, which corresponds to OIII emission lines, blocking out all other light. Adding the ZWO O-III Narrowband filter to your imaging collection will help you go beyond the RGB imaging and will help capture your favourite nebulas in a totally new light, no matter how polluted your skies may be!
It can reduce the transmission of certain wavelengths of light, specifically those produced by artificial light including mercury vapour, and both high and low pressure sodium vapour lights and the unwanted natural light caused by neutral oxygen emission in our atmosphere (i.e. skyglow).
Specifications
Name: ZWO New narrowband 36mm filter
Size: D=36mm
Thickness: 2mm
Why Should You Trust All Star Telescope?
We've Made All The Mistakes
So You Don't Have To
Learn More