Brand: ZWO
ZWO ADC Atmospheric Dispersion Corrector (ZWO-ADC)
ZWO-ADC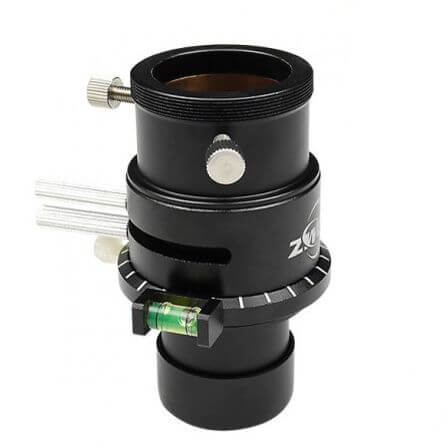 Brand: ZWO
ZWO ADC Atmospheric Dispersion Corrector (ZWO-ADC)
ZWO-ADC
Free Expert Support
Why Purchase from All-Star Telescope?
Stress Free, Secure Shopping
Product Description
ZWO Atmospheric Dispersion Corrector is used to reduce the effect of atmospheric dispersion on lunar and planetary images.
The ZWO device is modular with three parts: a removable 1.25" to T-thread nosepiece, the main body, and a T-thread to 1.25" compression ring adaptor (with T-threaded top) to fit your eyepiece or camera. This design means that you can use the 1.25" nosepiece to fit the device into your imaging chain or, if you prefer, you can use the more stable T-thread connections. However, if you connect with a T-thread, then you need to have a way of rotating the ADC body to line things up.
Specifications
I have not used the new one yet
I have not used the new one yet, but last year I was borrowing one from a friend. It makes a difference in sharpness and colours of planets and stars in lower altitude.
Why Should You Trust All Star Telescope?
We've Made All The Mistakes
So You Don't Have To
Learn More