Brand: ZWO
ZWO AM5 Harmonic EQ and AZ Mount (ZWO-AM5)
ZWO-AM5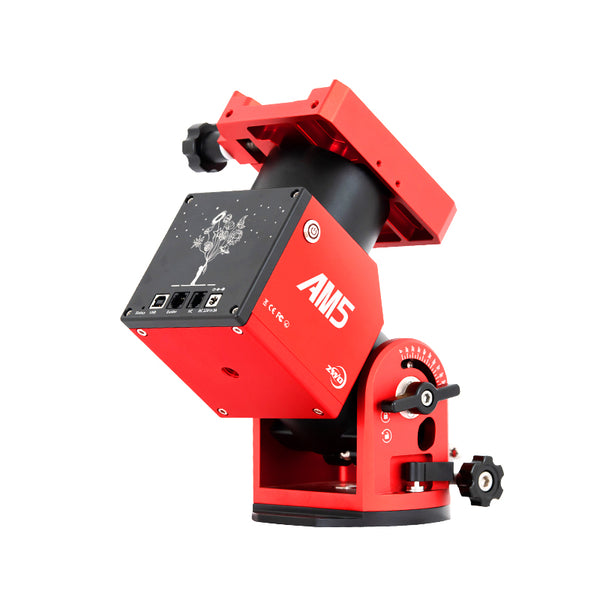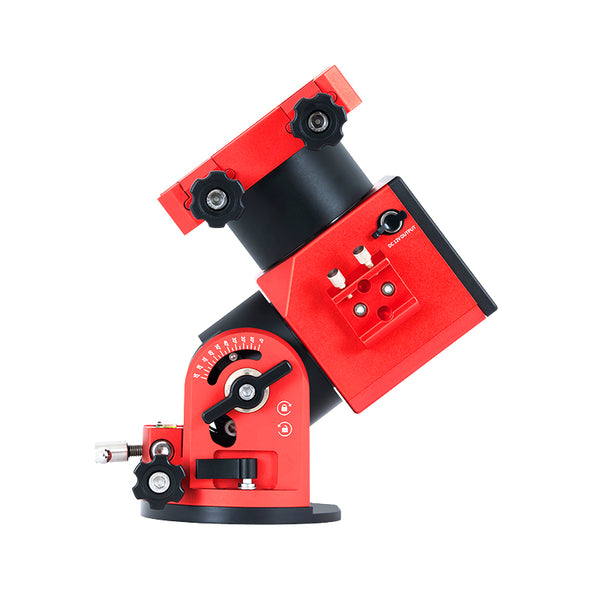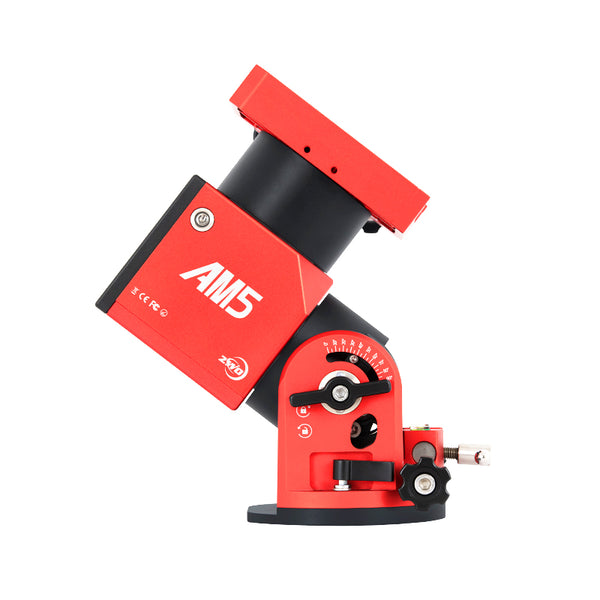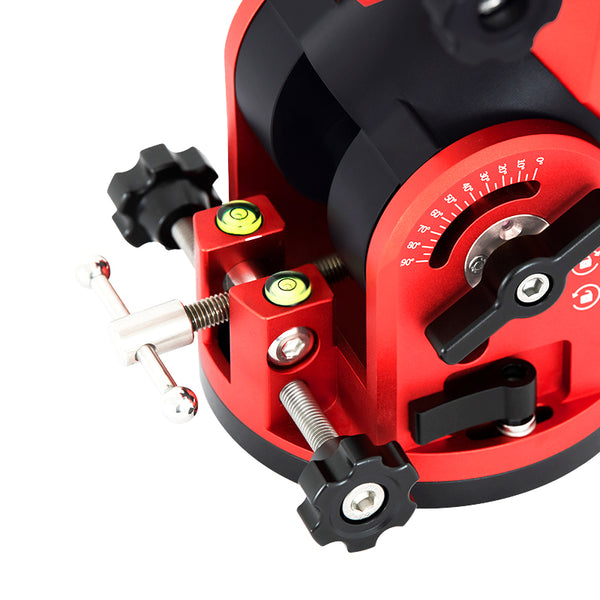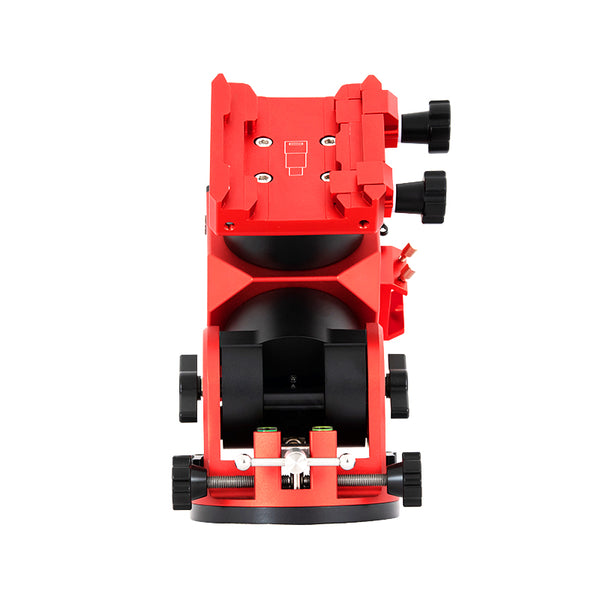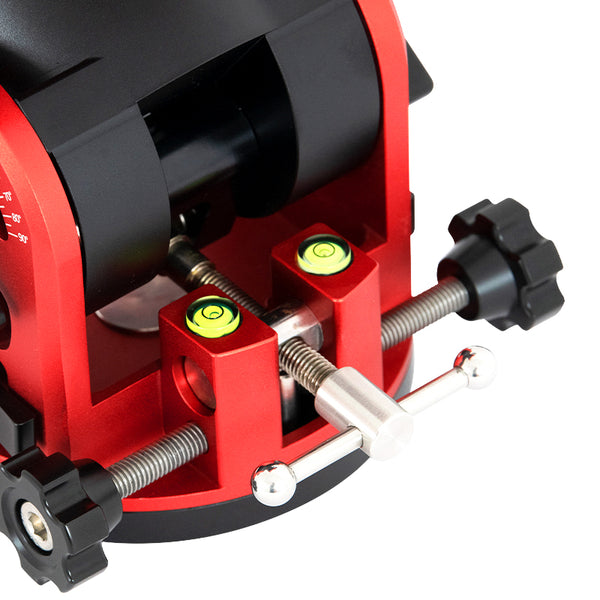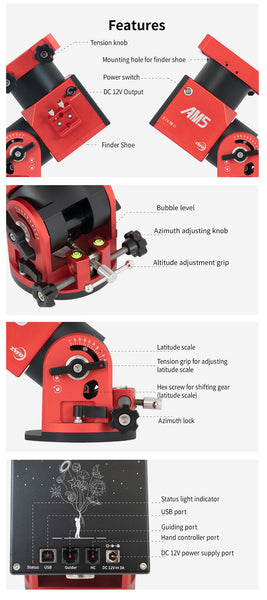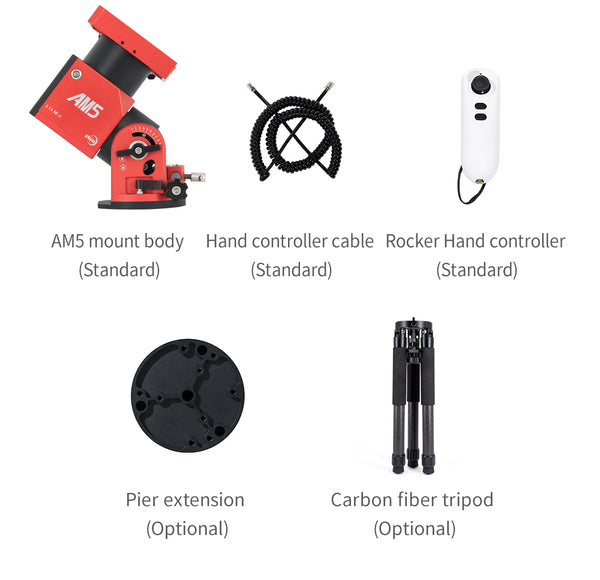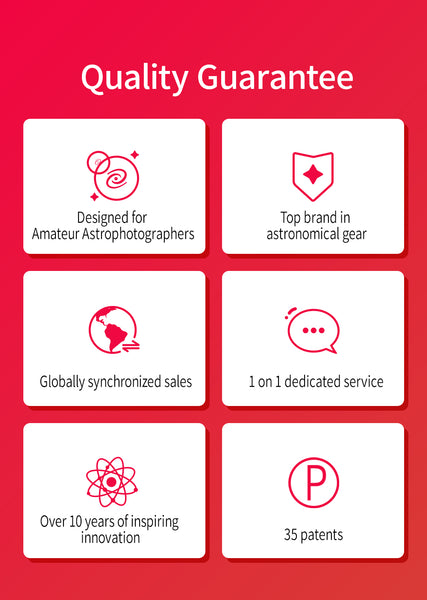 Brand: ZWO
ZWO AM5 Harmonic EQ and AZ Mount (ZWO-AM5)
ZWO-AM5
Free Expert Support
Why Purchase from All-Star Telescope?
Stress Free, Secure Shopping
Product Description
Mount Body
The traditional equatorial mount requires heavy counterweights. It can be very difficult to keep balance in RA and DEC directions, also inconvenient for transit and storage, which bring the amateur astrophotographers a lot of pain when they are out for imaging.
Some of the strain wave geared drive mounts are relatively simple in functions, insufficient in load capacity, also not very stable in use.
The internal structure of the body optimized with the strain wave gear reducer and synchronous belt, bringing more accurate control and an amazing reduction ratio of 300:1.
Astronomy-Dedicated Strain Wave Gear
ZWO jointly developed the strain wave gearing system with well-known domestic manufacturers based on the actual needs of astrophotographers. It comes with very low periodic errors, smooth gearing and high torque. The guiding accuracy is 0.5-0.8 arc seconds, which makes the AM5 mount extremely suitable for astrophotography.
5.5kg Mount Weight, Large Load Capacity
While the portability is very important, the stability is also essential in use. We don't blindly pursue the lightweight of the mount body; we are more so along the lines of stability for entire use.
The capacity of this mount is 13kg without any counterweights attached, and increases to 20kg when using (up to) a 5kg counterweight.
Note: the counterweight should be secured on a counterweight bar of no more than 25cm in length.
Equatorial Mount / Altazimuth Mount
Equatorial Mount Mode: Suitable for tracking and photographing objects
Altazimuth Mount Mode: Suitable for observing objects
You can switch between these two methods with the app, or through the hand controller.
Other Features
Status Light Indicator

Red Light: Indicated equatorial mount mode
Green Light: Indicates altazimuth mount mode

All-Round 0-90 Degree Pitch Angle

Gear 1: Adjust the pitch angle grip to achieve any degree between 0 and 60
Gear 2: Loosen the hex-head screw, then adjust the pitch angle grip to achieve any degree between 45 and 90.

Wireless Control

Tonight's Target, GOTO, Live Preview, and so many great functions can be achieved through your phone.

Rocker-Style Hand Controller

Comfortable touch and easy to use, integrated with WiFi network allows for wireless control.

Power Failure Protection

ZWO AM5 mount is equipped with a brake design in case of a sudden power failure, which will prevent the telescope from falling and being damaged.

Seamless Linkage with ASAIR

ASIAIR can control AM5 via wired or wireless connection. The ASI package gives customers the best astrophotography experience.
What's in the Box
Specifications
Mount type
Equatorial mount
Mount mode
Equatorial mode / Altazimuth mode
Drive
Strain wave gear + Synchronous belt
(Reduction ratio: 300 : 1)
Periodic error
<±20°
PE duration
432 S
Drive (RA)
NEMA42 stepper motor + Model No. 17 (Reduction ratio: 100:1) + Brake
Drive (DEC)
NEMA35 stepper motor
(Reduction ratio: 100:1) + Model No.17
Load capacity
13kg without counterweight
20kg with counterweight
Weight
5kg
Latitude adjustment range
0°-90°
Azimuth angle adjustment range
±10°
Dovetail
Losmandy & Vixen 500g
Interface thread of counterweight shaft
M12
Stepper motor resolution
0.17"
Max slew speed
6°/S
Slew rate
0.5x, 1x, 2x, 4x, 8x, 20x,60x, 720x, 1440x
Power port
DC5.5-2.1 (12V-3A)
Power consumption
12V / 0.386A (Standby)
12V / 0.58A (Tracking)
12V / 1.7A (GOTO)
Guide port
ST4
Communication interface
USB/WiFi
Zero position
Mechanical
Operating temperature
-15°C - 40°C
Power failure protection
Yes
Amazing performance from a small package.
Extremely well built. With a little tuning by following a guide on ZWO's forum, I was able to achieve between 0.3" to 0.7" guiding over multiple nights with an imaging rig weighing ~20lbs. The seeing conditions were very bad due to the smoke, so I can expect this to be the worst case scenario.
This mount is my favorite piece of astronomy gear I've purchased.
AM5
Great design. It is perfect for a mobile set up I'm using it for my refractors up to 101mm aperture. Seamless integration with the ASI Air.
Exceptional performance in lightweight echosystem
The ZWO echo-system founded on the AM5 mount and ASI Air Plus are hands down winners in an antiquated GEM and counterweight market. I plopped my mount on packed snow, loaded it up and easily picked it up and moved it to find Polaris. After an easy polar alignment, slew to object and guider calibration, I was taking 300S narrow band images and autoguiding at 1.25" peak to peak error. For a pack light, pick up and go, always have on hand system, this is it.
ZWO AM5 mount
The unit comes in a well built case.
The unit is light weight and very simple to mount on ZWO TC40 carbon fibre tripod sold separately.
Everything worked as expected withe my new ASIAir Plus, the guiding was awesome
and every ZWO components cameras, EFW, EAF worked perfectly as expected.
The Little Robot That Could
There's not much I can add to all the glowing reviews for this mount. The integration with the ASIAIR Plus is as simple as it gets. With an indoor polar alignment ( No, You cannot plate solve through a wall or roof ) pointing accuracy has been very good. Tracking on solar system objects has been great.
Can't wait for the cold weather to be over to bring it outside.
Why Should You Trust All Star Telescope?
We've Made All The Mistakes
So You Don't Have To
Learn More