Brand: ZWO
ZWO ASI183MM Pro USB3.0 Cooled Monochrome Camera (ASI183MM-P)
ASI183MM-P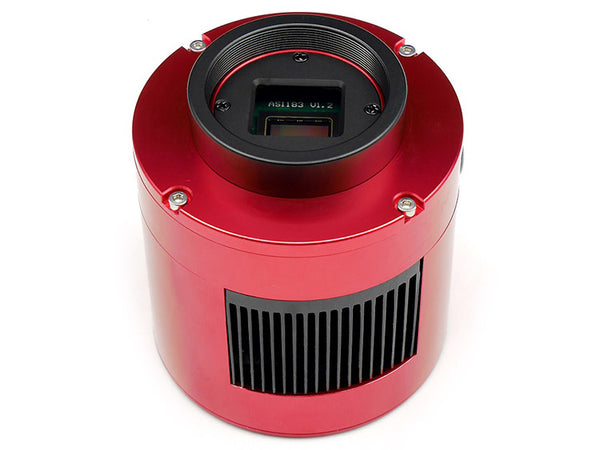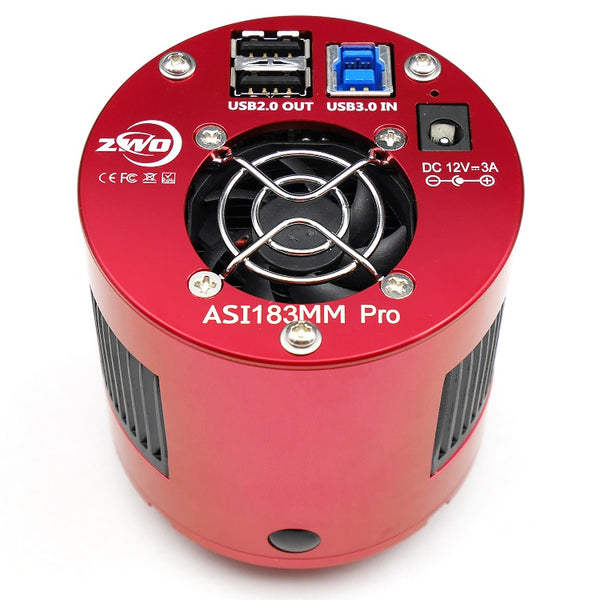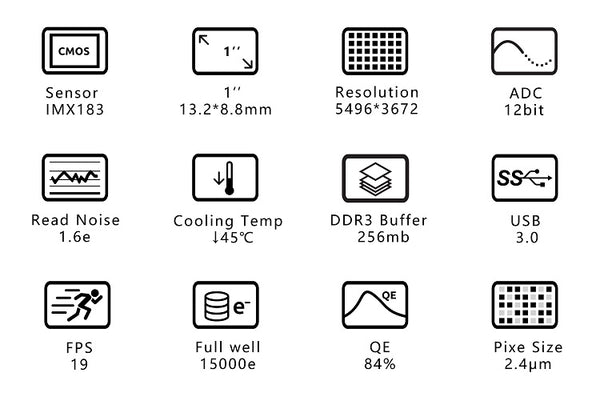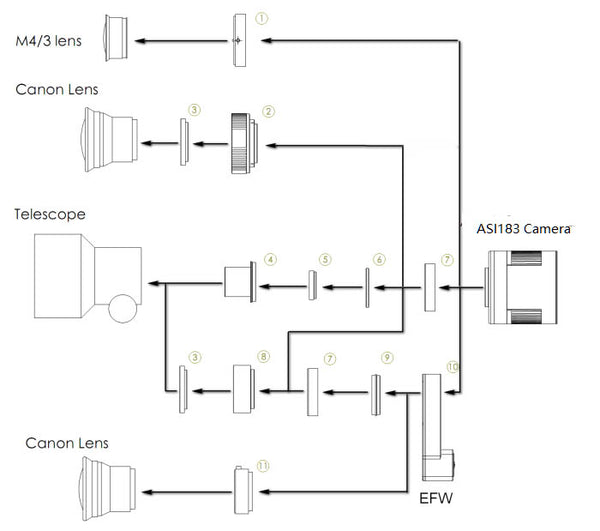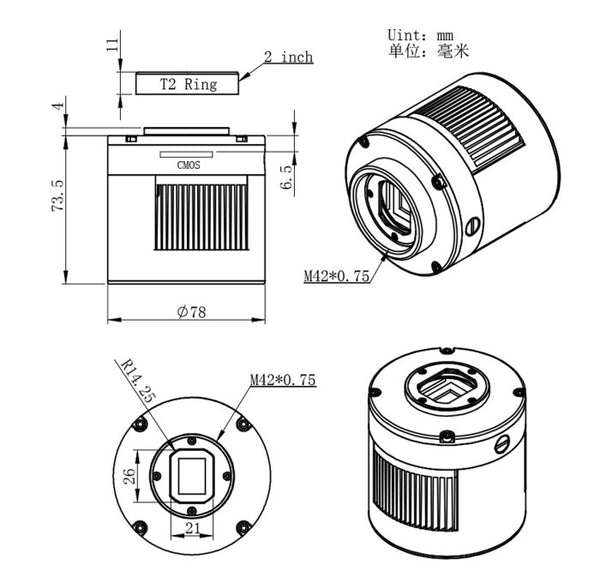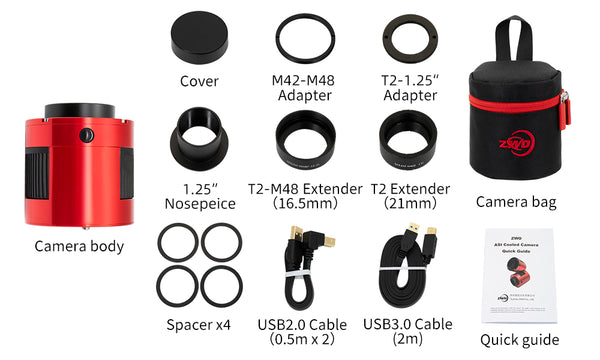 Brand: ZWO
ZWO ASI183MM Pro USB3.0 Cooled Monochrome Camera (ASI183MM-P)
ASI183MM-P
$1,214.10 CAD
Save: $134.90
Free Expert Support
Why Purchase from All-Star Telescope?
Stress Free, Secure Shopping
Product Description
ASI183MM Pro uses Sony's IMX183CQJ-J sensor. With a high QE-value and low provides excellent image quality at an affordable price.
Sony IMX183CLK-J/CQJ-J Sensor
This back-illuminated, rolling shutter-type CMOS sensor has a diagonal of 15.86 mm and approximately 20.2 megapixels.
High-Speed and High-Picture-Quality Rolling Shutter-Type Back-Illuminated CMOS Image Sensors
Designed for astrophotography, the Sony IMX183CLK-J (monochrome) and IMX183CQJ-J (colour) sensors use high-sensitivity back-illuminated structures with high resolution 2.4 μm square pixels. The optical size is 1 inch.
Some of the features include:
20 megapixel sensor with 2.4 μm pixel size. – able to capture19 frames/s frame rate in 12-bit mode with high detail.
Very low 6e- readout noise – bringing out more details in your images with improved dynamic range.
Full-well capacity of 15ke– – reduces the risk of oversaturated stars in longer exposures.
DDR Memory Buffer
The ASI183 Pro camera includes a 256MB DDR3 memory buffer to help improve data transfer reliability. Additionally, the use of a memory buffer minimizes amp-glow, which is caused by the slow transfer speeds when the camera is used with a USB 2.0 port.
Astrophotography Performance
The ASI183 cameras has an impressive list of characteristics suited for astrophotography including a large full well capacity of 15000e-, small pixel size, 1.6e read noise @ 30dB, and 12stops dynamic range @ Gain=0. The ASI183 cameras also utilize firmware features to minimize amplifier glow for maximum performance in astrophotography.
Reliable Mechanics
ASI183 Pro has same mechanics as ASI1600 Pro. There are four screws that seal the sensor chamber. Our camera design has been extensively tested and is very stable even in demanding environments.
Even when used in environments with higher humidity, ASI183 Pro will still work fine without dew problems.
High Speed
Fast FPS and high-speed readout come in handy for many applications in astrophotography such as in:
solar and lunar imaging,
as well as for live viewing or electronically assisted astronomy (EAA)
real-time focusing,
true lucky imaging of double stars and other small objects,
planetary imaging of the major planets in the solar system, and much more.
Notice: After receiving user feedback, it has been brought to our attention that this IMX183 sensor has grid pattern noise when doing Ha solar imaging. To alleviate this issue, please take flat frames for calibration (out of focus or add a Barlow lens to take flat frames). We recommend our ASI1600/ASI174 mono camera for Ha solar imaging.
High QE
Sony's back-illuminated Exmor R technology, giving it excellent Deep Sky performance. ASI183 QE peak reaches a respectable 84%. In Ha channel, QE is still over 60%.
Having high QE means that more of the light that enters your telescope and reaches the sensor is actually used. With 84% peak Q.E. and no less than ~50% within the visible spectrum, the ASI183 will utilize a high percentage of the light that reaches it, improving your signal quality.
Dark Current
The dark current of the ASI183 is extremely low, based on our test results.
USB 3.0 Port & USB2.0 HUB
USB 3.0 Port: Provide 5Gb bandwidth to make it possible for ASI183 Pro to run at 19 fps (12bit, normal mode) or 19 fps (10bit, high speed mode) at full resolution(20.18Mega).
USB 2.0 HUB: can connect with various accessories, such as filter wheel, guide camera and electronic focuser, so you can better manage your cables. The ASI183 Pro includes two short 0.5m USB 2.0 cables. The integrated USB 2.0 hub is powered by the external power source if you connect one.
Cooling System
Thanks to the two stage TEC cooling, ASI183MC Pro can lower the sensor temperature to more than 35 degrees Celsius below ambient temperature, which can greatly reduce dark current generation and sensor noise even during extended exposure times.
*The Delta T 35℃ is tested at 30℃ ambient temperature. It might get down when the cooling system is working for a long time. Also, as the ambient temperature falls, the Delta T would also decrease. Please notice that the camera needs to be connected to an external 11-15v power supply to implement the cooling function. We recommend you use 12V@3A DC adapter (5.5*2.1mm, center pole positive) or lithium battery with 11-15V to power the camera.
Connecting Diagram (refer to photo)
M43-T2 adapter (optional)
EOS-T2 adapter (optional)
2"Filter (optional)
1.25" T-Mount
1.25" Filter (optional)
M42-1.25" Filter (optional)
T2 extender 11mm
M42-M48 extender 16.5mm
T2-T2 adapter
EFW mini(optional)
EOS adapter for EFW(optional)
Specifications
| | |
| --- | --- |
| Sensor | 1" CMOS IMX183CLK-J/CQJ-J |
| Diagonal | 15.9mm |
| Resolution | 20Mega Pixels 5496*3672 |
| Pixel Size | 2.4μm |
| Bayer Pattern | None |
| Shutter | Rolling shutter |
| Exposure Range | 32µs-2000s |
| ROI | Supported |
| Read Noise | 1.5-3.0e |
| QE peak | 84% |
| Full well | 15ke |
| ADC | 12bit |
| DDRIII Buffer | 256MB |
| Non-volatile memory/On camera storage | Build-in total 192K byte user-accessible space(image size up to 480X320) |
| Interface | USB3.0/USB2.0 |
| Adaptor | M42X0.75 |
| Protect window | D32-2-AR |
| Dimensions | 78mm Diameter |
| Weight | 410g |
| Back Focus Distance | 6.5mm |
| Cooling | Regulated Two Stage TEC |
| Delta T | 40°C-45°C below ambient |
| Camera Power consumption | 650mA at 5V |
| Cooler Power consumption | 12V at 3A Max |
| Working Temperature | -5°C—45°C |
| Storage Temperature | -20°C—60°C |
| Working Relative Humidity | 20%—80% |
| Storage Relative Humidity | 20%—95% |
Why Should You Trust All Star Telescope?
We've Made All The Mistakes
So You Don't Have To
Learn More