Brand: ZWO
ZWO ASI2600MM Pro USB3.0 Cooled Monochrome Camera (ASI2600MM-P)
ASI2600MM-P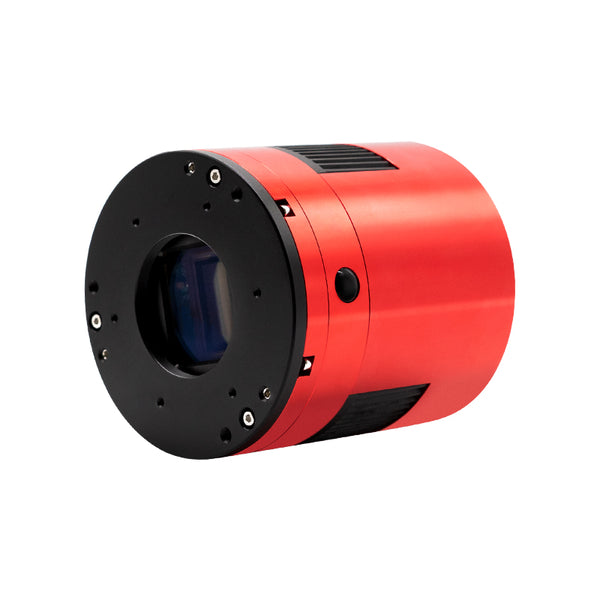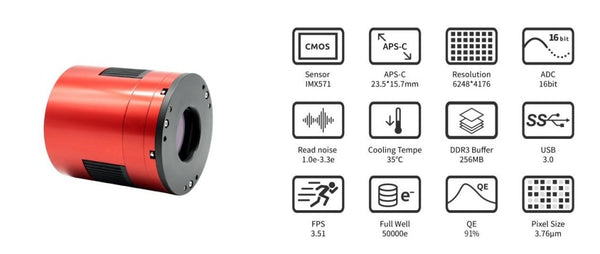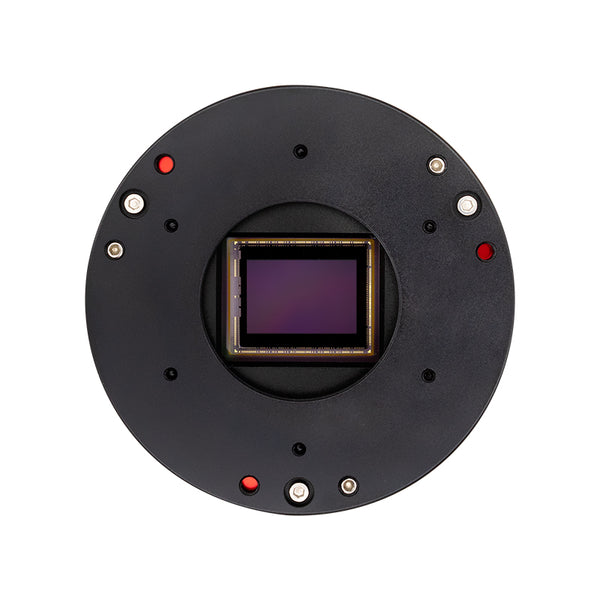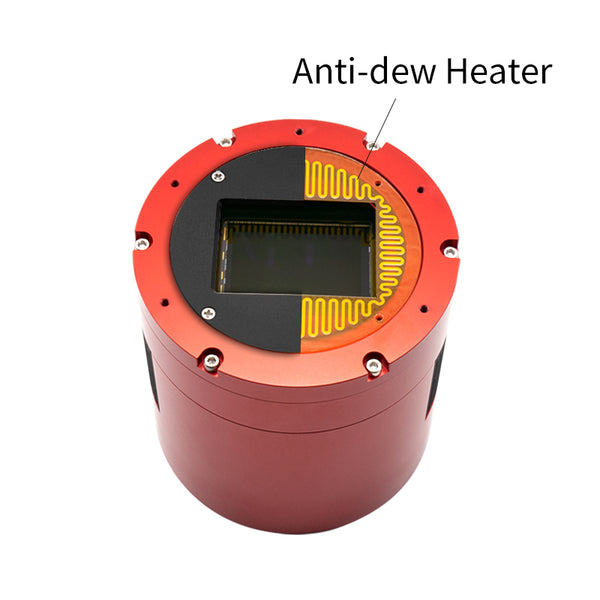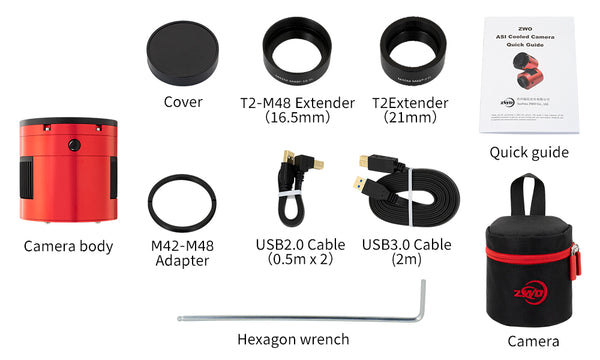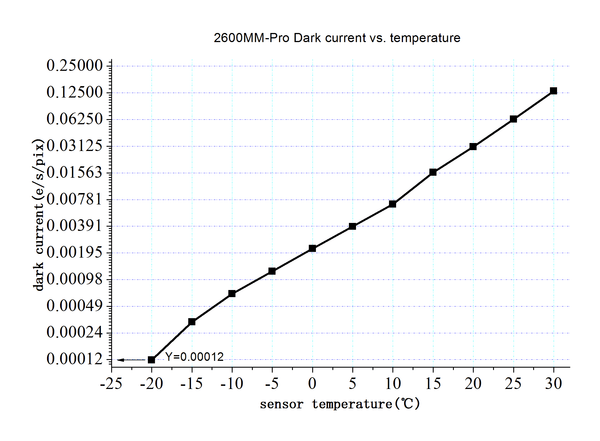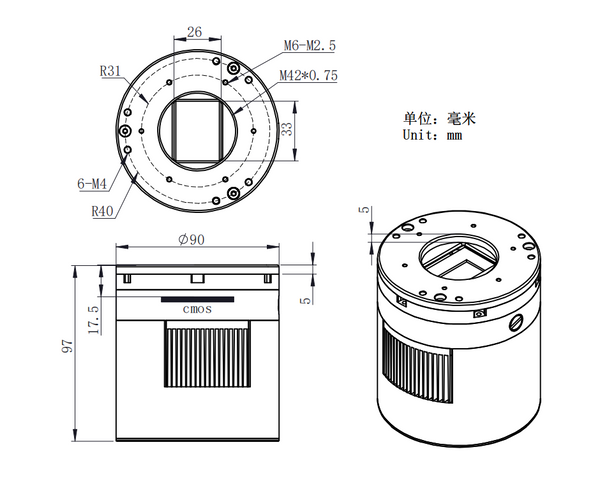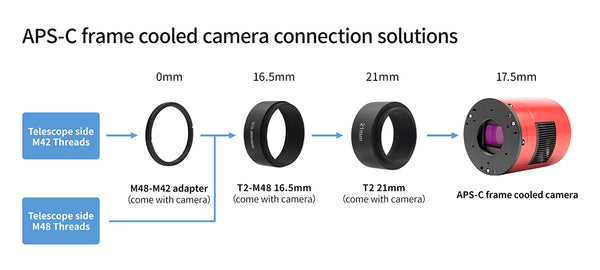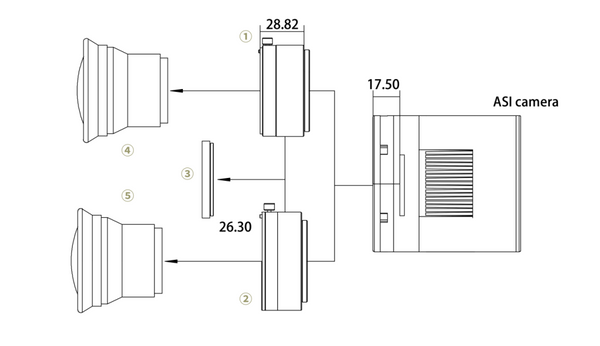 Brand: ZWO
ZWO ASI2600MM Pro USB3.0 Cooled Monochrome Camera (ASI2600MM-P)
ASI2600MM-P
Free Expert Support
Why Purchase from All-Star Telescope?
Stress Free, Secure Shopping
Product Description
ImportantFor the following imaging camera models, please use a separate 12V power supply rather than the power hub in the ASIAIR Pro as the hub cannot provide enough amperage to power the camera's TEC coolersASI6200, ASI2600, ASI2400, ASI533, ASI071MC
ASI2600MM Pro uses Sony's latest back-illuminated IMX571 APS-C format native 16-bit ADC sensor. It's one of the most anticipated astronomy cameras of 2021. Here is some of the reasons why:
Ultra-high 14 stops dynamic range
Ultra-low 1.0e readout noise
Innovative breakthrough design resulting in zero amp-glow
16-bit ADC sensor
APS-C Format
This is a 26MP camera featuring a small pixel size of 3.76um yet also having the incredible ability of accommodating a large well depth of 50ke.
The sensor length and width are 23.5mm * 15.7mm. The diagonal is 28.3mm.
Native 16bit ADC
As one of the few CMOS astronomy cameras with 16-bit ADC on the market, ASI2600MM Pro was conceived having in mind the optimal characteristics for astrophotography. This 16bit ADC is not a CCD 16bit ADC. It can really achieve a dynamic range output of 14 stop, which will significantly improve the image sharpness and contrast, and also create smoother and more natural contrast transitions (as well as colour gradients when using different types of filters).
Sony IMX571 Backlit Sensor
Sony's back-illuminated CMOS image sensor improves the sensitivity and noise reduction – the key factors to enhancing image quality. It does this by radically realigning the fundamental pixel structure from front-illumination to back-illumination, while still retaining the advantages of CMOS image sensors such as low power consumption and high-speed operation.
With a conventional front-illumination structure, the metal wiring and transistors on the surface of the silicon substrate that form the sensor's light-sensitive area (photo-diode), impede photon-gathering carried out by the on-chip lens. A back-illuminated structure minimizes the degradation of sensitivity to the optical angle response, while also increasing the amount of light that enters each pixel due to the lack of obstacles such as metal wiring and transistors. These components have been moved to the back-side of the silicon substrate.
Camera Performance
The ASI2600MM Pro boasts excellent performance with a dynamic range of up to 14 stops. When the gain value is set to 100, the HCG high gain mode is turned on. We're not saying it's magic…but we'd like to think it is pretty close. With the HCG-mode turned on, the readout noise is greatly reduced, and the dynamic range is basically unchanged. To improve the data quality, it is recommended to set the gain to 0 or gain 100 during deep-sky imaging.
Zero Amp Glow
Traditional CMOS sensors produce a weak infrared light source during operation quite often seen in the corner of uncalibrated images. It is the tell-tale signs of 'amp glow'. As the ASI2600MM Pro uses zero amp glow circuitry, you won't have to worry about amp glow even when using high gain, long exposure imaging.
Anti-Dew Heater
There is a polyimide heater completely fitting the protective window in the ASI2600MM Pro camera. It can help avoid any potential annoying dew or icing issues depending on the environment in which you capture images.
The power of the heater is around 5W. You are free to turn it off anytime in your photography software if you want to save power.
Two-Stage TEC Cooling, Ultra-Low Dark Current
Thanks to the two stage TEC cooling, ASI2600MM Pro can lower the CMOS sensor temperature to more than 35 degrees Celsius below ambient temperature, which can greatly reduce dark current generation and sensor noise even during extended exposure times.
The unique dark current suppression technology can further reduce dark current noise. At a cooling temperature of 0 °C, the dark current noise is only 0.0022e/s/pixel. This means a 300s exposure will only cause 0.7e dark current noise, which is less than the readout noise. While at a cooling temperature of -20 °, the dark current can even reduce to 0.00012e/s/pixel, which is completely negligible!
USB3.0 & 256M DDR3 Memory
The ASI2600MM Pro is equipped with a USB 3.0 transmission interface and a built-in 256MB DDR3 cache to ensure stable and secure data transmission.
Connecting Diagram (refer to photo)
Nikon-T2 adapter
EOS-T2 adapter
2" filter (optional)
Nikon lens
Canon lens
Specifications
| | |
| --- | --- |
| Sensor | SONY IMX571 CMOS |
| Diagonal | 28.3mm |
| Image area | 23.5*15.7mm |
| Resolution | 26 Mega Pixel 6248*4176 |
| Pixel Size | 3.76μm |
| Shutter | Rolling shutter |
| Exposure Range | 32μs-2000s |
| ROI | Supported |
| Read Noise | 1.0-3.3e |
| QE peak | 91% |
| Full well | 50000e |
| ADC | 16bit |
| DDRIII Buffer | 256MB |
| Non-volatile memory/On camera storage | Build-in total 192K byte user-accessible space(image size up to 480X320) |
| Interface | USB 3.0/USB 2.0 |
| Adaptor | M42X0.75 |
| Protect window | D60-2 AR |
| Dimensions | 90mm Diameter |
| Weight | 700g |
| Back Focus Distance | 17.5mm |
| Cooling | Regulated Two-Stage TEC |
| Delta T | 35°C below ambient |
| Camera Power consumption | 1.15A at 5V |
| Cooler Power consumption | 12V at 3A Max |
| Working Temperature | -5°C—50°C |
| Storage Temperature | -10°C—60°C |
| Working Relative Humidity | 0%—80% |
Excellent for wide-field
The big APS-C sensor is great for capturing wide field images. (If you can get by with a smaller FOV, the ASI533mm pro will produce an equally good image quality at a fraction of the price and using smaller, less expensive filters in an overall more compact package.) The cooling cable can be attached to the 12V 3a outlet on the ASIair if you are content to cool at 0.0º C, but should have a separate power supply if you want cooler, such as -10º in ambient temperatures of 20º + and probably if you want to power the dew controller (which I have not had to.)
Fabulous Camera!
The ASI2600MM is about my sixth or seventh camera in 20 years of astrophotography and is by far the best. Fantastic field of view while staying inside of any troubling vignetting. Noise that is so low as to seem nonexistent. Even hot pixels are only sort of warmish. No axial problems. Out of the box the camera is ready to go and a fantastic performer.
I am using it with a ZWO filter wheel (see mixed review) and focuser (also outstanding) on a Takahashi FSQ-106 and AstroPhysics 1200. Pixel scale with this scope is 1.4 arc-seconds. I have excellent polar alignment and am taking one to two minute subs unguided. I haven't yet done any guided narrow band longer subs.
The camera specs out well and its performance on my rig supports that. Really pleased with it.
Why Should You Trust All Star Telescope?
We've Made All The Mistakes
So You Don't Have To
Learn More