Brand: ZWO
ZWO ASI294MC Pro USB3.0 Cooled Colour Astronomy Camera (ASI294MC-P)
ASI294MC-P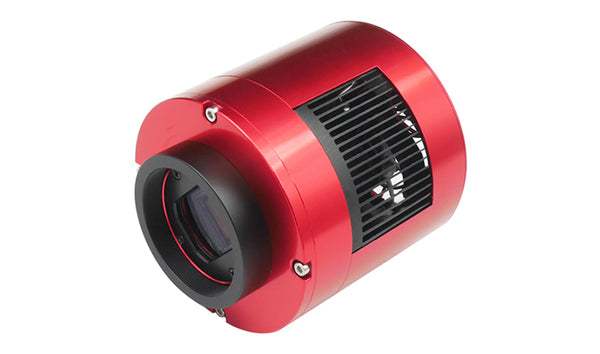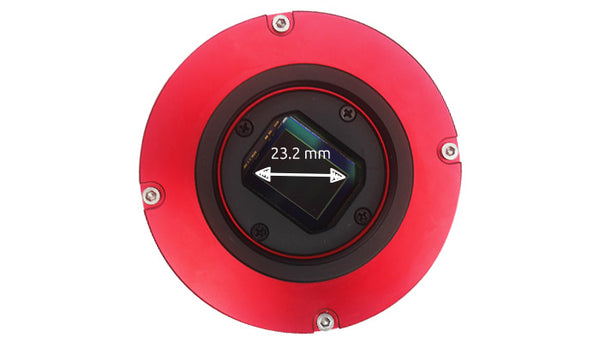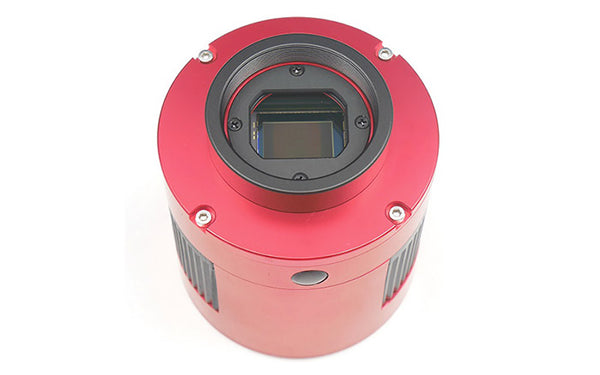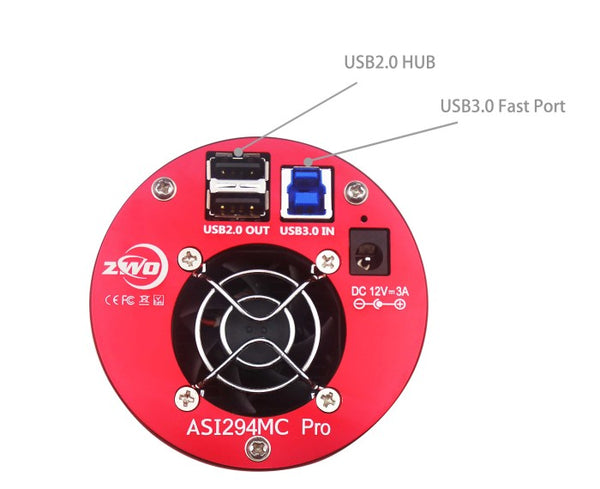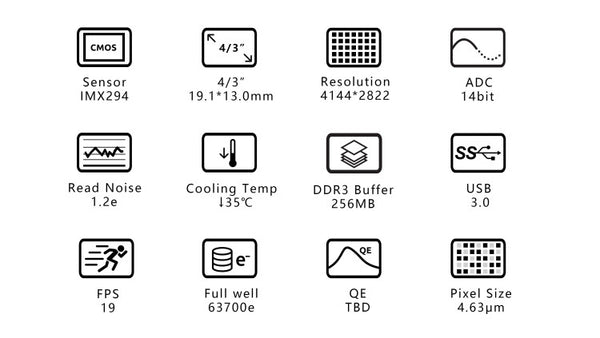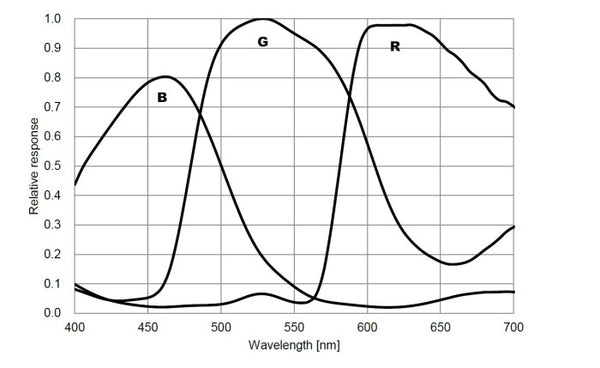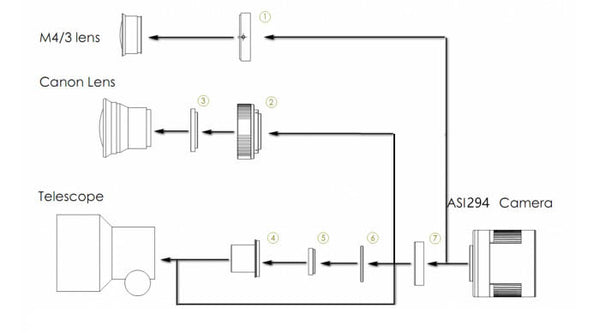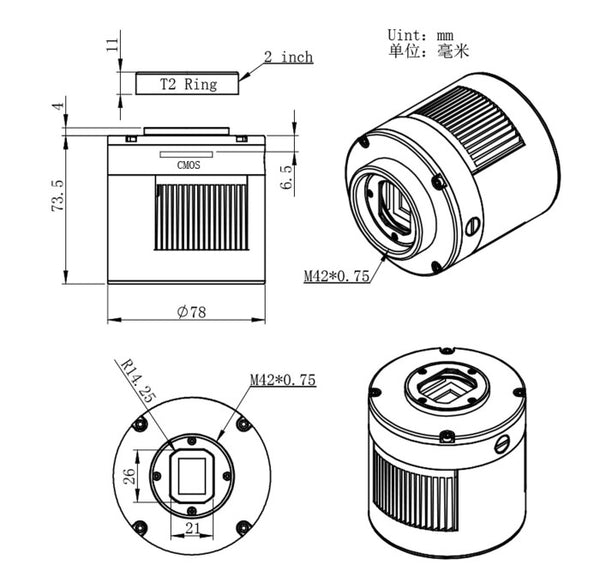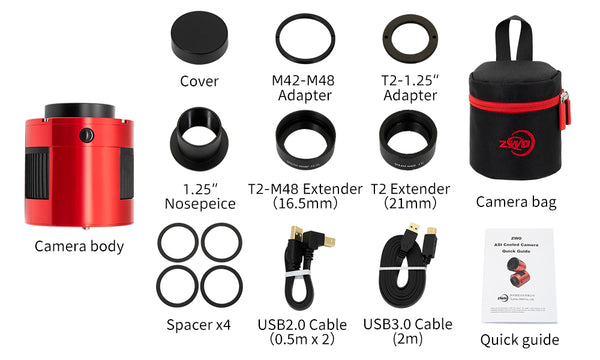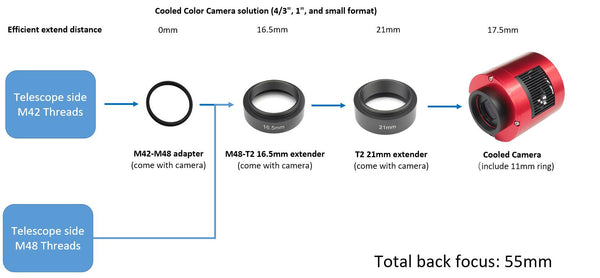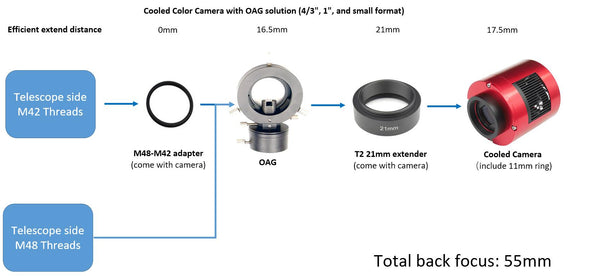 Brand: ZWO
ZWO ASI294MC Pro USB3.0 Cooled Colour Astronomy Camera (ASI294MC-P)
ASI294MC-P
$1,214.10 CAD
Save: $134.90
Free Expert Support
Why Purchase from All-Star Telescope?
Stress Free, Secure Shopping
Product Description
ImportantFor the following imaging camera models, please use a separate 12V power supply rather than the power hub in the ASIAIR Pro as the hub cannot provide enough amperage to power the camera's TEC coolersASI6200, ASI2600, ASI2400, ASI533, ASI294, ASI071MC
The ASI294MC Pro is the first camera in the world equipped with the latest Sony sensor IMX294CJK. This is one of the top-selling cameras from ZWO. Looking at the specifications and comparing it to the relatively low price, it is easy to see why.
Some of the highlights include:
back-illuminated sensor – improving sensitivity and reducing noise
4/3" format with 4.63 um pixel size – ideal for many types of telescopes
14-bit ADC– giving high dynamic range of 13 stops
An impressive 7ke- full well capacity- helping to reduce the issue of, for example, saturated stars.
On top of this, it also has a very high QE-value with a peak of over 75%. If you are looking for a small-format OSC camera for astrophotography, you can't go wrong with the ASI294MC Pro.
Sony IMX294CJK CMOS Sensor
Sony 10.71M-Effective Pixel Color CMOS Image Sensor (official description from Sony site), with a diagonal of 21.63mm (4/3 format). ZWO has refined the sensor and remolded it to increase the diagonal to 23.2mm with approximately 11.71M-Effective pixels (4/3 format).
High-Sensitivity Type 4/3 CMOS Image Sensor that Supports 4K for Astronomic
Cameras and Industrial Applications
The IMX294CJK sensor is the first in-house image sensor for astronomic cameras to adopt the 4/3 format and provides the necessary number of pixels for true 4k output at 120 frames per second (w/ ADC 10-bit output mode, the ASI294MC can run up to 25fps at 4k format when used with USB 3.0). In addition, the use of larger-sized pixels achieves SNR1s of 0.14 lx* which is very close to the value of the ASI224 (0.13 lx*).
Exceptional low-illumination performance
Exceptional low-illumination performance of SNR1s0.14 lx is realized by use of a large-size optical system and by expanding the area per pixel to 4.63 µm. This makes the IMX294CJK ideal for astronomic camera market applications that require low-illumination performance.
DDR Memory Buffer
The ASI294MC Pro camera includes a 256MB DDR3 memory buffer to help improve data transfer reliability. Additionally, the use of a memory buffer minimizes amp-glow, which is caused by the slow transfer speeds when the camera is used with a USB 2.0 port.
DDR memory buffer is the main difference between ASI "Cool" and "Pro" cameras.
14bit ADC w/ 13 stops DR
The ASI294MC Pro has a 14bit ADC unit, allowing it to achieve 13 stops of dynamic range. This is an excellent characteristic for deep sky imaging, which inherently needs high dynamic range. At 13 stops, the ASI294MC has even more dynamic range than the ASI1600.
HCG Mode
HCG (high conversion gain) mode, which reduces read noise to even lower levels at higher gain without loss to dynamic range, is automatically enabled when the gain setting is 120 or higher. Read noise will drop under 2e-, while dynamic range will remain at 13 stops.
Full well Capacity
The ASI294MC provides a great full well capacity of 63700e-, which is 3 times higher than the capacity of the highly regarded ASI1600. Even bright stars won't saturate under long exposures. This also means that this camera can achieve higher SNR (signal to noise ratio) with just one single exposure.
Reliable Mechanics
ASI294MC Pro has the same mechanics as ASI1600 Pro. There are four screws that seal the sensor chamber. Our camera design has been extensively tested and is very stable. Even when used in higher humidity environments, ASI294MC Pro will still work well without dew problems.
High QE
The IMX294 sensor is a BSI (backside illuminated type) sensor, which has very high QE (quantum efficiency, which we estimate is over 75% peak).
USB 3.0 Port & USB2.0 HUB
USB 3.0 PortProvide 5Gb bandwidth to make it possible for ASI294 Pro to run at 16 fps (14bit, normal mode) or 19 fps (12bit, high speed mode) at full resolution(11.7Mega).
USB 2.0 HUBcan connect with various accessories, such as filter wheel, guide camera and electronic focuser, so you can better manage your cables. The ASI294 Pro includes two short 0.5m USB 2.0 cables. The integrated USB 2.0 hub is powered by the external power source if you connect one.
Cooling System
Thanks to the two-stage TEC cooling, ASI294MC Pro can lower the CMOS sensor temperature to 35-40 degrees Celsius below ambient temperature, which can greatly reduce dark current generation and sensor noise even during extended exposure times.
*The Delta T 35-40℃ is tested at 30℃ ambient temperature. It might get down when the cooling system is working for a long time. Also, as the ambient temperature falls, the Delta T would also decrease.
Please notice that the camera needs to be connected to an external 11-15v power supply to implement the cooling function. We recommend you use 12V@3A DC adapter (5.5*2.1mm, center pole positive) or lithium battery with 11-15V to power the camera.
Specifications
| | |
| --- | --- |
| Sensor | 4/3″ SONY IMX294 CMOS |
| Diagonal | 23.2mm |
| Resolution | 11.7Mega Pixels 4144X2822 |
| Pixel Size | 4.63µm |
| Bayer Pattern | RGGB |
| Shutter | Rolling shutter |
| Exposure Range | 32µs-2000s |
| ROI | Supported |
| Read Noise | 1.2-7.3e |
| QE peak | TBD |
| Full well | 63.7ke |
| ADC | 14bit |
| DDRIII Buffer | 256MB |
| Non-volatile memory/On camera storage | Build-in total 192K byte user-accessible space(image size up to 480X320) |
| Interface | USB3.0/USB2.0 |
| Adaptor | M42X0.75 |
| Protect window | AR |
| Dimensions | 78mm Diameter |
| Weight | 410g |
| Back Focus Distance | 6.5mm |
| Cooling | Regulated Two Stage TEC |
| Delta T | 35°C-40°C below ambient |
| Camera Power consumption | 650mA at 5V |
| Cooler Power consumption | 12V at 3A Max |
| Working Temperature | -5°C—45°C |
| Storage Temperature | -20°C—60°C |
| Working Relative Humidity | 20%—80% |
| Storage Relative Humidity | 20%—95% |
Great camera
Fast shipping and this camera is fantastic. It is nice to have a company in Canada that has these items in stock. Bravo!
ZWO 294 MC Pro
I have used the camera on five occasions so far and I am impressed with the sensitivity and colour rendition. The extra usb2 ports on the rear of the camera are convenient to plug in guide camera and EAF saving long cords dangling.
Solid OSC Camera at a Reasonable Price
I bought this OSC ZWO camera as the main camera of a 275mm FL portable system that I put together to take to star parties. The capture system is based on the ZWO ASI Air Pro, so I needed a ZWO camera that would be compatible with the rest of the ZWO equipment (EAF, Guide camera, etc.) and give me the smallest amount of grief using the rig at remote sites. The camera was detected immediately, and connected and downloaded images flawlessly. It does need its own 12V power supply to support the cooler, since the power from the ASI Air is not sufficient. This camera does have significant amp glow at longer exposures, so Darks are essential.
ZWO ASI294MC Pro
Traded up from a Canon 60D, and now I regret not doing this sooner. Got the filter tray with two holders, and all were received quickly. I did ask what was a recommended CCD for the RedCat 51, and was provided with a couple of choices. This information pointed me to the ASI294, as this lines up with my shooting interest.
Why Should You Trust All Star Telescope?
We've Made All The Mistakes
So You Don't Have To
Learn More