Brand: ZWO
ZWO ASI294MM USB3.0 Monochrome Astronomy Camera (ASI294MM)
ASI294MM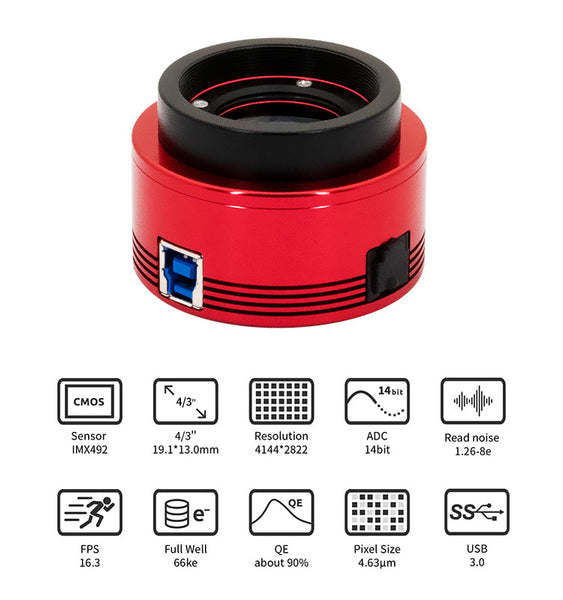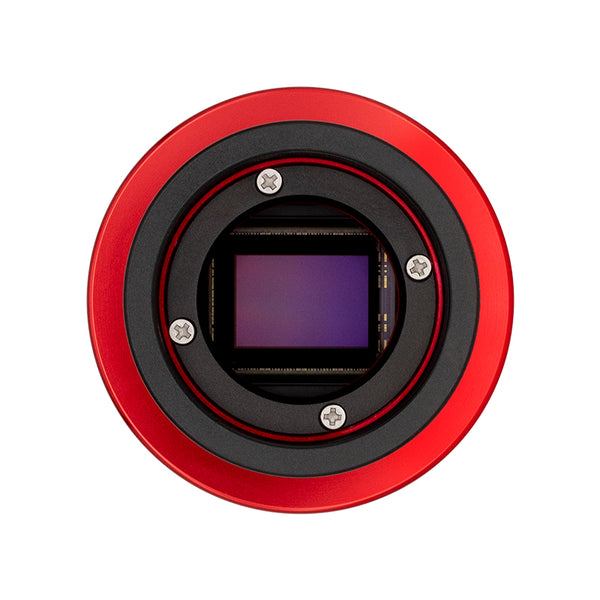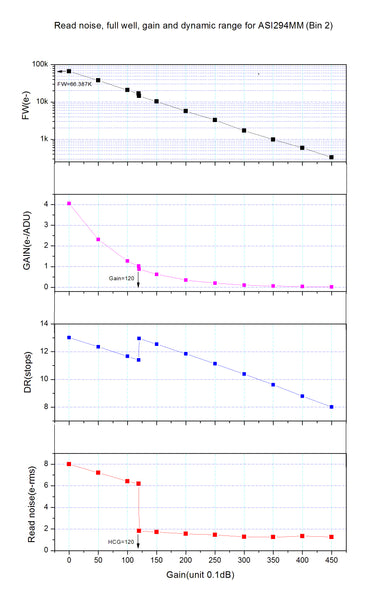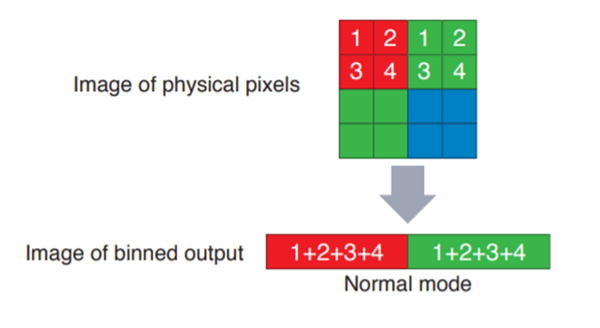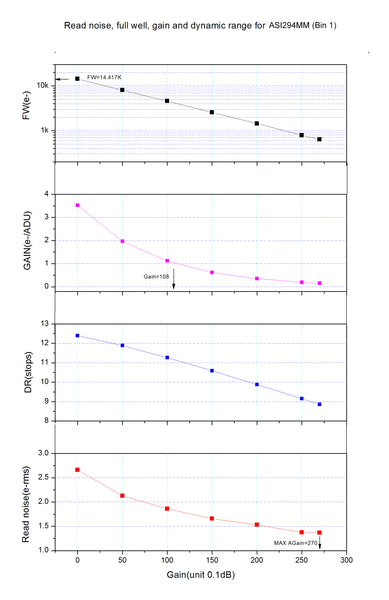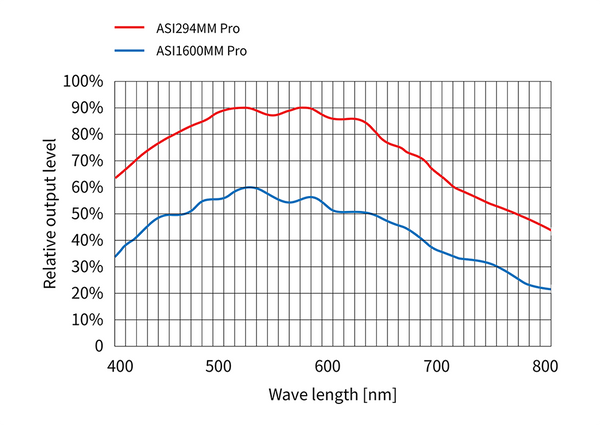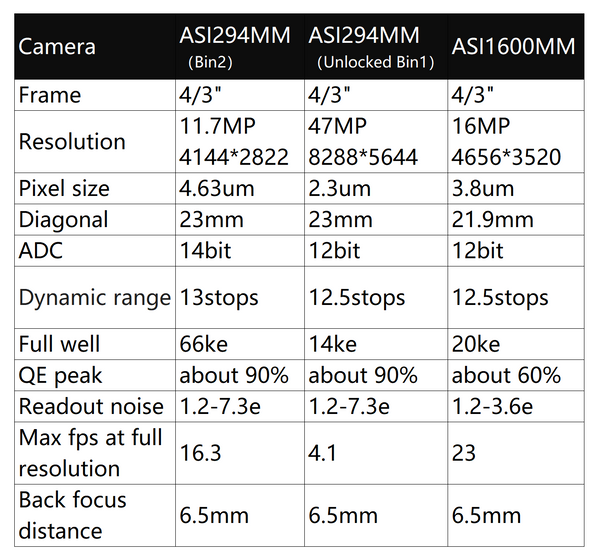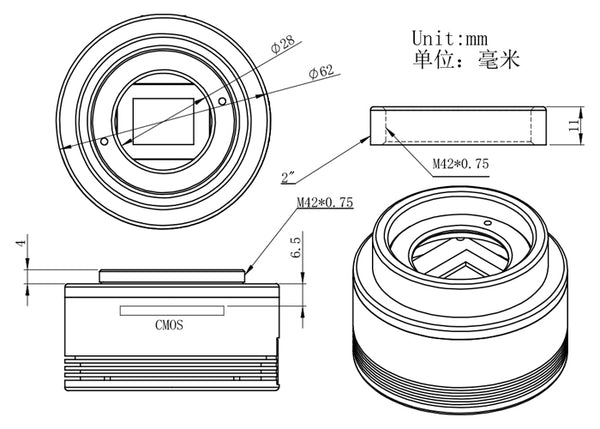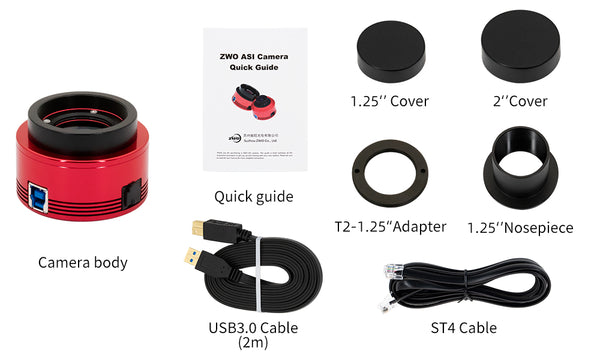 Brand: ZWO
ZWO ASI294MM USB3.0 Monochrome Astronomy Camera (ASI294MM)
ASI294MM
Free Expert Support
Why Purchase from All-Star Telescope?
Stress Free, Secure Shopping
Product Description
By popular demand, we now introduce the ASI294MM, the monochrome version of the ASI294MC.
Some of the highlights include:
Back-illuminated sensor – improving sensitivity and reducing noise
4/3" format with 4.64 um pixel size – ideal for many types of telescopes
14-bit ADC – giving a high dynamic range
An impressive 66ke- full well capacity- helping to reduce the issue of for example saturated stars
4144*2822 high resolution – with the Bin1-mode the camera can operate at a resolution of 8288*5644 and pixel size of 2.3 um.
On top of this, not only does it have a very high QE-value with a peak at about 90%, but also feature an ultra-low readout noise of 1.2e. If you are looking for a small-format monochrome camera for astrophotography, you can't go wrong with the ASI294MM.
HCG Mode
The full well capacity of 66387e of ASI294MM is near the top of all ASI planetary cameras. It ensures a very high dynamic range of up to 13 stops that will greatly reduce the issue of overexposed images and also help to collect richer colour information.
When the gain value is set to 120, the HCG high gain mode is turned on. We're not saying it's magic…but we'd like to think it is pretty close. With the HCG-mode turned on, the readout noise is greatly reduced, and the dynamic range is basically unchanged.
Unlocked Bin1 Mode (also see photo)
Yet another perk of the ASI294MM is that the pixel size is switchable – you can switch between unlocked Bin1 mode and Bin2 mode anytime in your astrophotography software. The unlocked Bin1 mode changes the pixel size into 2.3um and increases resolution to 8288×5644. The ability to unlock bin1-mode was a popular request from our customers. Of course we listened to you and worked quickly to make it possible.
Remember that using Bin1-mode will decrease the full well capacity compared to the standard bin2-mode.
Unlocked Bin1: 12bit ADC, 2.3um pixel size, 47 megapixels, 8288*5644 resolution, 14k full well capacity.
Bin2: 14bit ADC, 4.6um pixel size, 11.7 megapixels, 4144*2822 resolution, 66k full well capacity.
If the sampling accuracy you get with the 2.3um pixel size falls within a reasonable range, then the unlocked Bin1 mode will help you get more object details. However, you will lose dynamic range and ADC bit depth. Also the image files you get at Bin1 will probably be around 4 times bigger than Bin2.
So in the end the unlocked Bin1 mode is double-edged, you may choose to use it or not depending on the specific circumstances during your imaging sessions.
QE Value
As ZWO's latest BSI (backside illuminated type) monochrome camera, ASI294MM has a very high QE performance, not only higher than its colour version, but even ASI1600MM. It is estimated that the QE peak value is about 90%.
USB3.0 Port & ST4 Port
USB 3.0 Port: Providing 5Gb bandwidth to let ASI294MM run at 19fps (12bit, high speed mode) or 16.3fps (14bit, normal mode) at full resolution (11.7Mega, Bin2).
ST4 Port: Can be used to connect with auto guide port of mount for guiding.
Specifications
| | |
| --- | --- |
| Resolution | 4144 x 2822 |
| Format | 4/3" |
| Pixel Size | 4.63 um |
| Diagonal | 23 mm |
| ADC | 14 bit |
| Dynamic Range | 13 stops |
| Full Well | 66 ke |
| QE Peak | About 90% |
| Readout Noise | 1.2 - 7.3e |
| Max fps | 16.3 |
| Back Focus Distance | 6.5mm |
Why Should You Trust All Star Telescope?
We've Made All The Mistakes
So You Don't Have To
Learn More