Brand: ZWO
ZWO ASI533MM Pro USB3.0 Cooled Monochrome Camera (ASI533MM-P)
ASI533MM-P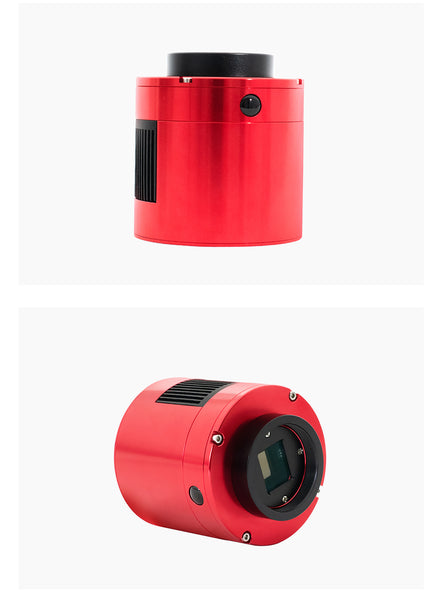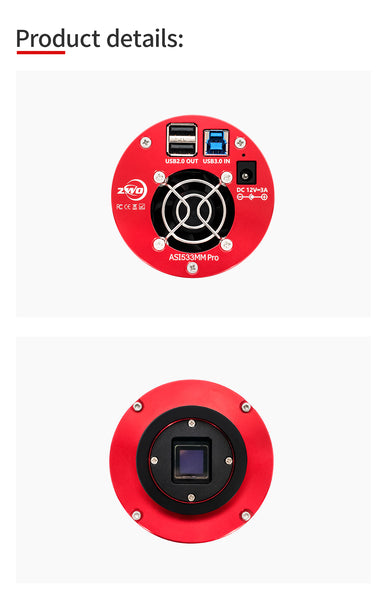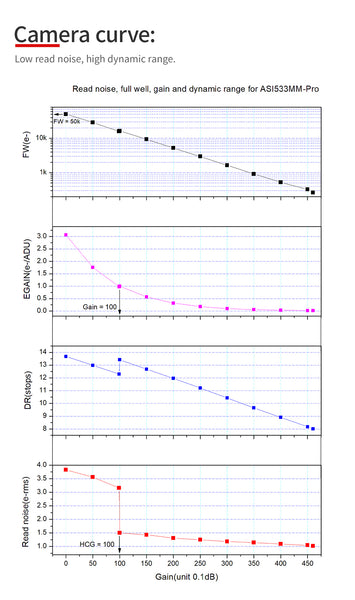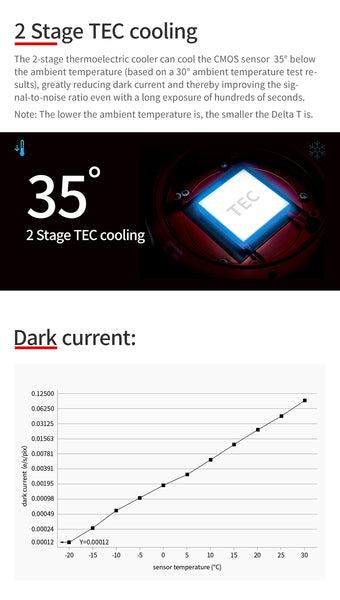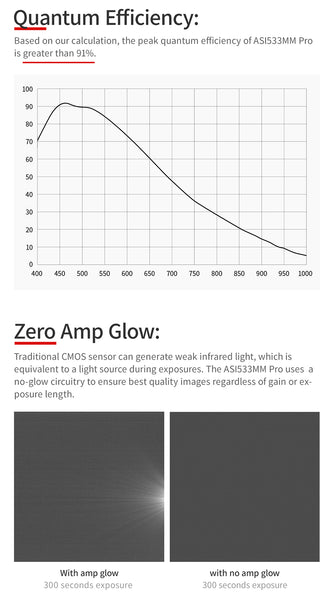 Brand: ZWO
ZWO ASI533MM Pro USB3.0 Cooled Monochrome Camera (ASI533MM-P)
ASI533MM-P
Free Expert Support
Why Purchase from All-Star Telescope?
Stress Free, Secure Shopping
Product Description
Important: For the following imaging camera models, please use a separate 12V power supply rather than the power hub in the ASIAIR Pro as the hub cannot provide enough amperage to power the camera's TEC coolers: ASI6200, ASI2600, ASI2400, ASI533, ASI071MC
The ASI533MC PRO adopts a Sony back-illuminated IMX533 sensor, which is a 1 inch square frame sensor made suitable for deep sky astrophotography needs. The ASI533MM Pro can be regarded as an upgrade of the ASI183 series.
Not only does it retain the high-quality features of the ASI183, such as high QE and high frame rate, it also features no amp glow, readout noise as low as 1.0e, pixel size of 3.76 um and a 2-stage TEC cooling. It is highly recommended for beginners of deep sky astrophotography.
IMX533 backlit sensor
Sony's back-illuminated CMOS image sensor improves sensitivity and noise reduction – the key factors to enhancing image quality, while radically realigning their fundamental pixel structure from front-illumination to back-illumination. It has retained the advantages of CMOS image sensors such as low power consumption and high-speed operation.
With a conventional front-illumination structure, the metal wiring and transistors on the surface of the silicon substrate that form the sensor's light-sensitive area (photo-diode) impede photon gathering carried out by the on-chip lens. A back-illuminated structure minimizes the degradation of sensitivity to optical angle response, while also increasing the amount of light that enters each pixel due to the lack of obstacles such as metal wiring and transistors that have been moved to the reverse of the silicon substrate.
Sony has newly developed a unique photo-diode structure and on-chip lens optimized for back-illuminated structures, that achieves a higher sensitivity and a lower random noise without light by reducing noise, dark current and defect pixels compared to the conventional front-illuminated structure.
Traditional CMOS sensors produce a weak infrared light source during operation quite often seen in the corner of uncalibrated images as the tell tale signs of 'amp glow'. As the ASI533MM PRO uses zero amp glow circuitry, you won't have to worry about amp glow even when using high gain, long exposure imaging.
Note: We recommend using an external 12V power supply to power the camera instead of USB 3.0/2.0 only
As you would expect this latest generation camera not only retains key features of the ASI183 series such as an attractive QE figure, high frame rate and along with other excellent characteristics of the ASI183 cameras, but also now includes new and improved features such as zero amp glow, extreme low read out noise (as low as 1.0e), 3.76 microns pixel size and an improved 2 stage TEC cooler giving enhanced cooling capabilities.
Specifications
Sensor
Sony-IMX533CLK-D
Diagonal
15.968mm
Resolution
9 Mega Pixel 3008*3008
Pixel Size
3.76μm
Max FPS at full resolution
20fps
Shutter
Rolling shutter
Exposure Range
32μs-2000s
ROI
Supported
Read Noise
1.0-3.8e
QE peak
91%
Full well
50000e
ADC
14bit
Interface
USB 3.0 Type-B
Adaptor
M42X0.75
Protect window
D32-2-AR
Dimensions
78mm Diameter
Weight
470g
Back Focus Distance
17.5mm
Delta T
30°C-35°C below ambient
Camera Power consumption
650mA at 5V
Cooler Power consumption
12V at 3A Max
Working Temperature
-5°C—50°C
Storage Temperature
-10°C—60°C
Working Relative Humidity
0%—80%
Storage Relative Humidity
20%—95%
Max FPS at full resolution:
14Bit ADC

3008×3008 19.88fps
1920×1080 54.11fps
1280×720 79.74fps
640×480 116.55fps
320×240 216.45fps

More resolutions are in software, support customize resolution.
Love it
I have had a 533mc for a while but really wanted to explore the world of mono. I already have a 1.25 inch filter wheel and want to combine mono data with data from the 533mc, so for me this was the best choice. I love the cam based on my experience with the mc.
I picked it up yesterday and had first light last night. This is about 90 mins on each (also brand new) 7nm SHO filter, my first image in true mono.
Biggest bang for your dollar
If your looking for a high quality camera with low read noise this is the one and it's affordable compared to the larger chip sized sensors and has the same pixel size. Excellent entry level mono camera that Performs like the more expensive models and gives great results. I like the square sensors and in my opinion makes it easier for mosaics.
ASI533MM thoughts
So far from what I have seen from the limited use, it meets my expectations.
I'm sure when I process the data it will exceed what I was expecting.
ASI533mm Pro - Great!
I had been looking forward to trying the ASI533mm Pro mono camera because I have been so impressed with the ASI533mc Pro (One Shot Colour). I'll be looking forward to trying it with the Antlia 3nm SHO filters also purchased from All-Star, once summer nebulae and clear skies permit. In the meantime, just one image over 2 nights with of M13 with LRGB, and the result has been fantastic. While I have had a lot of great images from the ASI1600mm, I think the ASI533mm will replace it - smaller sensor, but much better specs. It also doesn't hurt that it can use the less expensive and more convenient 1.25 mounted filters, instead of the 31mm unmounted filters required by the ASI1600 in my faster system.
Same great performance as the MC!
What can I say? I switched from the 533MC to this mono cam. Same incredible sensitivity. I love the square sensor
No issues cooling to spec, though I don't go that far. No amp glow as stated, so you may find you don't even need dark frames! I've attached my first attempt at monochrome imaging (I'm by no means an expert and this was only three hours under Bortle 6 skies.)
Why Should You Trust All Star Telescope?
We've Made All The Mistakes
So You Don't Have To
Learn More