Brand: ZWO
ZWO 7-Position EFW for 2" Filters (ZWO-EFW-7X2)
ZWO-EFW-7X2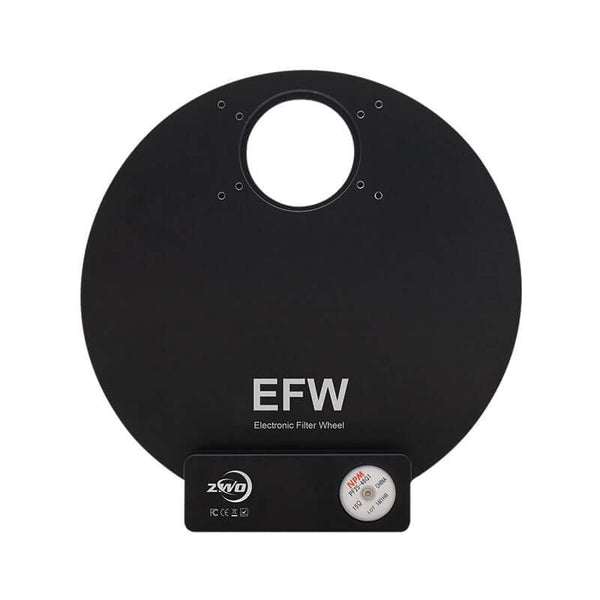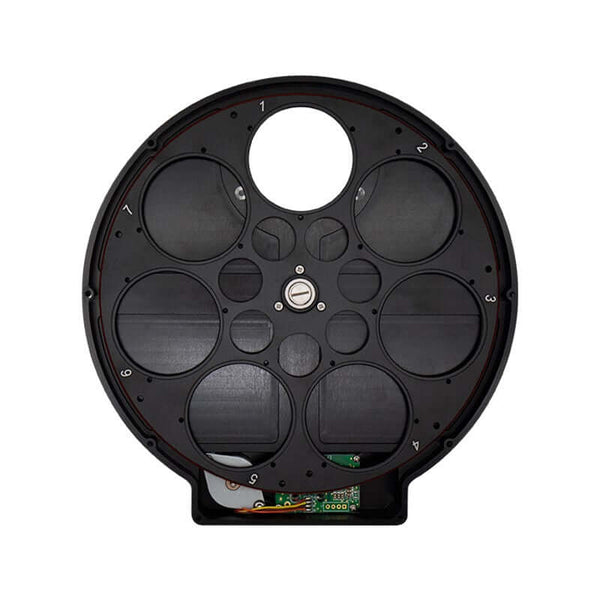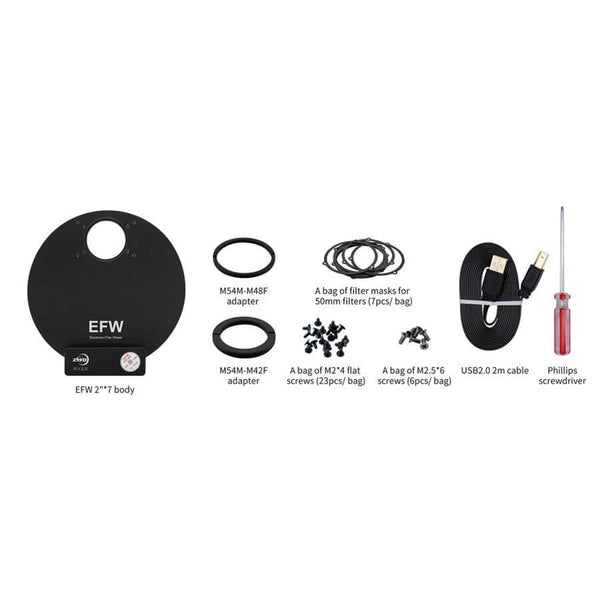 Brand: ZWO
ZWO 7-Position EFW for 2" Filters (ZWO-EFW-7X2)
ZWO-EFW-7X2
Free Expert Support
Why Purchase from All-Star Telescope?
Stress Free, Secure Shopping
Product Description
This ZWO EFW filter wheel is electronic, powered using the included 2m USB2.0 cable. Weighing in at only just over 1 lb (500g) and with a 20mm thickness, this filter wheel is a lightweight and effective way of reaching your imaging goals.
With 7 positions, this filter can fit 2" threaded filters or 50.4mm (±0.5mm) unmounted filters. The reliable stepper motor comes from NPM, Japan and will provide reliable quality and performance during use.
If you have been looking for a way to switch filters during your astroimaging session without messing with the setup and risking that crisp, clear focus you worked so hard to achieve, this ZWO EFW Filter Wheel is made to aid in switching between filters during sessions, allowing a relatively hands off approach.
When it comes to powering the EFW, there is no need for multiple cables, just the one USB cable provided. The maximum power consumption of this ZWO EFW is approximately 120mAh @ 5V, which can be provided by the ZWO's cooled CCD camera (not included) USB2.0 port. The control modes are ASCOM and SDK.
ZWO's filter wheel body is CNC milled from an aircraft graded aluminum block. The wheel can be rotated either clockwise or counter clockwise, so filter selection is a breeze. If connected to the ASI6200 camera from ZWO, the distance from filter to sensor is about 18mm.
What's in the Box
Specifications
Positional accuracy flawed
Mechanically, this filter wheel is slightly flawed due to the stopping sensor which is infrared through a small hole. The repeatability is not quite there, so flats and lights can be slightly off, which is evidenced by a "smoke ring" effect for any dust donuts cast as a result of dust on the filter. This is minimized by always moving the wheel in one direction only (by default the driver may move CW or CCW, whichever is closer to the destination). Also keeping filters free of dust.
I also amy shooting luminance without any filter, so in combination there might be hue artifacts but not at all noticeable.
The weakness can be worked around, but it's a little disappointing nevertheless.
ZWO 7-Position EFW for 2" Filters
Attractive black anodized aluminium housing that weighs only 650g and powered/controlled with single USB cable. I am using 2' threaded filters and am happy with quiet and vibration free movement of carousel. Refractor and camera attached via M54(male)-M48(female) adapter, M54(male)-M42(female). I have found it easy to set up and everything works well with ZWO ASI 2600 monochrome camera and TheSkyX control software. Has performed glitch-free so far and an happy with purchase.
Great service, prompt delivery
Great service, prompt delivery; would buy from here again!
Why Should You Trust All Star Telescope?
We've Made All The Mistakes
So You Don't Have To
Learn More