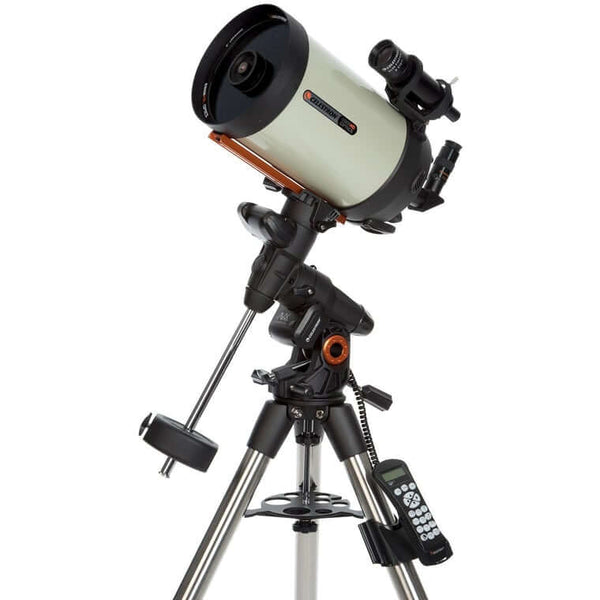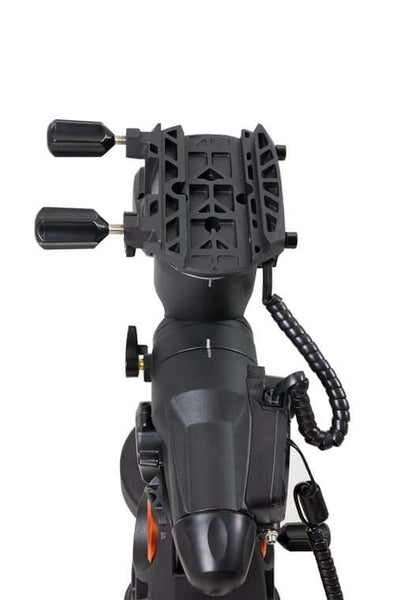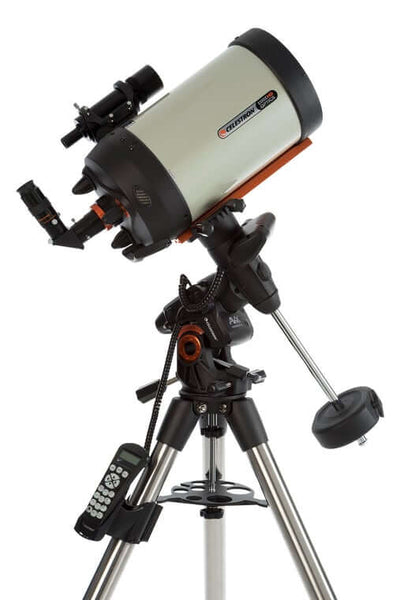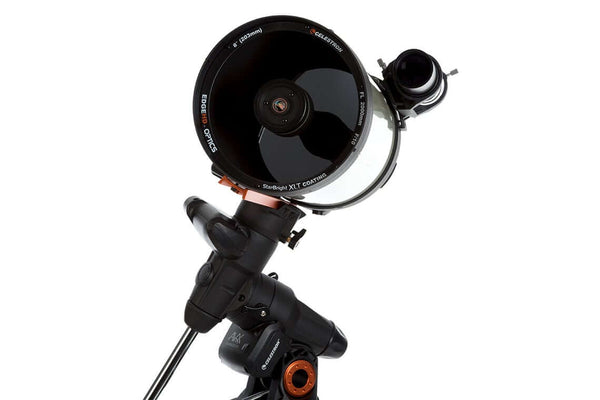 Products in the Same Family
Free Expert Support
Why Purchase from All-Star Telescope?
Stress Free, Secure Shopping
Recommended Accessories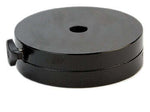 Celestron 12 lb Counterweight for 19mm sha...
READ MORE
$81.95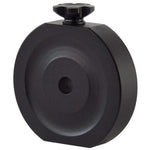 Celestron Counterweight 11lbs for 19mm Sha...
READ MORE
$119.95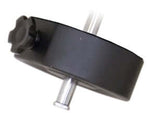 Celestron Counterweight 17lbs for 19mm Sha...
READ MORE
$176.95
Product Description
The Advanced VX (AVX) sets a standard in mid-level telescopes, providing many of the features found on Celestron's most sophisticated German equatorial mounts at an extremely affordable price.
The Advanced VX 8" EdgeHD telescope combines the groundbreaking new Advanced VX mount with Celestron's best optics, the EdgeHD optical system. This setup offers the astroimager maximum versatility - allowing up to 3 different f-stop configurations. Users can attach a camera to the rear of the telescope and shoot at f/10 or attach our 8" EdgeHD focal reducer to shoot at f/7. Additionally, EdgeHD is Fastar/Hyperstar compatible, giving imagers the option to shoot at ultra-fast f/2. No matter which configuration you choose, EdgeHD technology gives you pinpoint stars all the way to the edge of the CCD sensor. The Advanced VX mount is designed to provide superior performance while taking advantage of Celestron's most advanced technologies: All-Star Polar Alignment, Celestron PWI telescope control software, SkyAlign, and permanently programmable periodic error correction (PPEC).
If you're an experienced imager, you'll love taking this portable mount to a dark sky site and enjoying all the conveniences of a larger observatory mount. Or, if you're new to imaging, Advanced VX will help you get started with the hobby and keep up with your needs for years to come.
Computerized German equatorial mount
The Advanced VX is the smallest of Celestron's German equatorial mounts. The computerized GoTo capability automatically tracks objects as they move across the night sky. The Advanced VX mount includes ports for a hand control, an autoguider, and 2 AUX ports for optional accessories. The NexStar+ hand control gives you instant access to all the functions your mount has to offer. With automatic slewing and menu descriptions, any level of astronomer can master this mount in just a few observing sessions. The Advanced VX also has an impressive tripod for its class with a 2" diameter steel tripod legs providing an extra-wide stance for improved stability.
Payload capacity
The payload capacity for the Advanced VX is 30 lb. It offers a sturdy platform for any of the Advanced VX optical tubes, even when paired with optional accessories like StarSense AutoAlign, Focus Motor, a finderscope, and a camera. Celestron's payload capacity does not include the weight of the counterweights.
Dual saddle plate
As of early 2019, Advanced VX mounts include a dual saddle plate that accommodates both CG-5 and CGE-style dovetail. Switching between the two saddle plates is as simple as moving the hand knobs into a separate set of holes. You can use an Advanced VX mount with virtually any optical tube within its weight limit. Compatible with Vixen format dovetails 100mm or longer, not compatible with Losmandy D format plates (regardless of plate manufacturer).
Software
Celestron PWI Telescope Control Software - Your Ultimate Astronomy Software Suite
All current Celestron computerized telescopes include Celestron PWI (CPWI), the most advanced astronomy software suite provided with any consumer-grade telescope. Celestron's experts co-developed CPWI with the engineers at PlaneWave Instruments. The result is an all-in-one solution offering you many of the same features used on PlaneWave's observatory-class telescopes.
Graphical planetarium interface with PointXP advanced mount modelling allows you to add 100+ points to your alignment model for the most accurate pointing and tracking possible
Ideal for remote observatory setups: save and re-load your alignment and park your scope
Provides a complete ASCOM telescope interface to allow control of the telescope from third party software applications
Starry Night Software
Included with your purchase is a free download of Celestron's Starry Night Special Edition Software. This advanced software by Simulation Curriculum offers detailed information about celestial objects and helps you plan your next observing or imaging session. The Special Edition software also allows you to control your telescope via computer.
What can I see with a Celestron Advanced VX 8" EdgeHD Telescope (12031)?
Here are some simulated views of common objects. Results with your telescope will vary with viewing conditions, obrits, equipment and more.
Jupiter with
40mm Eyepiece - 51x Magnification
(Included with This Telescope)
Jupiter with
10mm Eyepiece - 203x Magnification
Sold Separately
Jupiter with
5mm Eyepiece - 406x Magnification
Sold Separately
Moon with 40mm Eyepiece
51x Magnification
(Included with This Telescope)
Moon with 10mm Eyepiece
203x Magnification
Sold Separately
Moon with 5mm Eyepiece
406x Magnification
Sold Separately
Andromeda with 36mm Eyepiece
56x Magnification
Sold Separately
Andromeda with 40mm Eyepiece
51x Magnification
(Included with This Telescope)
Andromeda with 10mm Eyepiece
203x Magnification
Sold Separately
What's in the Box
This Kit Product Contains the Following SKUs:
Specifications
OPTICAL TUBE INFO:
Optical Design:
EdgeHD
Aperture:
203.2mm (8")
Focal Length:
2032mm (80")
Focal Ratio:
f/10
Focal Length of Eyepiece 1:
40mm (1.57")
Magnification of Eyepiece 1:
51x
Finderscope:
9x50
Star Diagonal:
1.25" Star Diagonal
Optical Tube:
Aluminum
Highest Useful Magnification:
480x
Lowest Useful Magnification:
29x
Limiting Stellar Magnitude:
14
Resolution (Rayleigh):
.69 arc seconds
Resolution (Dawes):
.57 arc seconds
Light Gathering Power (Compared to human eye):
843x
Secondary Mirror Obstruction:
64mm (2.5")
Secondary Mirror Obstruction by Diameter:
31%
Secondary Mirror Obstruction by Area:
9.77%
Optical Coatings:
StarBright XLT
Optical Tube Length:
432mm (17")
Optical Tube Diameter:
238mm (9.37")
Optical Tube Weight:
14 lbs (6.35 kg)
Dovetail:
CG-5 Dovetail bar
MOUNT INFO:
Mount Type:
Computerized Equatorial
Instrument load capacity:
30 lbs (13.6 kg)
Height adjustment range (includes mount and tripod):
1118mm - 1626mm (44" - 64")
Tripod Leg Diameter:
50.8mm (2") Stainless Steel
Latitude adjustment range:
7° - 77°
Mount Head Weight:
17 lbs (7.71 kg)
Accessory Tray:
Yes
Tripod Weight:
18 lbs (8.16 kg)
Weight of Counterweights:
1 x 12 lbs
Slew Speeds:
9 slew speeds - max speed 4°/second
Tracking Rates:
Sidereal, Solar and Lunar
Tracking Modes:
EQ North and EQ South
GPS:
N/A
Dovetail Compatibility:
Dual saddle plates (CG-5 and CGE saddle)
Number of Auxiliary Ports:
3 AUX Ports (1 hand control and 2 AUX Ports for optional accessories
Autoguide Port:
Yes
USB Port:
Yes, input on Hand Control
Power Requirements:
12V DC 3.5A (tip positive)
Motor Drive:
DC servo motors
Alignment Procedures:
2-Star Align, 1-Star Align, Solar System Align, Last Alignment, Quick Align
Periodic Error Correction:
Yes
Computerized Hand Control:
2 line x 18 character backlit Liquid Crystal Display, 19 LED backlit buttons, USB 2.0 Port for PC connection
NexStar+ Database:
40,000+ objects, 100 user defined programmable objects. Enhanced information on over 200 objects
Software:
Celestron Starry Night Special Edition Software and SkyPortal App
Total Kit Weight:
61 lbs (27.67 kg)
Why Should You Trust All Star Telescope?
We've Made All The Mistakes
So You Don't Have To
Learn More