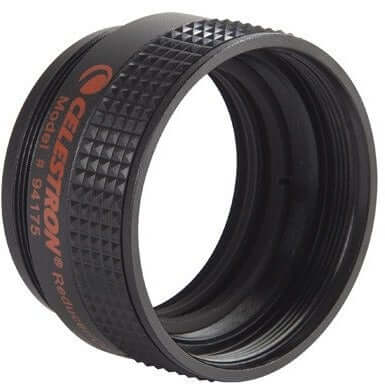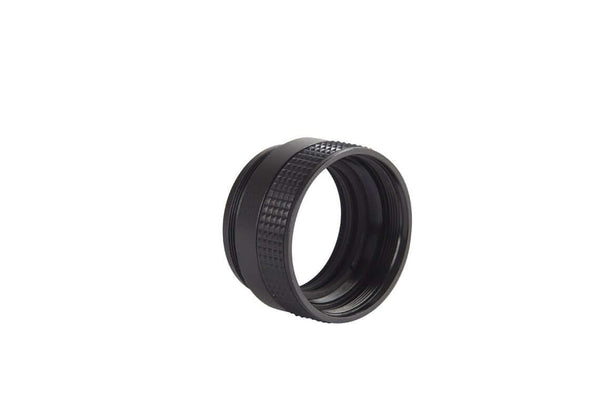 Free Expert Support
Why Purchase from All-Star Telescope?
Stress Free, Secure Shopping
Product Description
Imagine having two telescopes in one — a long focal length instrument for lunar and planetary work and a short focal length scope for deep sky observing and astrophotography. With the Celestron Reducer/Corrector Lens, that's precisely what you get.
Achieve shorter focal length
Explicitly designed for Celestron Schmidt-Cassegrain telescopes, this unique lens reduces your telescope's focal length and f/ ratio by 37%, turning your long focal length telescope into a fast, short focal length instrument. A f/10 focal ratio now achieves a f/6.3, while an f/11 focal ratio now achieves a f/7. For visual use, this means you get lower power with the same eyepiece and a wider field of view. Photographically you also get a wider field and much shorter exposures.
How to Use
The Reducer/Corrector is easy to install by threading the unit onto the rear cell of your Schmidt-Cassegrain telescope (or the reducer plate of the C11 and C14). Once installed, you can add additional accessories like T-Adapters, 1.25" Visual Back, Star Diagonal, or Off-Axis Guider.
The Reducer/Corrector can also be used for terrestrial digiscoping. The faster f/ratio allows you to use slower film or shoot in lower light level situations and still properly expose your subject. This fully multi-coated lens provides maximum light transmission with near full-field illumination.
Place the plastic covers on the lens when not in use to reduce the dust collection.
Body
The lens is housed in machined aluminum for are machined aluminum black anodized. The internal surfaces are blackened and glare-threaded to provide the highest contrast. The lens has a knurled surface, providing a tremendous gripping surface for threading/unthreading.
Due to the design, the Reducer/Corrector lens does diminish a small amount of field curvature common to all Schmidt Cassegrain telescopes but does not eliminate it. High power views will provide flatter fields all the way to the edge, both visually and photographically.
Specifications
| | |
| --- | --- |
| Lens Coating: | Fully Multi-coated |
| Material: | Machined aluminum |
| Compatible: | Celestron Schmidt-Cassegrain telescopes (C5, C6, C8, C9.25, C11, C14) | No EdgeHD tubes |
| Dimensions: | 56mm (2.2") in diameter, 34mm (1.34") long |
| Weight: | 4.3 oz (121.90 g) |
A really necessary accessory for astrophotography
I use it for my Celestron C8. It expands the field of view of the telescope, reduces the focal length and flattens (not completely) the edges of the image. Required for Schmidt-Cassegrain telescopes, especially if they take photos and do not have self-guidance.
It also works for visual purposes as it allows a larger field of view for large nebulae and galaxies as well as allowing the telescope to capture more light.
The quality in terms of function and materials is very good, the price, like everything in astronomy, is a little high.
Smoke
Unfortunately I haven't had a clear sky for some time. Can't wait until I can!
Reducer works great.
I have an 11" Celestron telescope and recently purchased a Celestron f/6.3 Reducer Corrector to help with my astrophotography. The corrector was very effective at significantly reducing the exposure time of my images. Also, it gave me a wider field of view which is helpful in making sure I got the whole target in my image. The stars were round and Sharp, except at the edges of the image. Lastly, although there is some vignetting at the edges, it doesn't affect processing the target as I'm able to crop the edges of the image.
Why Should You Trust All Star Telescope?
We've Made All The Mistakes
So You Don't Have To
Learn More