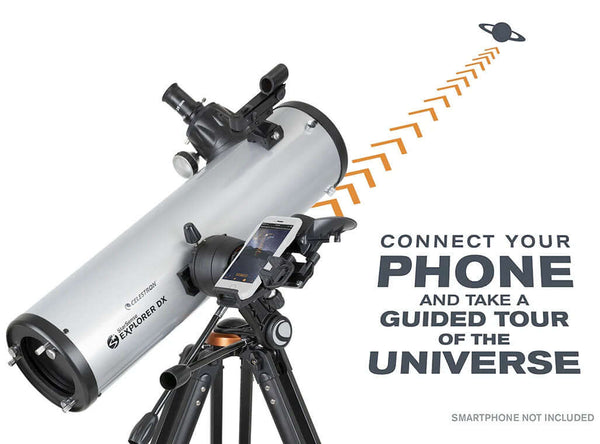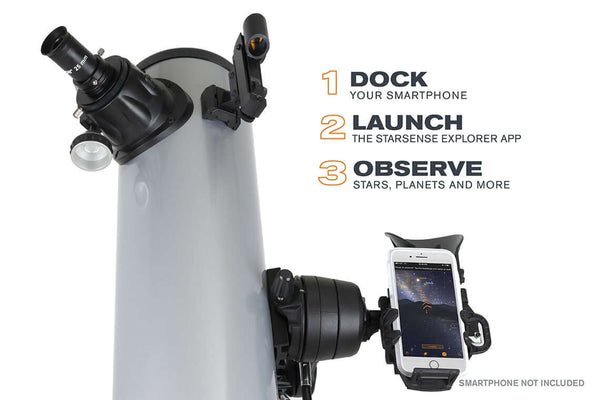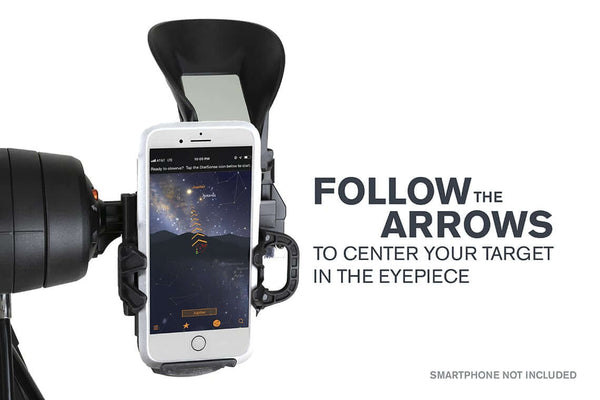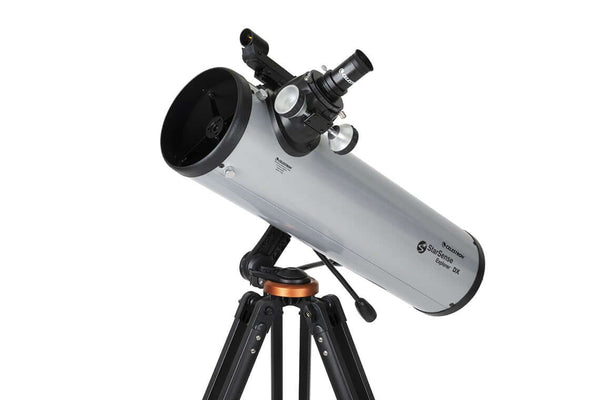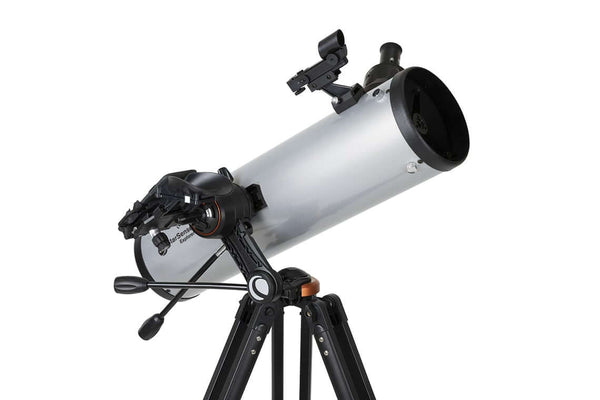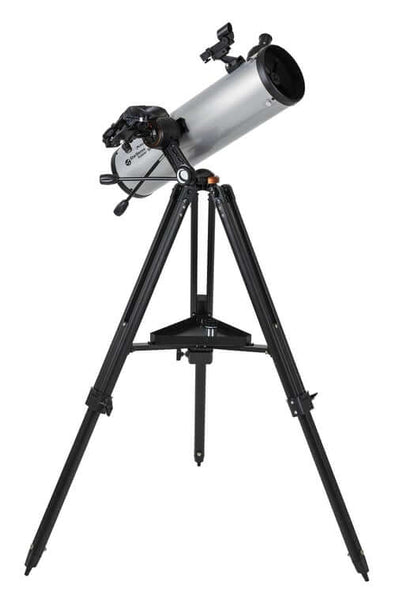 Free Expert Support
Why Purchase from All-Star Telescope?
Stress Free, Secure Shopping
Why we love the Celestron Starsense Explorer DX 130AZ (22461)
Product Description
Celestron has reinvented the manual telescope with StarSense Explorer-the first telescope that uses your smartphone to analyze the night sky and calculate its position in real time. StarSense Explorer is ideal for beginners thanks to the app's user-friendly interface and detailed tutorials. It's like having your own personal tour guide of the night sky.
Dock, Launch, Explore
Leave complicated star charts, imprecise planetarium apps, and computerized mounts behind. With StarSense Explorer, locating objects has never been easier, faster, or more accurate. Within minutes of setting up the telescope, you'll be navigating the sky with confidence. Simply place your phone in the unique StarSense dock and launch the StarSense Explorer app. After aligning your phone to the telescope's optics (a quick, 2-minute procedure), StarSense Explorer generates a list of celestial objects currently visible. Make your selection and arrows appear onscreen, guiding you as you to move the telescope. When the object is ready to view, the bullseye turns green.
Smartphone Compatibility
StarSense Explorer works with most modern smartphones, including iPhone 6 and up and most devices running Android 7.1.2 or later manufactured since 2016.
Patent-Pending StarSense Sky Recognition Technology
StarSense Explorer uses patent-pending technology and your smartphone to determine exactly where the telescope is pointed in the night sky. A Lost in Space Algorithm (LISA), like the ones satellites use in orbit to correctly orient themselves, helps the app match star patterns it detects overhead to its internal database.
While other astronomy apps may claim that they can help you find objects, they rely exclusively on the phone's gyros and accelerometers, which aren't as accurate as LISA technology. No other app can accurately tell you when your target is visible in the eyepiece.
High Quality Altazimuth Mount with Slow Motion Control
An ultra-stable altazimuth mount provides a sturdy foundation for StarSense Explorer DX. Slip clutches and geared slow motion controls in both axes help you move the telescope smoothly and zero in your target. As celestial objects appear to drift across the night sky, you'll be able to follow them with just a few turns of the knobs. It's all anchored by an adjustable, full-height tripod.
Dazzling Views with High Quality Optics
With a large 130mm (5") objective lens, this telescope has enough light gathering ability to bring out impressive detail in celestial objects. You can expect sharp, bright views of Jupiter's four Galilean moons, its cloud bands and Great Red Spot, the rings of Saturn, the trapezium in the Orion Nebula, and beautiful Pleaides Open Star Cluster. Highly reflective coatings on both the primary and secondary mirror enhance the views even more.
Perfect for the City or Dark Sky Sites
Even if you live in a light polluted city location, StarSense Explorer is advanced enough to be able to pick out Jupiter, Saturn, Venus, the Orion Nebula, double stars, and a few more of the most famous celestial objects.
But if you can take the telescope to an even slightly darker location, more objects will become visible. With this 5" Newtonian and relatively dark skies, the Andromeda Galaxy, Hercules Open Star Cluster, and so many more are easily within your reach.
The entire telescope kit weighs just 18 pounds, so it's perfectly portable and easy to bring on your next camping trip or to a remote observing site.
What can I see with a Celestron Starsense Explorer DX 130AZ (22461)?
Here are some simulated views of common objects. Results with your telescope will vary with viewing conditions, obrits, equipment and more.
Jupiter with
25mm Eyepiece - 26x Magnification
(Included with This Telescope)
Jupiter with
10mm Eyepiece - 65x Magnification
(Included with This Telescope)
Jupiter with
5mm Eyepiece - 130x Magnification
Sold Separately
Moon with 25mm Eyepiece
26x Magnification
(Included with This Telescope)
Moon with 10mm Eyepiece
65x Magnification
(Included with This Telescope)
Moon with 5mm Eyepiece
130x Magnification
Sold Separately
Andromeda with 36mm Eyepiece
18x Magnification
Sold Separately
Andromeda with 25mm Eyepiece
26x Magnification
(Included with This Telescope)
Andromeda with 10mm Eyepiece
65x Magnification
(Included with This Telescope)
What's in the Box
Specifications
OPTICAL TUBE INFO:
Optical Design:
Newtonian Reflector
Aperture:
130mm (5.11")
Focal Length:
650mm (25.59")
Focal Ratio:
f/5
Focal Length of Eyepiece 1:
25mm (0.98")
Magnification of Eyepiece 1:
26x
Focal Length of Eyepiece 2:
10mm (0.39")
Magnification of Eyepiece 2:
65x
Barlow Lens:
Not Included
Finderscope:
StarPointer red dot finderscope
Optical Tube:
Steel
Highest Useful Magnification:
307x
Lowest Useful Magnification:
19x
Limiting Stellar Magnitude:
13.1
Resolution (Rayleigh):
1.07 arc seconds
Resolution (Dawes):
.89 arc seconds
Light Gathering Power (Compared to human eye):
345x
Secondary Mirror Obstruction:
45mm (1.73")
Secondary Mirror Obstruction by Diameter:
34%
Secondary Mirror Obstruction by Area:
11%
Optical Coatings:
Glass mirrors coated with aluminum and SiOâ''
Optical Tube Length:
635mm (25")
Optical Tube Diameter:
165mm (6.49")
Optical Tube Weight:
8.8 lbs (3.99 kg)
Dovetail:
CG-5 Dovetail Bar
MOUNT INFO:
Mount Type:
Manual Alt-Azimuth
Height adjustment range (includes mount and tripod):
Aluminum, 1244.6mm (49") max height
Tripod Leg Diameter:
N/A
Accessory Tray:
Yes
Tripod Weight:
9.2 lbs (4.17 kg)
Slew Speeds:
Manual
GPS:
Uses phone's GPS
Dovetail Compatibility:
CG-5 Dovetail bar
Power Requirements:
None (Recommend PowerTank Glow to keep phone charged while using App)
Alignment Procedures:
Use StarSense Explorer App
Software:
StarSense Explorer App, SkyPortal App, and Celestron Starry Night Basic Edition Software
Total Kit Weight:
18 lbs (8.16 kg)
Wonderful Telescope That Will Get You Touring The Night Sky
The Starsense Explorer 130 DX will have you star hopping faster than you would imagine.
Starsense technology and the app are easy to use and work excellent with iPhones . The key to this technology is to minimize light pollution so Starsense has a clear view of the stars that it must map. I drive 3 km out of the city and it works every time. Spend a few extra seconds working on the alignment set up; if you do this accurately then locating targets is virtually bang on. I generally do this as the sun sets, however my last two nights got off to a late start so I used the red dot sight to align with a red flashing light on a tower. I used an Orion 20 mm illuminated crosshair eyepiece to align with the top red light on the tower then align the red flashing light with the red crosshairs on the Starsense app. After this, select a target in the Starsense app, it gives you a trail of arrows to follow to your target : it's amazingly accurate .
The slow motion controls are nice, allowing you to make subtle movements of the optical tube.
This telescope is easy to transport as three pieces: the optical tube assembly , collapsible tripod and eyepiece tray. Setup and takedown is easy and rapid.
I have upgraded the eyepieces to Baader Planetarium Hyperion, using 24 mm and 10 mm most frequently , the staff at All Star Telescope can help you find the eyepieces , filters and accessories that best meet your goals. Click on the "What can I see?" box under each telescope on All Star Telescopes to gain perspective on what targets will look like. Also check out their videos and articles.
Overall this is a great beginner telescope , that thanks to Starsense, will get you star hopping far faster than the traditional way of star hopping .
Practice using your telescope in daylight to make you more efficient switching eyepieces and filters before using it in the dark ( get a red LED headlamp ). Organize your accessories so they are easy to transport and access in the dark. The more efficient you can be, the more time you will spend in the eyepiece which is where the wonder of the universe can be enjoyed .
The staff at All Star Telescope have been very helpful , knowledgeable and can help you choose the right telescope for you.
Celestron Dx
It is not as powerful as I assumed from the description. But I have yet to take it outside as the weather and clouds have not aligned.
Also I do not have any crosshairs or red dot with which to align the telescope. So that is proving difficult.
Newbie
I've wanted a telescope my whole adult life. I quickly learned how overwhelming the search for the right beginner one was. Nicholas at All-Star really took the time to listen to me, answer my questions and help me narrow down my choice. I walked away with 2 good books and a beautiful Celestron Starsense explorer ex 130az. 2 days later I was out at the big pond by my place collimating it. The videos on their website really helped me figure out what I was doing and the articles were a great read. I'm on my way to the moon! For the first time ever I'm excited for the shorter days and longer nights in Alberta!
Why Should You Trust All Star Telescope?
We've Made All The Mistakes
So You Don't Have To
Learn More