Brand: Meade
Coronado <0.5 PERSONAL SOLAR TELESCOPE (0.5PST)
0.5PST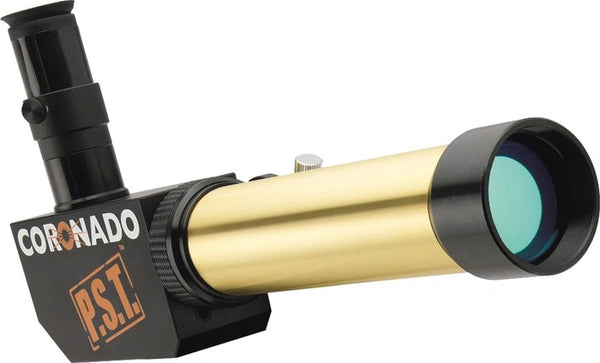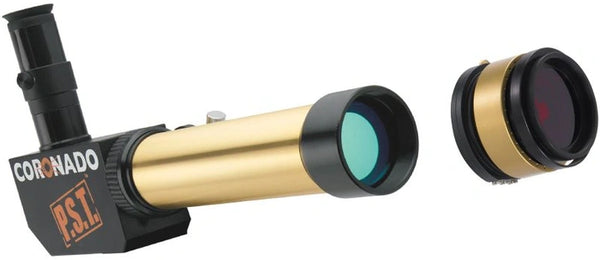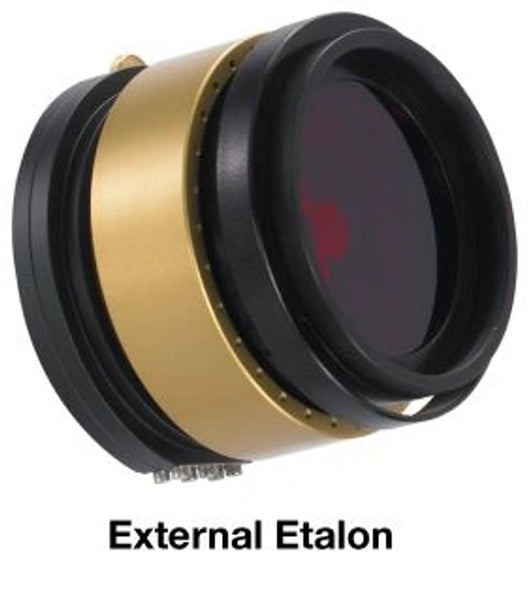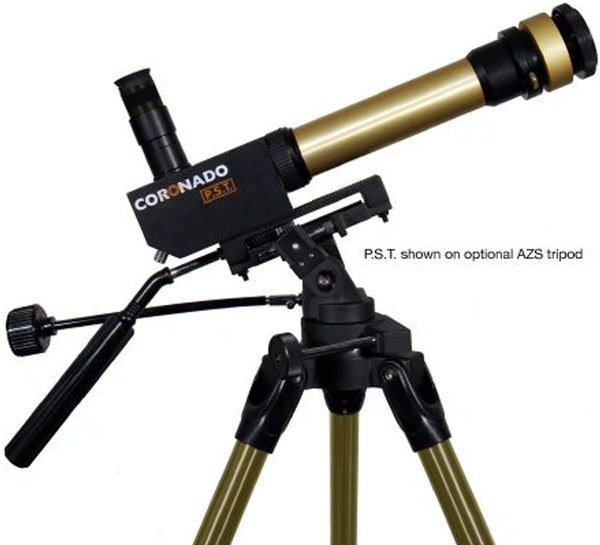 Brand: Meade
Coronado <0.5 PERSONAL SOLAR TELESCOPE (0.5PST)
0.5PST
Free Expert Support
Why Purchase from All-Star Telescope?
Stress Free, Secure Shopping
Product Description
The Sun's got a lot going on, and the Meade Coronado Personal Solar Telescope will show it to you. By zeroing in on the far end of the Sun's visible light spectrum - the hydrogen-alpha line at 656.3nm to be exact - the PST reveals a star rolling with violent, ever-changing activity. Best of all, the PST's innovative design allows H-alpha solar viewing for a breakthrough price.
With the PST you will witness eruptions in the solar atmosphere called flares and the dramatic streamers known as prominences that shoot out from the Sun's edge. You'll also see a solar disk mottled with granularity and dark, snaking filaments. Active regions containing migrating sunspots and bright, irregularly shaped plages add to the incredible detail. This compact 40mm f/10 refractor combines an internal filter called an etalon with a second thread-on external etalon which transmits only the primary wavelength of light emitted by hydrogen (656.3nm) in the solar chromosphere, where all the action occurs. This "double-stacking" of the two etalon filters produces a bandpass of 0.5 Angstrom, allowing for even more detailed, higher contrast views of the solar surface compared with wider bandpass filters.
The telescope is just 15" long and weighs only 3 lbs., so it needs only a small telescope mount or a sturdy camera tripod for support. A 1/4" -20 mounting socket under the scope's rear housing provides the attachment point.
The PST will show you how dynamic our nearest star really is, with some surface phenomena changing over several minutes time! Get a Meade Coronado Personal Solar telescope today and get in on the action!
Features a 40mm diameter dedicated Ha optical system with 30mm internal etalon primary blocking filter, 40mm external etalon, and incorporated focuser and bandpass fine adjustment controls and built in solar viewfinder. 400mm focal length, f/10 focal ratio, and includes an 18mm Plössl eyepiece. Tripod not included.
The gold CEMAX eyepieces can also be purchased separately. A focusing knob keeps the image sharp and a tuning collar allows the contrast to be adjusted on selected surface details. A clever Sun-finder window near the eyepiece provides a safe way to aim the telescope.
Mounting options include use on a standard photo tripod (scope is threaded for a standard camera 1/4-20 mounting bolt), Infinity AZS, or the Meade DSM mount with computerized Autostar and GOTO technology. A custom hard case is available separately.
Warranty note: Limited Warranty against defects in materials or workmanship for five years from date of purchase. This warranty is provided by Meade for the benefit of the original retail purchaser only. For complete warranty details contact Meade at 800-626-3233.
What can I see with a Coronado <0.5 PERSONAL SOLAR TELESCOPE (0.5PST)?
Here are some simulated views of common objects. Results with your telescope will vary with viewing conditions, obrits, equipment and more.
Jupiter with
18mm Eyepiece - 22x Magnification
(Included with This Telescope)
Jupiter with
10mm Eyepiece - 40x Magnification
Sold Separately
Jupiter with
5mm Eyepiece - 80x Magnification
Sold Separately
Moon with 18mm Eyepiece
22x Magnification
(Included with This Telescope)
Moon with 10mm Eyepiece
40x Magnification
Sold Separately
Moon with 5mm Eyepiece
80x Magnification
Sold Separately
Andromeda with 36mm Eyepiece
11x Magnification
Sold Separately
Andromeda with 18mm Eyepiece
22x Magnification
(Included with This Telescope)
Andromeda with 10mm Eyepiece
40x Magnification
Sold Separately
Specifications
Best for viewing
Solar
User level
Intermediate

Optical design
Refractor
Optical diameter
40mm
Focal length
400mm
Focal ratio
f/10.0
Glass material

Crown / Flint

Eyepieces
Plossl 18.0mm (1.25")
Magnification with included eyepieces
22x
Resolving power
2.90*sec
Lowest useful magnification
6x
Highest useful magnification
80x
Highest theoretical magnification
80x
Limiting stellar magnitude
10.7
Optical quality
Diffraction limited
Finder scope
None

Focuser
Internal
Mount type
Optical Tube without Mount
Tube material
Aluminum
Length of optical tube

20.0 in.

Weight, optical tube
3.2 lbs.
T-max tuner
No
Additional included accessories

Built in Sun-Finder to help center the sun

Other features

Includes external 40mm etalon filter
Two etalons together product 0.5 Angstrom bandpass
Contrast tuning adjustment ring

Warranty
Five year
Why Should You Trust All Star Telescope?
We've Made All The Mistakes
So You Don't Have To
Learn More