Brand: Meade
Coronado SOLARMAX III DS 70MM W/ BF10 & CASE (324004)
324004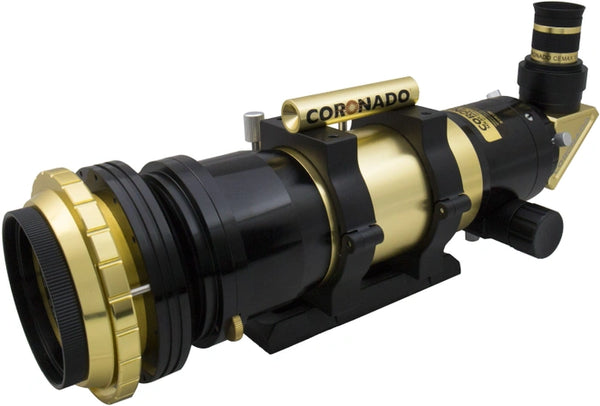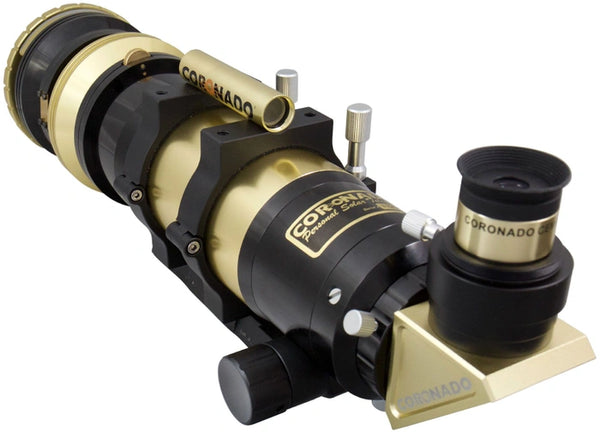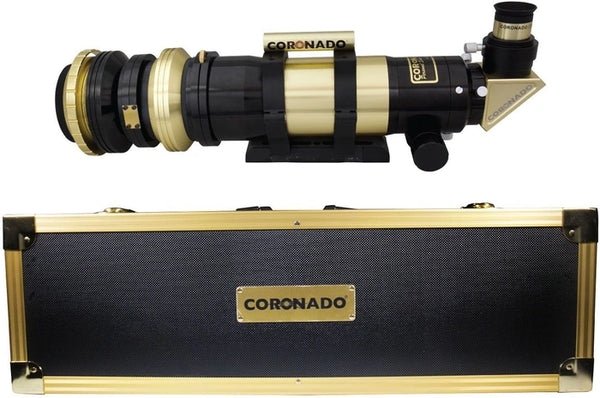 Brand: Meade
Coronado SOLARMAX III DS 70MM W/ BF10 & CASE (324004)
324004
Free Expert Support
Why Purchase from All-Star Telescope?
Stress Free, Secure Shopping
Product Description
This Coronado 70mm F/5.7 refractor is equipped with a double stacked set of 60mm external hydrogen-alpha (H-α) filters and features a <0.5Ã… bandpass with a 10mm blocking filter included. What makes the SM3 standout? Read on!
It has a new two-speed 2" rack & pinion focuser with both coarse and fine focus controls allowing the user to get a more precise focus, critical for both solar imaging and visual observing. Additionally, the SM3 70mm includes external "True" H-α etalon filters giving higher contrast views and sharper features compared with models using smaller internal H-α etalon designs. Experience darker backgrounds, sharper features, and higher contrast.
Also includes Coronado's patented RichView tuning allowing direct tuning of the primary etalon filter. The patented RichView tuning technology provides additional tuning range and an overall better way of adjusting the filters bandpass. Now you can tune for the highest contrast views of your favorite solar features without sacrificing image quality.
This Double Stacked model (<0.5Ã… bandpass) include two "True" external etalon filters. One etalon filter equipped with our patented RichView tuner and second etalon with tip-tilt tuning using Coronado's T-Max tuner. Whether you are focusing on the solar edge or surface features in the chromosphere, this is the solar scope for you. Since both etalon filters are now external to the telescope, you can easily remove both filters and rear blocking filter diagonal to use the scope as a normal refractor for night time astronomy. It's like having two scopes in one!
This very high quality 70mm solar telescope features an 400mm focal length, f/5.7 focal ratio, 10mm blocking filter, and 60mm external Hydrogen-alpha Etalon double-stack with T-max Tuner. Includes mounting rings, Cemax 18mm eyepiece, Sol Ranger solar finder and black & gold aluminum hard carry case.
Warranty note: Limited Warranty against defects in materials or workmanship for five years from date of purchase. This warranty is provided by Meade for the benefit of the original retail purchaser only. For complete warranty details contact Meade at 800-626-3233.
What can I see with a Coronado SOLARMAX III DS 70MM W/ BF10 & CASE (324004)?
Here are some simulated views of common objects. Results with your telescope will vary with viewing conditions, obrits, equipment and more.
Jupiter with
18mm Eyepiece - 22x Magnification
(Included with This Telescope)
Jupiter with
10mm Eyepiece - 40x Magnification
Sold Separately
Jupiter with
5mm Eyepiece - 80x Magnification
Sold Separately
Moon with 18mm Eyepiece
22x Magnification
(Included with This Telescope)
Moon with 10mm Eyepiece
40x Magnification
Sold Separately
Moon with 5mm Eyepiece
80x Magnification
Sold Separately
Andromeda with 36mm Eyepiece
11x Magnification
Sold Separately
Andromeda with 18mm Eyepiece
22x Magnification
(Included with This Telescope)
Andromeda with 10mm Eyepiece
40x Magnification
Sold Separately
What's in the Box
Specifications
Best for viewing
Solar
User level
Advanced

Optical design
Refractor
Optical diameter
70mm
Focal length
400mm
Focal rati
f/5.7
Eyepieces
Cemax 18.0mm (1.25")
Magnification with included eyepieces
22x
Resolving power
1.66*sec
Optical quality
Diffraction limited
Finder scope
Sol ranger
Focuser
2" dual-speed Rack-and-pinion
Diagonal degrees
1.25" 90° Blocking Filter Blocking Filter
Mount type
Optical Tube without Mount
Tube material
Aluminum
Length of optical tube
19.3 in.
T-max tuner
Yes
Additional included accessories

Black and gold hard carry case
Vixen dovetail bar
BF10 blocking filter

Other features

Double-stacked etalons for 0.5 angstrom bandpass
Dual-speed focuser

Warranty
Five year
Why Should You Trust All Star Telescope?
We've Made All The Mistakes
So You Don't Have To
Learn More