Brand: Meade
Meade 10" F/10 LX200-ACF W/UHTC (W/O TRIPOD) (1010-60-03N)
1010-60-03N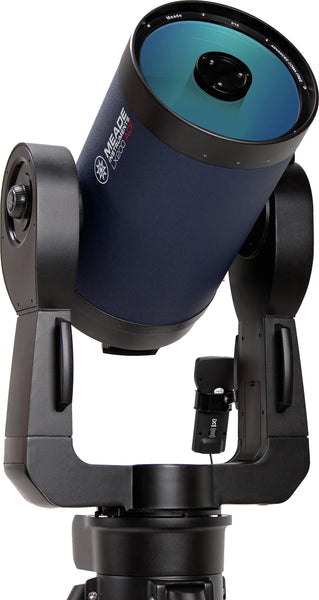 Brand: Meade
Meade 10" F/10 LX200-ACF W/UHTC (W/O TRIPOD) (1010-60-03N)
1010-60-03N
Free Expert Support
Why Purchase from All-Star Telescope?
Stress Free, Secure Shopping
Product Description
The Meade 10" LX200 ACF telescope handles your observing and imaging needs with ease. Incredibly compact for its aperture, yet with a robust and solid fork arm mounting for a vibration free image. Push button controls, automatic locating and tracking of celestial objects, and a wealth of object data at your fingertips in the AutoStar II hand controller. A mechanical mirror lock will completely eliminate any residual image shift — ideal for astro-imagers. Both visual astronomers and astrophotographers alike will appreciate the quality and capability of this beautifully made telescope.
Features a 10" aperture, 2500mm focal length, and f/10 focal ratio with Dual-Fork Mounting. Equipped with Ultra High Transmission Coatings (UHTC) and a resolving power of 0.456 arc-seconds for the improvement of brighter star clusters, more fine detail in nebulae, and greater surface features on planets. Includes a Series 4000 26mm Super Plössl eyepiece (96x), viewfinder (8x50 optical with crosshair), and 1.25" Diagonal Mirror. OTA Dimensions: 11.75" x 22" L.
Features AutoStar II computer system with 145,000 object-library, multiple guided tours, High Precision Pointing capability with sub arc-minute pointing accuracy, and Meade SmartDrive with Permanent Periodic Error Correction.
Precise and quick star alignment is done near effortlessly with Meade's level north technology alignment system incorporating a 16-channel GPS receiver. Drive base of the telescope has multiple input/output ports including an RS-232 PC interface and jacks for a CCD Autoguider (user-supplied) and illuminated reticle.
Mechanically loaded as well, all LX200 models feature a primary mirror locking mechanism, which effectively prevents movement of the primary mirror during long-exposure astrophotography or observing. Turn the lock knob located just above the telescopes main focus knob and the progressive-tension primary lock completely cancels any residual image shift due to mirror movement during visual, photographic, or imaging applications.
Features the DC-servo driven, super heavy-duty dual-fork mount - the strongest and most rigid mount in its class. Fast slew speeds are from 1 to 8-degrees per second, and can be user selected at 0.1-degree per second increments, while fine slewing and photographic guiding speeds can be adjusted from .01x to 1x sidereal in one one-hundredth increments. Mount and electronics are internally powered by 8 C-cell (user-supplied) batteries which will typically operate the telescope for around 20 hours (optional Meade Universal AC Adapter also available). The mount also has mechanical locks and slow motion manual controls in both axis if no power is available.
Meade's LX200 is the most widely used, research-grade telescope system. And now, you can have one too.
Warranty note: Limited Warranty against defects in materials or workmanship for two years from date of purchase. This warranty is provided by Meade for the benefit of the original retail purchaser only. For complete warranty details contact Meade at 800-626-3233.
What can I see with a Meade 10" F/10 LX200-ACF W/UHTC (W/O TRIPOD) (1010-60-03N)?
Here are some simulated views of common objects. Results with your telescope will vary with viewing conditions, obrits, equipment and more.
Jupiter with
26mm Eyepiece - 96x Magnification
(Included with This Telescope)
Jupiter with
10mm Eyepiece - 250x Magnification
Sold Separately
Jupiter with
5mm Eyepiece - 500x Magnification
Sold Separately
Moon with 26mm Eyepiece
96x Magnification
(Included with This Telescope)
Moon with 10mm Eyepiece
250x Magnification
Sold Separately
Moon with 5mm Eyepiece
500x Magnification
Sold Separately
Andromeda with 36mm Eyepiece
69x Magnification
Sold Separately
Andromeda with 26mm Eyepiece
96x Magnification
(Included with This Telescope)
Andromeda with 10mm Eyepiece
250x Magnification
Sold Separately
Specifications
| | |
| --- | --- |
| Best for viewing | Fainter deep sky |
| Best for imaging | Solar, lunar, planetary & Messier objects |
| Astro-imaging capability | Lunar, planetary & long exposure |
| User level | Advanced |
| Optical design | Advanced Coma-Free (ACF) |
| Optical diameter | 254mm |
| Focal length | 2500mm |
| Focal rati | f/10.0 |
| Coatings | Fully multi-coated |
| Eyepieces | Super Plossl 26.0mm (1.25") |
| Magnification with included eyepieces | 96x |
| Resolving power | 0.46*sec |
| Lowest useful magnification | 36x |
| Highest useful magnification | 300x |
| Highest theoretical magnification | 500x |
| Limiting stellar magnitude | 14.7 |
| Optical quality | Diffraction limited |
| Finder scope | 8x50 |
| Focuser | Internal |
| Diagonal degrees | 1.25" 90° Mirror Star |
| Mount type | Altazimuth |
| Dovetail bar system | Yes |
| Computerized compatibility | Go-To included |
| Number of objects in database | 145, 000 |
| Tracking rates | Sidereal, Solar and Lunar |
| Motor speeds | Up to 8 degrees/sec |
| Motor type | DC Servo motors with encoders |
| Power requirement | 12-volt DC (tip positive) |
| PEC | Yes |
| GPS Receiver | Included |
| Backlash compensation | Yes |
| Setting circles | Electronic, via the hand controller |
| Polar-axis scope | Sold separately |
| Available ports | RS-232, Aux, autoguider |
| Tube material | Aluminum |
| Weight, optical tube | 62.0 lbs. |
| Additional included accessories | Series 4000 26mm Super Plossl |
| Other features | AutoStar II controller with multiple guided tours, Powered by 8x C-batteries or external 12v, SmartDrive w/ Permanent Periodic Error Correction |
| Warranty | Two year |
Why Should You Trust All Star Telescope?
We've Made All The Mistakes
So You Don't Have To
Learn More