Brand: Meade
Meade #62 T-ADAPTER FOR ALL LT, LS, LX90, LX200 (07352)
07352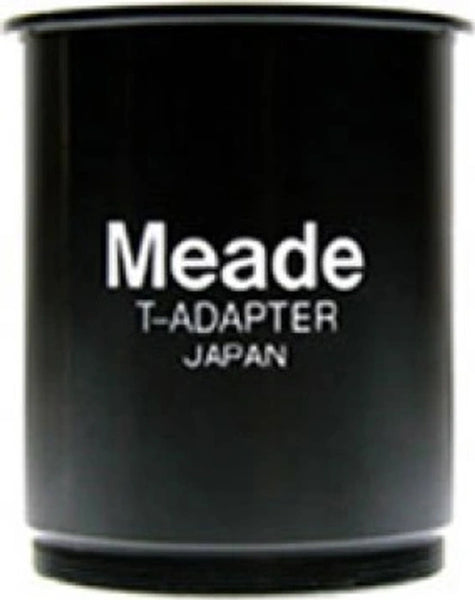 Brand: Meade
Meade #62 T-ADAPTER FOR ALL LT, LS, LX90, LX200 (07352)
07352
Free Expert Support
Why Purchase from All-Star Telescope?
Stress Free, Secure Shopping
Product Description
This Meade T-Adapter is a Schmidt-Cassegrain style telescope adapter for prime focus photography. Compatible with all Meade LS, LX90 and LX200 models including ACF and older Schmidt-Cassagrain designs which have a standard Schmidt-Cassegrain type rear cell thread.
The T-Adapter threads to the rear cell of the telescope directly without use of an eyepiece holder. Output is a standard photographic T-thread (male) to which many imaging devices including the Meade DSI will thread directly. For film based SLR cameras a T-ring is required, ordered separately for your DSLR camera brand.
The appropriate optional T-ring will thread onto the universal threads of the T-Adapter on one side and has the bayonet-mount unique to the user's brand of DSLR camera on the other side. In this way the camera body is rigidly coupled to the telescope's optical system, which in effect becomes the camera's lens.
Warranty note: Limited Warranty against defects in materials or workmanship for two years from date of purchase. This warranty is provided by Meade for the benefit of the original retail purchaser only. For complete warranty details contact Meade at 800-626-3233.
Perfect match
The product fits perfectly with my Nikon T-ring and the threaded mount on my SCT scope. It appears to be quite sturdy and should easily support my camera. I would recommend this product.
Why Should You Trust All Star Telescope?
We've Made All The Mistakes
So You Don't Have To
Learn More