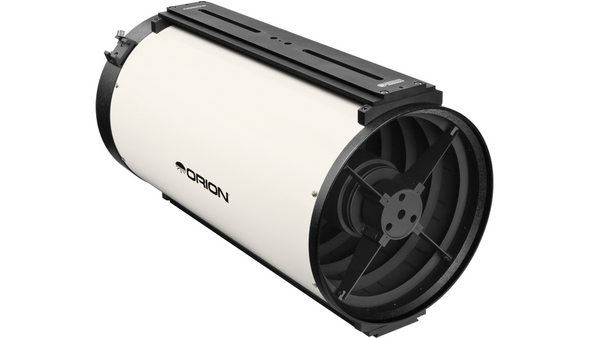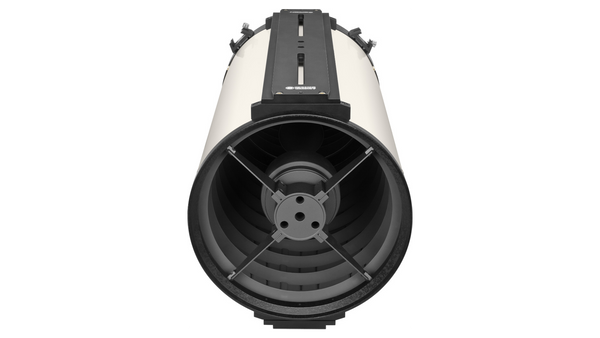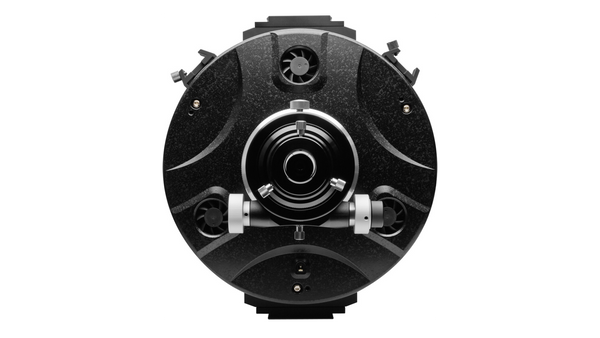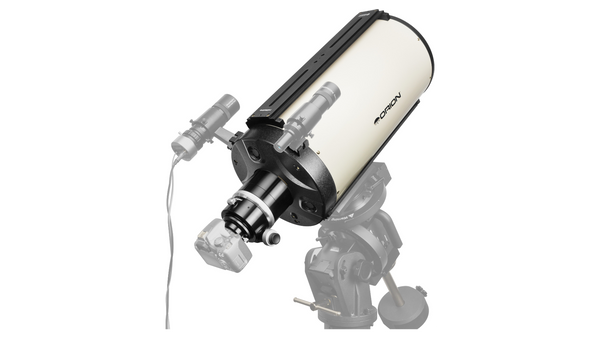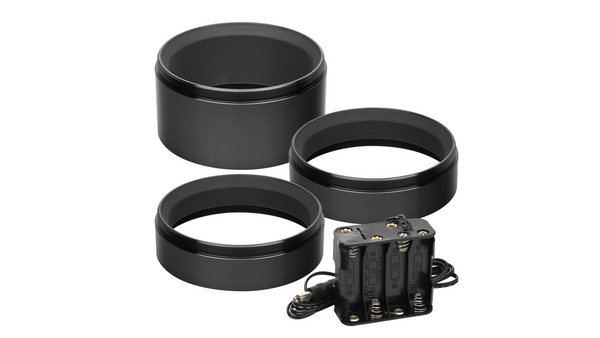 Free Expert Support
Why Purchase from All-Star Telescope?
Stress Free, Secure Shopping
Product Description
Go after even the most elusive and faint deep-sky targets with the Orion 10" f/8.0 Ritchey-Chrétien Astrograph. Featuring the highly regarded Ritchey-Chrétien optical design with excellent light gathering, a host of deluxe features, durable construction, and virtually coma-free optics, the big 10" RC is the ideal choice for astrophotographers searching for a superb imaging instrument.
Unlike conventional Newtonian reflector and Schmidt Cassegrain (SCT) designs that are susceptible to displaying coma away from the center of the field, the acclaimed Ritchey-Chrétien design utilizes hyperbolic primary and secondary mirrors to achieve wonderfully flat images that are virtually coma-free with pinpoint star clarity all the way out to the field edge. Plus, since there are no lenses in an "RC" telescope, captured images are delightfully free of chromatic aberrations for true-color performance. Both the primary and secondary mirrors of the Orion 10" RC are made of low-expansion quartz glass and feature enhanced aluminum coatings to provide 96% reflectivity with a protective quartz overcoat. The primary mirror of the Orion 10" Ritchey-Chrétien is fixed in-place to eliminate annoying "image shift" that plague Schmidt-Cassegrain telescopes which can wreak havoc during imaging sessions. The secondary mirror is precisely center-marked to facilitate collimation. The 10" enameled steel optical tube is fortified with 8 internal, computer-positioned, knife-edge light baffles; and both the primary mirror tube and secondary mirror light shield are also highly baffled to ensure maximum image contrast. All these elements come together to make this 10" Ritchey-Chrétien Astrograph an ideal instrument for capturing bright and detailed images of deep-space objects with APS-C and full-frame (35mm) CCD cameras and DSLRs.
The Orion 10" Ritchey-Chrétien Astrograph features a huge, 3.3" dual-speed (10:1) modified Crayford focuser with a sturdy linear track bearing which provides rigid, backlash-free support of hefty imaging cameras and accessories. An engraved millimeter scale on the focuser drawtube allows easy focus point repeatability, and the focuser provides 139.6mm of backfocus travel from the 2" collar (243.9mm from the rear cell) to accommodate imaging accessory trains. One 2" and two 1" machined focus extension rings are included so you can adjust focus position for various imaging cameras and accessories.
Two dovetail finder scope bases positioned on either side of the telescope focuser allows easy installation of optional finder scopes and aiming devices (sold separately). Three built-in 1.5" DC cooling fans on the rear cell helps accelerate mirror cooldown to save time during imaging sessions. A wide, "Losmandy-style" dovetail bar along the bottom of the telescope makes it easy to couple the 35.3 lb. Ritchey-Chrétien optical tube to heavy-duty equatorial mounts. A unique, Orion-exclusive, slotted wide dovetail bar along the top of the 10" RC facilitates easy attachment of optional guide scopes and other imaging accessories.
What can I see with a Orion 10" f/9 Ritchey-Chrétien Imaging Optical Tube Assembly (08266)?
Here are some simulated views of common objects. Results with your telescope will vary with viewing conditions, obrits, equipment and more.
Jupiter with
25mm Eyepiece - 80x Magnification
(Sold Separately)
Jupiter with
10mm Eyepiece - 200x Magnification
Sold Separately
Jupiter with
5mm Eyepiece - 400x Magnification
Sold Separately
Moon with 25mm Eyepiece
80x Magnification
(Sold Separately)
Moon with 10mm Eyepiece
200x Magnification
Sold Separately
Moon with 5mm Eyepiece
400x Magnification
Sold Separately
Andromeda with 36mm Eyepiece
56x Magnification
Sold Separately
Andromeda with 25mm Eyepiece
80x Magnification
(Sold Separately)
Andromeda with 10mm Eyepiece
200x Magnification
Sold Separately
What's in the Box
Specifications
Best for Viewing
Brighter deep sky
Best for imaging
Deep sky
User level
Advanced

Optical design
Ritchey-Chretien

Optical diameter
250mm
Focal length
2000mm
Focal ratio
f/8.0
Optics type
Hyperbolic

Eyepieces
None
Resolving power
0.46arc*sec
Lowest useful magnification
36x
Highest useful magnification
295x
Highest theoretical magnification
500x
Limiting stellar magnitude
14.7
Optical quality
Diffraction limited
Finder scope
None
Focuser
3" dual-speed linear bearing Crayford
Secondary mirror obstruction
110mm

Secondary mirror obstruction by diameter
43%

Secondary mirror obstruction by area
19%

Mount type
Optical Tube without Mount
Astro-imaging capability
Lunar, planetary & long exposure
Tube material
Steel
Length of optical tube
28.4 in.
Weight, optical tube
35.3 lbs.
Additional included accessories

Three built-in cooling fans, with battery holder
1.25" compression ring adapter
1" & 2" Extension tubes

Other features

Losmandy-style dovetail mounting bar on underside
Custom Losmandy-style guidescope mounting bar
Two dovetail finderscope bases


Warranty
One year
Why Should You Trust All Star Telescope?
We've Made All The Mistakes
So You Don't Have To
Learn More