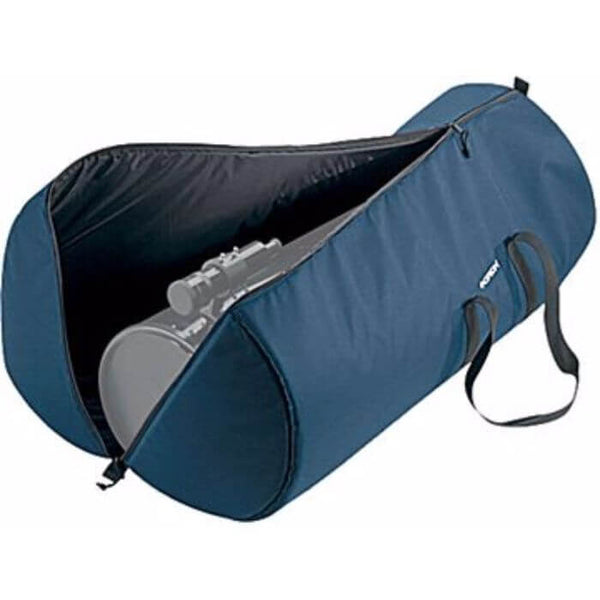 Free Expert Support
Why Purchase from All-Star Telescope?
Stress Free, Secure Shopping
Product Description
Orion offers a rugged, soft custom case to fit just about every telescope we stock. And now each is fully padded on all sides to provide maximum protection of your instrument.
This padded telescope case provides a convenient means for transporting and storing your scope. It'll stay cleaner and last longer, free of dings and scrapes.

The Orion padded telescope cases are made of a heavy-duty, water-resistant polyester/nylon material with padding sewn into the inner lining. A full-length zipper allows easy access and the handle straps fit nicely in the hand.

Comfortable to carry, forgiving of bumps and bruises, and more space-efficient than boxy hard cases, Orion's telescope case is a smart buy for any telescope owner. Get yours today!

Quick Overview
Soft padded case protects your telescope and makes transport and storage easy
Fits optical tube of the Orion SkyView Pro 8 EQ, Sirius 8 EQ-G, Atlas 8 EQ-G, SkyQuest XT6 Classic Dobsonian, and XT6i IntelliScope Dobsonian telescopes
Case made of heavy, water-resistant polyester/nylon material with padding sewn into the inner case lining
Full-length zipper allows easy access for quick deployment and repacking of equipment in the field. Handle straps can easily be slung over your shoulder for convenient transport
Internal case dimensions: 44" L x 11.5" W x 13.5" H
Great fit for my 6'' dob
Easy to use, great padding, ggod fit for my skywatcher classic 150 (6'') dobsonian telescope. Now it is much easier and safer to carry the OTA around. Great product
Great for safe transport
I wanted to be able to transport my 8" dob to star parties or even camping (if space allows). Has worked great so far, but I needed to remove any attachments as it is a snug fit. Handle is well balanced and it feels safer to carry it this way.
Why Should You Trust All Star Telescope?
We've Made All The Mistakes
So You Don't Have To
Learn More