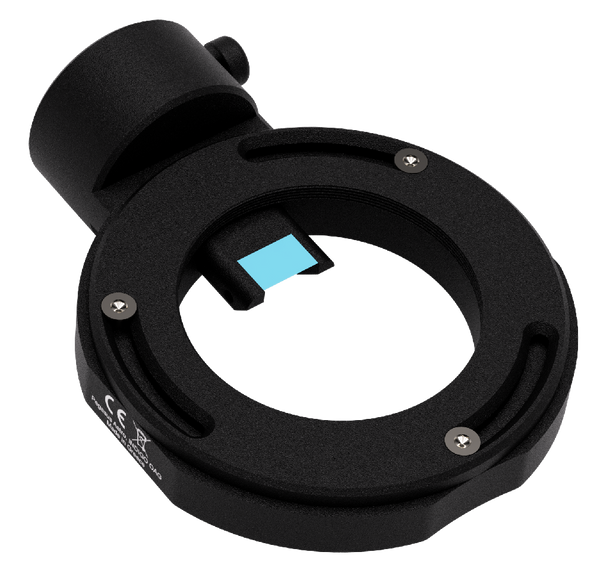 Free Expert Support
Why Purchase from All-Star Telescope?
Stress Free, Secure Shopping
Product Description
ur thin and solid design OAG can easily bond with our Indigo Filter Wheel. The OAG supports through holes (M2 and M3) in its body for direct connection with the latest CMOS cameras and other Filter Wheels.
The main advantage of having an OAG is that it uses the same optical path as your primary imaging camera. This avoids any issue with differential flexure that can occur when using a separate guide scope on top of your main telescope.
Large Size
Indigo OAG supports the 62mm through hole pattern for direct connection with latest CMOS cameras and Filter Wheels.
Guiding camera connection is a 1.25" barrel.
Orientation of image train framing can be achieved by the 3 screws that allow telescope adapter to slide inside the slots
Solid Design for Heavy Load of Imaging Gear
The thickness is 10mm and is design is solid enough to support heavy imaging equipment. The clear aperture is 53.5mm.
Package Includes:
a M54F threaded adapter for telescope connection. (adds a thickness of 4mm)
a M48F threaded adapter for camera connection. (adds a thickness of 4mm)
Indigo Filter Wheel Combination
The Indigo OAG can be directly mounted onto the Indigo Filter Wheel.
A combination of both products sums 19mm + 14mm (33mm total) of back-focus optical distance.
Specifications
Telescope Connection
Mechanical Design
Why Should You Trust All Star Telescope?
We've Made All The Mistakes
So You Don't Have To
Learn More