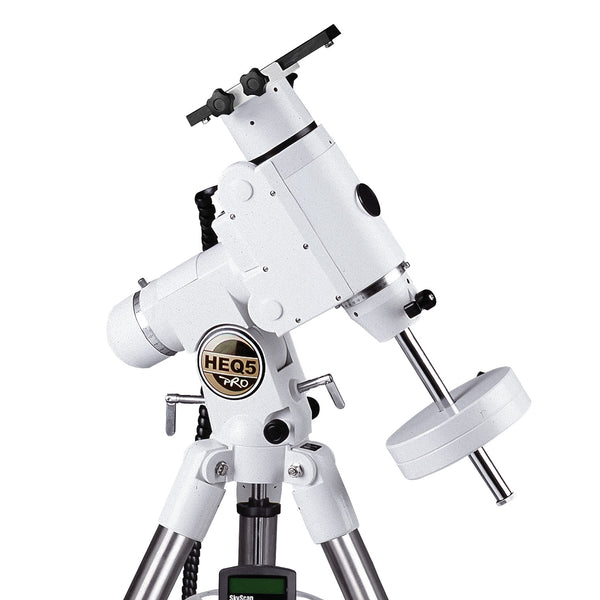 Free Expert Support
Why Purchase from All-Star Telescope?
Stress Free, Secure Shopping
Product Description
Sky-Watcher Pro mounts have been designed for use by novices and experts alike. These mounts provide extremely high precision tracking and have built in autoguider ports. This heavy-duty HEQ5 Pro mount is a smaller version of the sturdy EQ6 Pro mount. It is specially designed for observers who need the steadiness of the EQ6 Pro mount, but find the EQ6 Pro mount too physically demanding.
For novice users the user-friendly menu allows automatic slewing to over 13,400 objects. Even an inexperienced astronomer can master its variety of features in a few observing sessions. The SynScan Hand Control also has the ability to connect to a computer via a RS-232 cable. Once the connection has been established between the computer and SynScan Hand Control, many commercially available planetarium software programs can be used to control the HEQ5 PRO Mounts,
Designed for novice and experienced astronomers alike, the Sky-Watcher USA HEQ5 Equatorial GoTo Mount is built to similar specifications of their more robust mounts for those who are looking for something that is a bit more easy to manage without having to sacrifice performance. It features a hefty 30-pound payload capacity, a motorized mount head with the SynScan computer hand controller, a 1.75" stainless steel adjustable tripod, and a polar axis scope. The mount also has a Vixen-style dovetail saddle for mounting compatible telescope optical tube assemblies (OTAs) and accessories.
The brains of the mount is the SynScan controller that is packed with an internal database of nearly 43,000 celestial objects from comets and asteroids to galaxies and nebulae. With multiple slew speeds and automatic tracking capabilities, finding and keeping subjects centered in the field of view is easy—whether you're viewing the fast-moving moon or much slower deep-space subjects.
The included polar axis scope is installed through the body of the mount to make your initial polar alignment faster, easier, and more precise. Stainless steel legs and an accessory tray that also doubles as a leg-locking spreader provide a solid and stable platform for all your gear with natural vibration suppression to ensure clear views even at high magnification. This mount head is also outfitted with two counterweights for precisely balancing your optical tube and gear so it will move smoothly without adding excessive load to the motors.
Part Specifics
Mount
German equatorial mount tracks objects across the right ascension without field rotation, making it ideal for observation and astrophotography when properly polar aligned
30-pound payload capacity can hold most small to medium optical tubes plus visual or photographic accessories and gear
Vixen-style dovetail saddle is compatible with the most popular style of OTA mounting systems
Integrated polar alignment scope makes initial alignment faster, easier, and more precise
Clutches on each axis enable free movement without the need to run the motors
Includes two counterweights and a shaft to properly balance the OTA and accessories, relieving stress and strain on motors for easier movement with reduced vibration
Runs on 12 VDC power
SynScan Controller
Wired handheld computer controller for mount
42,900-object database including the complete Messier, NGC, and IC catalogs
25 user-defined objects
Alignment assistance: One-, two-, three-star alignment
Periodic Error Correction (PEC) removes inaccuracies inherent in gears and allows for more accurate tracking, especially for long-exposure astrophotography
Connect to and control with a computer via user-supplied RS-232 cable, compatible with many popular planetarium software programs
Flash upgradable via Internet download
Tripod
Adjustable height accommodates a variety of users and observation positions
1.75" diameter stainless steel legs offer improved stability and vibration absorption versus aluminum
Center tray provides a place to keep accessories like eyepieces and filters while doubling as a spreader to lock legs in position for even greater stability
What's in the Box
Specifications
Mount Type
German Equatorial
Telescope Mounting
Tube Rings
Slow-motion Control
R.A. & Dec (motor controlled)
Tripod
1.75" Diameter Stainless Steel Pipe
Tripod Height
97-121cm
Tripod Weight
5.6kgs
Counterweight Shaft Diameter
1.8cm
Counterweight Shaft Length
21.5cm
Counterweight Shaft Material
Stainless Steel
Mount Weight
10kgs
Mount Height
35cm
Counterweight
Two, 5.1kg each
Total Weight
15kgs (counterweight not included)
Power Supply
12 VDC 2Amp (Tip positive)
Motor Type
Micro step driven 1.8° stepper motors
Resolution
0.144 arc sec (or 9,024,000 steps/rev.)
Slew Speeds
2X, 8X, 16X, 32X, 64X, 400X, 500X, 600X, 800X
Gear Ratio
705
Tracking Rate
Sidereal, Lunar, Solar
Tracking Modes
Dual Axis, R.A. Tracking
Alignment Methods
One-star Alignment, Two-star Alignment, Three-star Alignment
Database
25 user defined objects
Complete M, NGC, and IC catalogues
Total: 13,436 objects.
Excellent customer service
This review is about the HEQ5i, but also about my overall experience with All-Star Telescope. I recently purchased the Sky-Watcher HEQ5i and a ZWO ASIAir Plus. I had a question prior to ordering the mount, so I sent off an email, and Nicholas was quick to send a friendly reply with only what I wanted to know. I went ahead and placed the order and shipping was very quick, although between the weather and life I haven't had much time to really set it up and get a feel for it. During the recent new moon I had a great night, and discovered that the tripod of the mount was faulty in a way that it was unusable. So I sent off another email asking about warranty, and again Nicholas came in to save the day. He started a ticket with Celestron/Sky-Watcher on my behalf and did most of the work for me. A few days passed and I was wondering if anything was happening, and then that same day a package arrived on my door with what I needed.
The HEQ5 does also work great and as intended, as does the ZWO. Also, the tripod leg I needed to be replaced just happened to be the north facing leg. I could put on my tinfoil hat here because the replacement I received, without them knowing, was also the north facing leg! I'm actually just grateful that I don't have to peel the sticker off. Jokes aside, the seamless warranty support is really appreciated. I've dealt with other Canadian telescope shops and have never had the overall pleasure of fast email replies, affordable and fast shipping, and absolutely excellent warranty support. Thank you again to Nicholas, and everyone else on the team at All-Star telescope!
Thanks again and clear skies!
Chris
Why Should You Trust All Star Telescope?
We've Made All The Mistakes
So You Don't Have To
Learn More