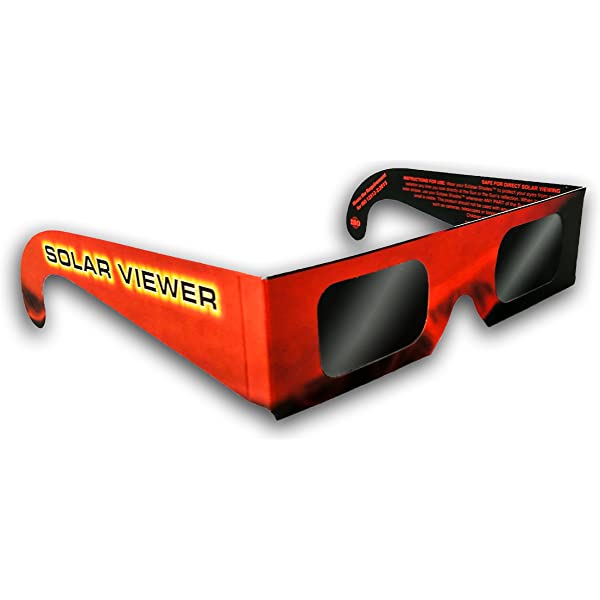 Quantity
Single Pair
25 Pack
100 Pack
Free Expert Support
Why Purchase from All-Star Telescope?
Stress Free, Secure Shopping
Why we love the Thousand Oaks Solar Eclipse Glasses - Solar Viewer (SOL-VUE)
Product Description
Solar Glasses or Solar Eclipse Glasses are a great way to safely view a solar eclipse.  Our Eclipse Glasses are absolutely safe for direct viewing of the sun and solar eclipses. The lenses are made of an exclusive scratch resistant optical density 5, "Black Polymer" material.
These shades are "CE" certified which meets the transmission requirements of scale 12-16 of EN 169/1992. Eclipse Shades filter out 100% of harmful ultra-violet, 100% of harmful infrared, and 99.999% of intense visible light. These premium filters create a sharper orange coloured image of the sun.
Excellent product. Excellent service.
I purchased this product with the intention of testing and working out any bugs in anticipation of April's eclipse. I was impressed with everything about this product. It is easy to install and the nylon screws prevent any damage to the telescope. The built in sun-finder was a brilliant addition and greatly assisted in aligning the telescope with the sun. The filter performed excellent, and I took some photos of the sun (and some sunspots) with my cell phone. This is exactly the type of product that I was looking for in preparation of the eclipse. Once again, service and delivery were exceptional. I have full confidence in All-Star Telescope.
I bought these glasses to.watch the annular solar eclipse on 10.14/23. We did t receive them in time, so I can't review...
Thousand Oaks solar eclipse glasses
I liked that these fit over my prescription glasses and the sun has a nice orange tint to look at.
Great value for a product that works well
I tried out the solar viewing glasses as soon as the package arrived - they worked great! If you need glasses (as I do) then you need to put these on first and then your prescription glasses.
Solar glasses
As advertised. Prompt delivery
Why Should You Trust All Star Telescope?
We've Made All The Mistakes
So You Don't Have To
Learn More