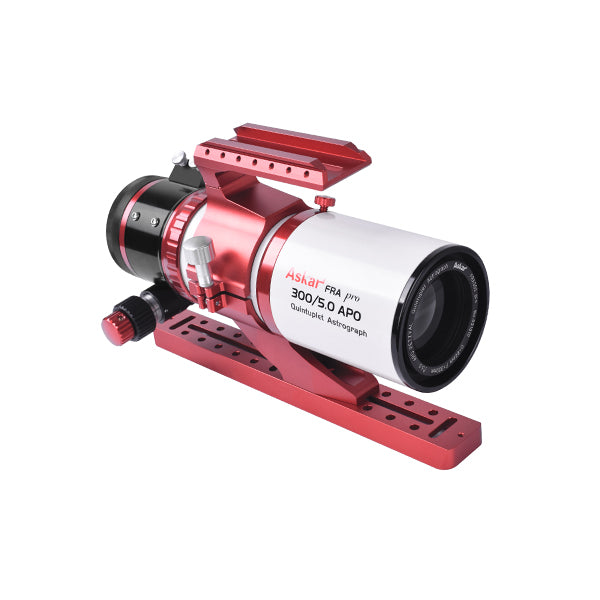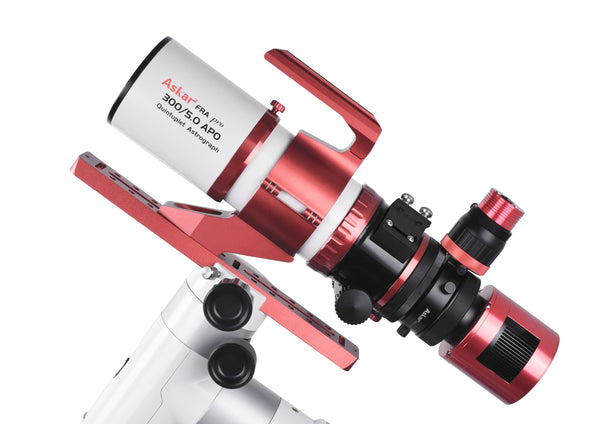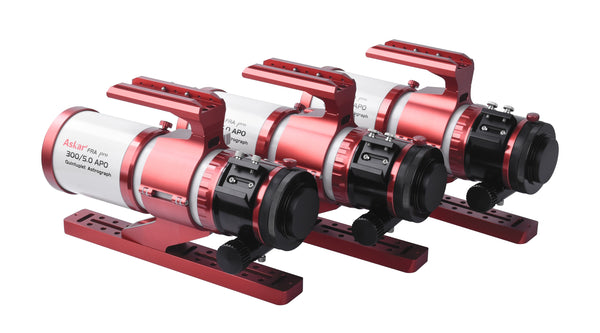 Free Expert Support
Why Purchase from All-Star Telescope?
Stress Free, Secure Shopping
Why we love the Askar FRA 300 F/5 Scope (FRA300)
Product Description
Since their inception, Askar FRA series short focal ratio astrograph have been very well received by astronomical amateurs. This year, we launched the FRA300 Pro - the smallest 60mm F/5 Petzval astrograph with the fastest native focal ratio in the FRA series so far, its focal length is 300mm.
The star is sharp and delicate. At the center of its field of view, the RMS radius can reach 2um. Even a serious user can also be satisfied when it comes to the shape of stars. It performs excellence with full-frame and supports 44mm imaging, which is a rare astrograph for amateur astronomers. Compared with F/6 or F/7,F/5 can effectively reduce the exposure time, helps you get the same exposure in less time. In addition, the entire OTA is compact, making it the portable choice for field photographers.
FRA300 Pro 's objective lens adopts a quintuplet fully air-spaced structure, including one piece of ED glass, it also adopts a fully-multi-coating to effectively remove stray light.
In particular, the rear group lens adopts the two pieces of far-separated refractive lenses, which improves both the star quality and the aberration correction performance, and has a very good control of full-frame peripheral light reduction.
Mechanically,FRA300 Pro is assembled with high-quality CNC-machined components , wrapped with smooth spray coating and light oxidation process, both beautiful and practical. The tube ring design is equally lightweight and stylish. Despite the increased cost, we want enthusiasts to use the FRA300 Pro that perform well in every way and are considered in every detail.
The focuser is 2.5"rack-and-pinion focuser, which is solid and beautiful. It's designed with dual-speed hand knobs, twin knobs for coarse adjustment and a fine adjustment knob to accurate the focus, equipped with a universal M48X0.75 thread adapter. There are also two separate M54X0.75 and M48X0.75 adapters in the standard kit for easy access to a variety of imaging equipment and accessories. The end is equipped with a 360° rotator, which is convenient for users to rotate at any angle when shooting.
FRA300 Pro also comes standard with a multi-function handle and a 300mm vixen-style dovetail plate, which can be directly connected to various mounts and accessories, the multi-functional handle can also be connected to the universal vixen-style finder base. The 300mm dovetail plate allows the astrograph to maintain balance on the mount.
What can I see with a Askar FRA 300 F/5 Scope (FRA300)?
Here are some simulated views of common objects. Results with your telescope will vary with viewing conditions, obrits, equipment and more.
Jupiter with
25mm Eyepiece - 12x Magnification
(Sold Separately)
Jupiter with
10mm Eyepiece - 30x Magnification
Sold Separately
Jupiter with
5mm Eyepiece - 60x Magnification
Sold Separately
Moon with 25mm Eyepiece
12x Magnification
(Sold Separately)
Moon with 10mm Eyepiece
30x Magnification
Sold Separately
Moon with 5mm Eyepiece
60x Magnification
Sold Separately
Andromeda with 36mm Eyepiece
8x Magnification
Sold Separately
Andromeda with 25mm Eyepiece
12x Magnification
(Sold Separately)
Andromeda with 10mm Eyepiece
30x Magnification
Sold Separately
What's in the Box
Specifications
| | |
| --- | --- |
| Aperture | 60mm |
| Focal Length | 300mm |
| Focal ratio | F/5 |
| Objective Type | Quintuplet fully air-spaced Petzval APO |
| Image Circle | 44mm |
| Overall Length | 303mm |
| Weight | 2.26kg |
| Options weight | 3.12kg |
| Back-End Adapter | M48x0.75 male thread |
Great little scope that produces spectacular large field images!
The Askar 300 has excellent optics with stars sharp right to the edges. Since it has a flat field focuser built in; none needs to be purchased. Back focus is not a concern either. This is very convienent! If you pick up the scope, you will notice that it is surprisingly heavy... that is because the best for astrophotography the rack and pinion focuser, is solidly built. Excellent scope that produces great wide field images of the night sky.
Askar FRA300 Pro… Its great!
Simply put this scope is sharp, well made and flat, flat, flat flat! I am very happy with my purchase!
Why Should You Trust All Star Telescope?
We've Made All The Mistakes
So You Don't Have To
Learn More