Brand: ZWO
ZWO ASIAIR PLUS (ZWO-ASIAIR-PLUS)
ZWO-ASIAIR-PLUS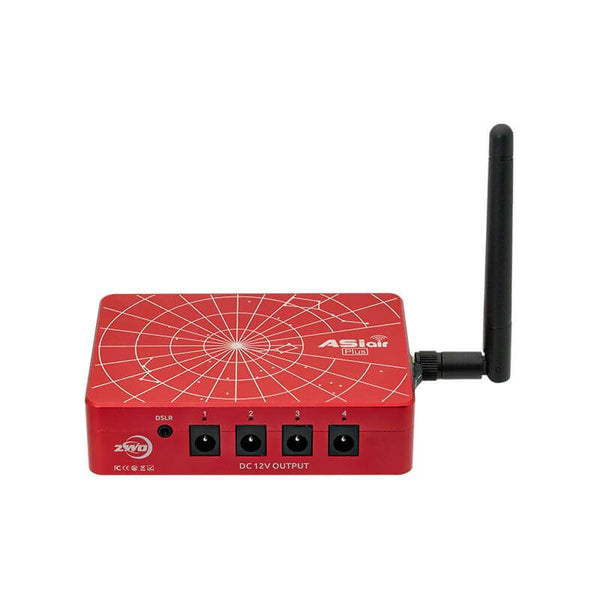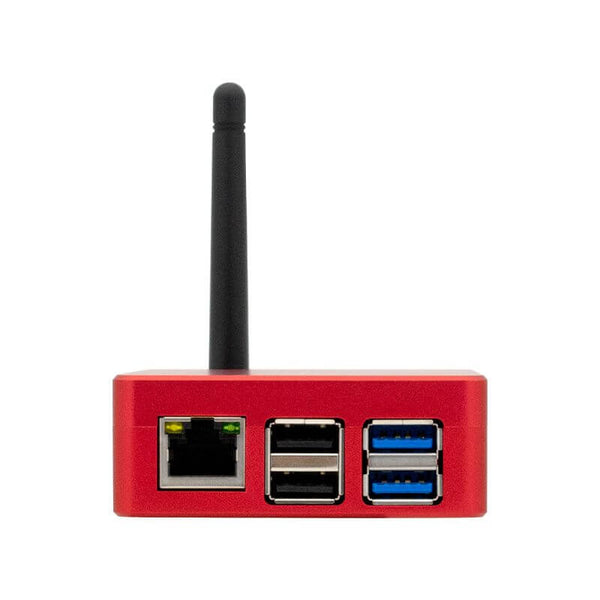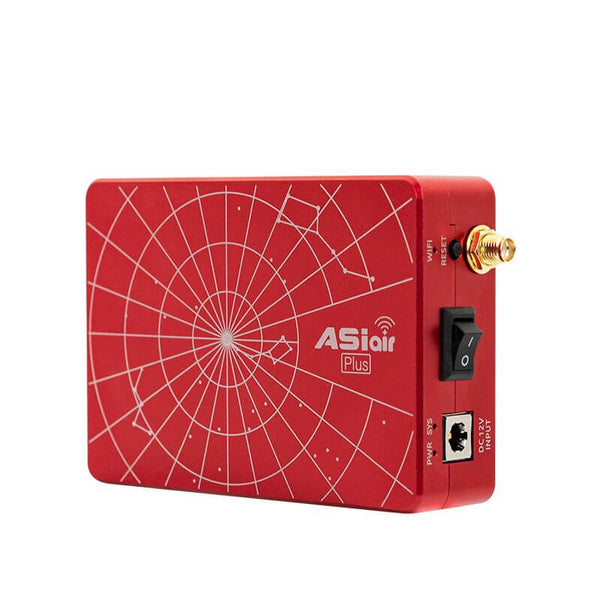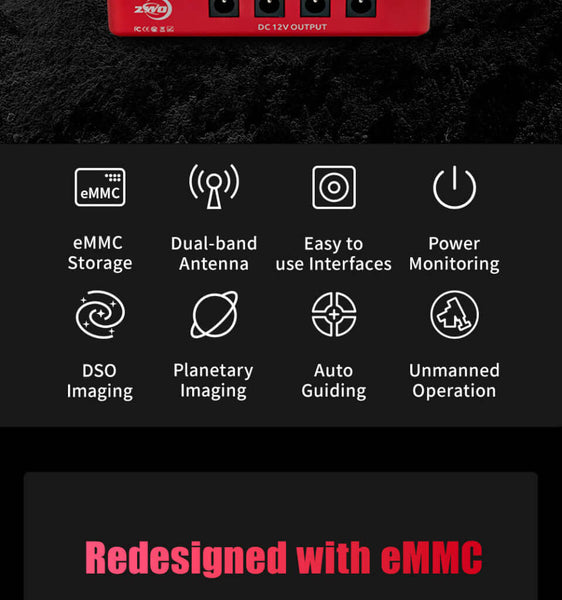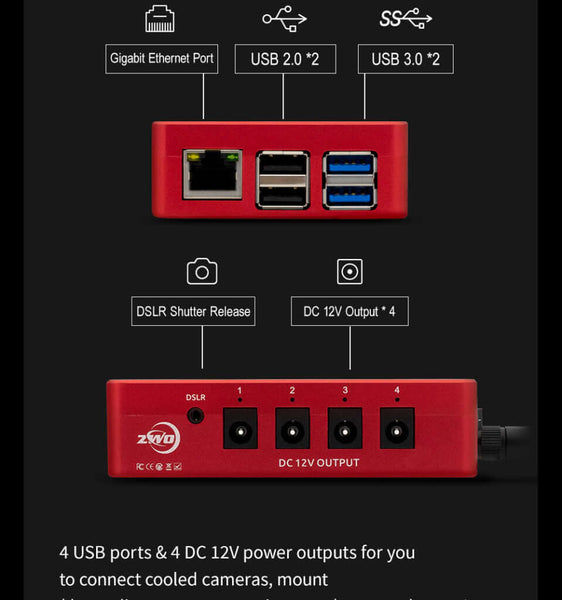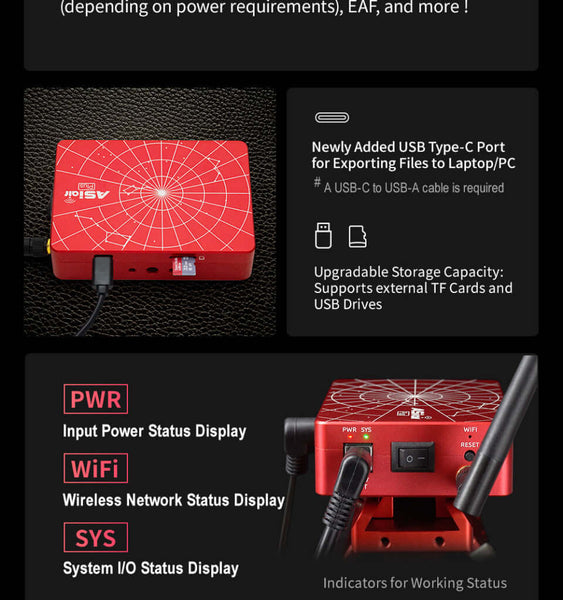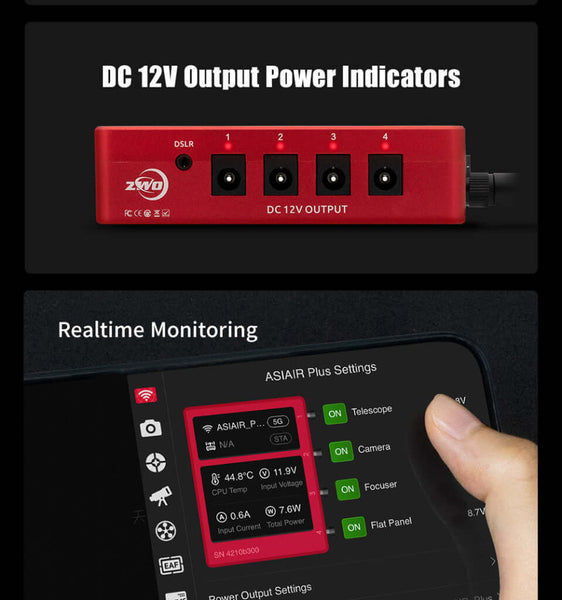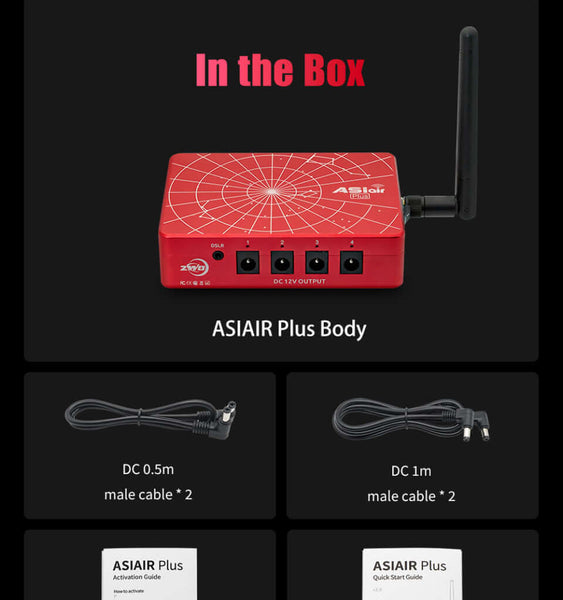 Brand: ZWO
ZWO ASIAIR PLUS (ZWO-ASIAIR-PLUS)
ZWO-ASIAIR-PLUS
Free Expert Support
Why Purchase from All-Star Telescope?
Stress Free, Secure Shopping
Why we love the ZWO ASIAIR PLUS (ZWO-ASIAIR-PLUS)
Product Description
The body of the ASIAIR Plus is smaller and lighter than its predecessors. It is 25% thinner and 13% lighter than the ASIAIR Pro. The body is made out of CNC machined aluminum and the design of the casing protects the technology from dust and dew accumulation. With laser carving technology, the top of the ASIAIR Plus showcases a design with the constellations Cassiopeia, Ursa Major, and Ursa Minor. You will find several status displays on the body of the ASIAIR Plus: an Input Power Status Display (PWR), a Wireless Network Status Display (WiFi), and a System I/O Status Display (SYS).
The dimensions of the body are 100 mm x 70 mm x 26.5 mm
About the Enhanced Antenna and WiFi Capability
Included with the ASIAIR Plus is a built-in WiFi antenna. When compared to earlier versions of the ASIAIR, the Plus version's antenna has an increased signal, making the connection between your device and the ASIAIR Plus more stable. This also enables the signal range to be wider. With the inclusion of the antenna, you will ultimately see a stronger WiFi signal and faster communication.
This small device can totally replace your computer or a mount hand controller. With the wireless technology, you can even control your astrophotography gear from inside! The 2.4G/5G Dual-band WiFi network has a working range of up to 20m.
ZWO has designed the ASIAIR Plus so that it may also be hardwired via an Ethernet cable to your home's WiFi router. This allows you to access the device anywhere within your router's WiFi range. There is no VNC or remote desktop; the ASIAIR is able to handle all tasks needed for DSO imaging. These include Preview, Plate Solving, Focus, Polar Align, Guiding, Autorun, Plan (multi-target), Video (Planetary Imaging, Live Stacking, and more!
The ASIAIR Plus Outputs and Ports
ZWO has also added indicators for the four DC-12V outputs to the body ASIAIR Plus. These indicators, along with a function in the ASIAIR app, allows you to check the power status easily, and you are able to monitor power consumption in real-time. You can find the app in all major app stores. The ZWO ASIAIR Plus also comes with two USB2.0 ports and two USB3.0 ports that will allow you to connect your ASIAIR device to your camera, mount, ZWO EAF, and more. Please make sure to check power requirements for any device you plan to connect
Also included are a gigabit Ethernet port and DSLR Shutter Release cable receptacle. The Type-C USB port allows for connection to a laptop for exporting files from internal storage and the TF card. This connection allows for the transfer of data, eliminating the need to pull out the SD card and the use of a card reader. Please note that a USB-C to USB-A cable is required, but not included. The ASIAIR Plus also supports external TF cards and USB drives for upgradable storage capacity. The storage capacity is recommended to be 512GB and 1TB maximum. It currently supports three file system formats: NTFS, FAT32, and exFAT.
Recovery Mode and eMMC
Get ready for a smooth and stable experience with the ASIAIR Pro. ZWO has included a Recovery Mode where the system will detect faults and recover itself if the ASIAIR Plus cannot boot up. Additionally, this version of the ASIAIR has been redesigned with eMMC storage; there is 32GB of storage space and 20GB free space storage for saving images and videos. With the eMMC, the ASIAIR Plus' I/O speed is up to 2.5x faster than the ASIAIR Pro.
eMMC Features
Avg. Read Speed: 85MB/s
Avg. Write Speed: 52MB/s
Storage Space: 32GB
Free Space: 20GB
Super System Stability: Reset Firmware and Auto Recovery
Recommended Power Supply Requirements
ZWO recommends that the ASIAIR Plus have an 11V-15V @ 2A-5A power supply. If the power supply is lower than 9V or higher than 15V, the ASIAIR Plus cannot be turned on as a safety precaution.
Makes astrophotography simpler.
Struggle is real when you first get into this hobby. From using Astroberry to Stellarmate to NINA. This little box does it better despite all your gear has to be ZWO. Learning curve is not as steep as the other solutions I mentioned above. Highly recommend.
ASI air plus
A great little computer Well worth it money It does it all Easy to work with and the WIFI is excellent Highly recommend it.
Asiair pro
Works great so far. Can't wait for my solar LUNT50 to arrive
Going wireless
Going wireless was my key objective. There are other viable options, ranging from mini-pc's to prepackaged Astro mini pc's. ZWO's competitive low cost was attractive. The trade off was being tied to proprietary ZWO product compatibility. After lots of research I made the leap, trusting that ZWO will continue to offer top notch competitive products that satisfy my Astrophotography skill level. In the end, I'm satisfied that the ASIAIR-Plus gives seamless integration to my scope/mount/camera/ focused/guider. I may, one day, progress to a more challenging focal length above 1100mm, but for now this control center is a great addition to my Astro-kit.
Great all encompassing product
I heard many great comments about the ASI Air and now I join the chorus. I mount mine on the scopes finder shoe so the cables move with the scope. Cross these items off your list: Laptop & power supply, specialized polar alignment tools, planetarium software, mount control and imaging application, guiding application, drivers, endless software updates, pages and pages of how too and searching for answers on forums, software configurations.... need I say more?
Why Should You Trust All Star Telescope?
We've Made All The Mistakes
So You Don't Have To
Learn More