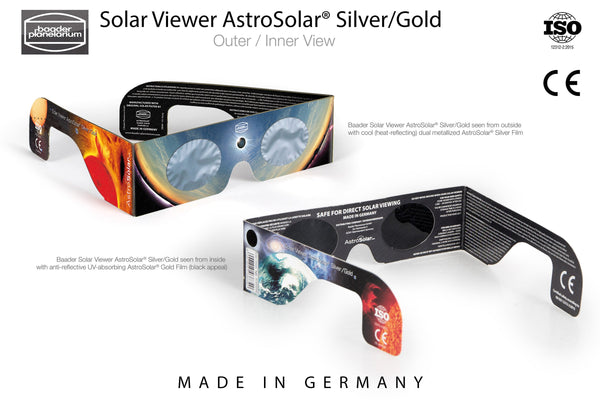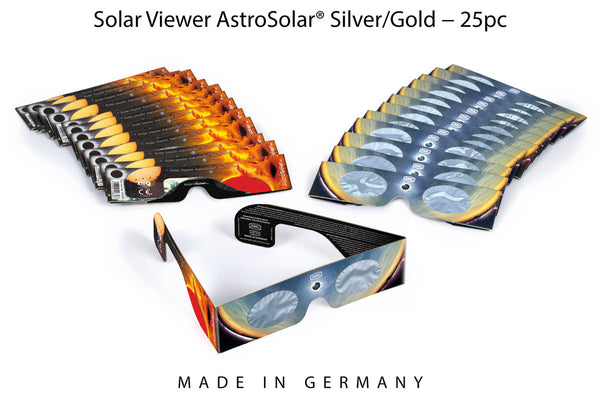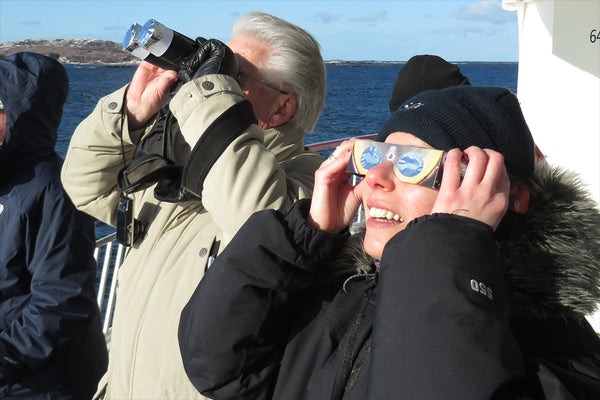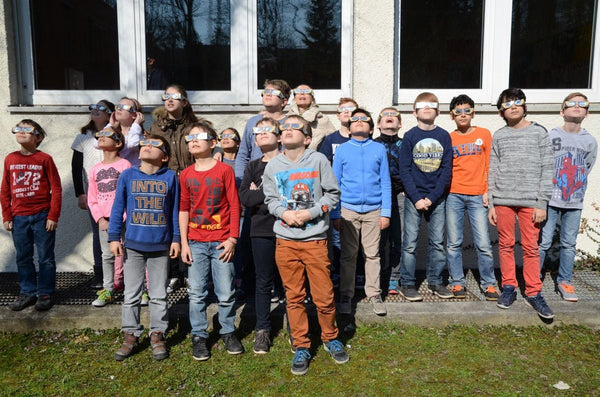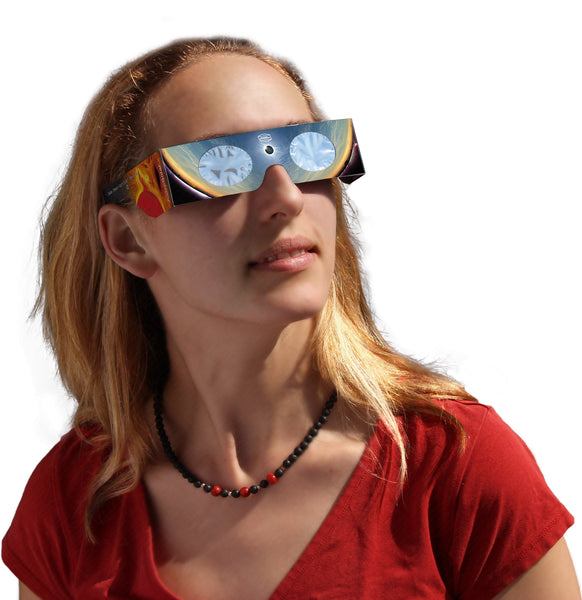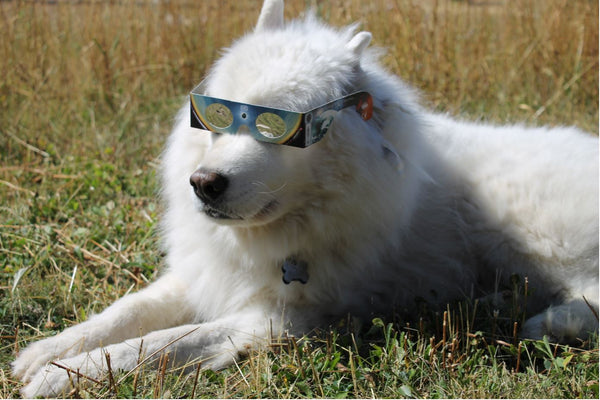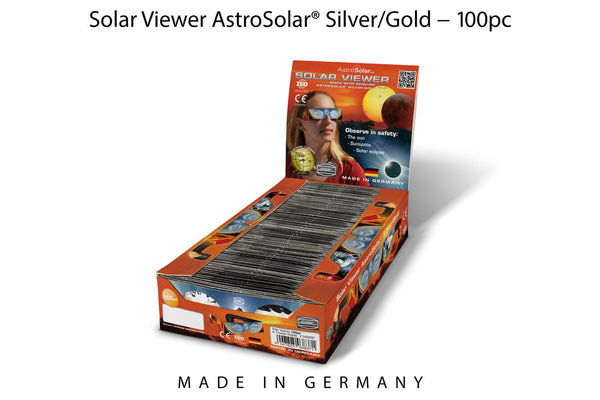 Size
Single
10 Glasses
25 Glasses
100 Glasses
Free Expert Support
Why Purchase from All-Star Telescope?
Stress Free, Secure Shopping
Product Description
Baader's Renowned Solar Viewer Silver/Gold eclipse viewers provide a premium and safe affordable way to view the sun. Proven and trusted around the world for over 30years. Baader and Alpine Astronomical are among the few reputable suppliers of eclipse viewers recommended by NASA and the American Astronomical Society.
Available in 10pc, 25pc, and 100pc quantities. For smaller qty sales, please contact one of our Authorized Dealers.
Baader's latest viewers offer the following benefits:

NEW – No Reflections: the anti-reflective, UV-absorbing "Gold"Film on the inside of Baader'sAstroSolar® Viewers guarantees a most comfortable viewing experience (none of the 'warming' that can be felt with some black PET film viewers)
Made in Germany: Baader Solar Viewer AstroSolar® Silver/Gold are entirely produced in Germany under direct supervision of Baader Planetarium. These are high quality glasses using time tested expensive materials, processes, and stringent quality controls.
Safety: Baader Solar Viewer AstroSolar® Silver/Gold meets and largely exceeds the latest EN ISO 12312-2:2015 standard for eclipse viewers. Just as importantly - Each and Every Viewer is tested to ensure its safety. Don't entrust your eyes to anything less.
Crystal Clear and Tack Sharp: Many low cost viewers may supply softer hazy views. Baader's Solar Viewer AstroSolar® Silver/ Gold deliver the same crystal clear views as their renowned Astro Solar® film used for over 30 years by professionals and amateurs for high magnification telescopic observation.
True Color Views: No other viewer presents the sun as close to its real color – WHITE! All of the other viewers claim to produce a 'pleasing' or 'Natural' yellow or orange colored sun (not because that is desirable, but because all simple smoked plastic viewers color the image to look reddish). Nothing could be more un-natural for the overhead sun. Our Sun is White and Baader'sAstroSolar® Viewers are the only way to see it this way with your eyes.
Four languages in one: Solar Viewer AstroSolar® Silver/Gold may be lawfully sold across the USA as well as in Mexico and Canada as they carry safety instructions in English, French and Spanish language. The fourth language - German - is just a reminiscent of their origin.
Story: each Solar Viewer AstroSolar® Silver/Gold printing artwork explains in vivid images what actually happens during an eclipse
Safe storage: each viewer packed individually in protective poly-bag
Baader Solar Viewer Glasses
These solar glasses produce a very nice white-light view of the sun compared to the yellow / orange tint in most solar glasses. I was even able to make out some larger sunspots. Along with the great service from All-Star Telescope, you can't go wrong!
Why Should You Trust All Star Telescope?
We've Made All The Mistakes
So You Don't Have To
Learn More