Brand: QHYCCD
QHYCCD QHY5III715C (Color) Planetary Guide Camera (QHY5III715C)
QHY5III715C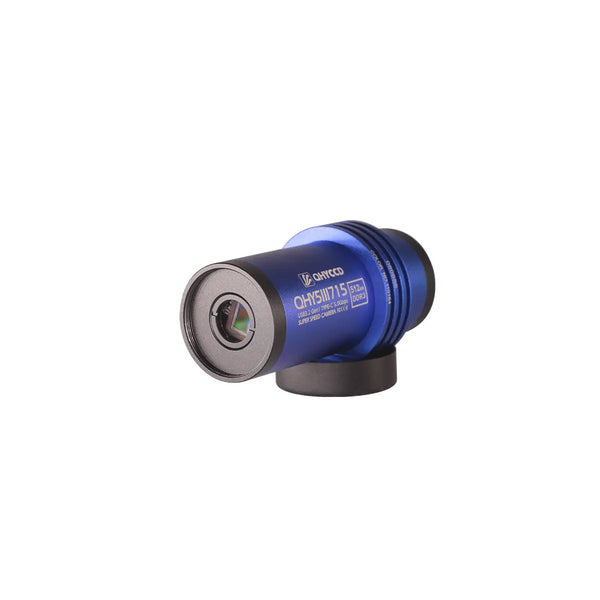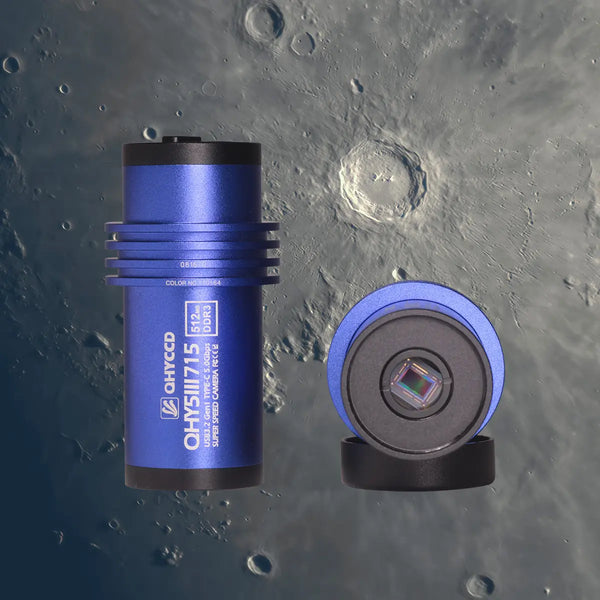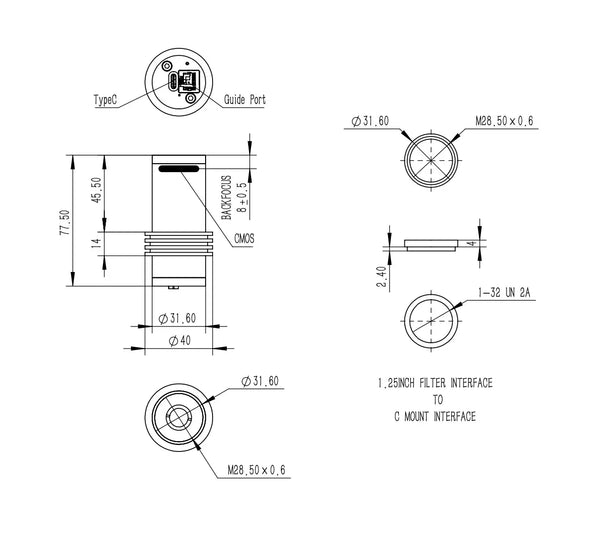 Brand: QHYCCD
QHYCCD QHY5III715C (Color) Planetary Guide Camera (QHY5III715C)
QHY5III715C
Free Expert Support
Why Purchase from All-Star Telescope?
Stress Free, Secure Shopping
Product Description
The QHY5III715C is an ultra-high resolution back-illuminated color camera with extremely low read noise. The sensor has a 1/2.8-inch optical format, similar to the QHY5III462C. However, the QHY5III715C has 4X as many pixels as the QHY5III462C for 4K resolution with 1.45um pixels.
This makes the new QHY5III715C ideal for smaller short focal length refractors. The exceptionally small pixels subtend a FOV of less than 1 arcsecond at focal lengths of 12 inches (300mm) or longer. The QHY5III715C inherits all of the updates and improvements of the QHY5III Series Ver. 2 line of cameras (See below).
Extended Near Infrared Sensitivity
In this latest generation of sensors, the photodiode portion of the pixel well is physically deeper than in previous sensors, allowing photons of longer wavelengths to penetrate deeper into the substrate. This dramatically increases the sensor's sensitivity to red and near-infrared (NIR) light. The sensor displays almost equal peak sensitivity to NIR light as it does to light in the visible spectrum.
QHY5III Series V2 Introduction
512MB DDR3
The QHY5III (Ver. 2) series planetary and guiding cameras are all equipped with a 512MB DDR3 image buffer which can effectively reduce the pressure on computer transmission, a great help for planetary photography which often requires writing a large amount of data in a short period of time. Some deep-sky astrophotography cameras on the market today only have 256MB, for example.
In comparison, the 512MB DDR3 memory of the new 5III (Ver. 2) series cameras represents a significant upgrade.
New Front-end Design with Better Compatibility
QHY5III (Ver. 2) series cameras have adopted a new front-end design with better compatibility.Here we only take QHY5III200M as example, however, ALL V2 cams in the future share these features.
The BFL of V2 cam is only 8mm, which means you can easily compat a V2 cam with your OAG. The basic top adapter includes 1.25 inch threads and you can still use your 1.25 inch filter.
The top adapter glass of V2 can be easily swiched. One of the adavantage of changable top glasses is you can use one filter even you're using Lens! You can add a 1.25inch-cs adapter to connect CS lens, or add a second CS-C lens for C-mount lens. The two adapters are all standard accessories of V2 cams.
By the way, there's a 1.25 inch filter wheel adapter to connet your mono planetary cam with QHYCFW3-S filter wheel.
USB 3.2 Gen1 Type C Interface
The new QHY5III (Ver.2) series cameras all use the USB3.2 Gen1 Type-C interface. Compared to the USB3.0 Type-B interface used in the previous generation, the Type-C interface has a longer life and is more flexible.
Tips: It is recommended to use the official standard Type-C data cable of QHYCCD. As the market is flooded with a large number of poor-quality Type-C cables, casual use may lead to the camera malfunctioning. If you use your own spare cable, please make sure it is a high-quality cable.
Universal Guiding Interface
The custom interfaces of the previous generation of planetary cameras and guiders has been replaced in the QHY5III (Ver.2) cameras with a more universal ST-4 compatible guiding interface. Now, even if the guiding cable is lost or damaged, you will be able to easily get a replacement on the market at a low cost.
Indicator LED
The new QHY5III (Ver.2) series of cameras is equipped with a status indicator at the back of the camera. If the camera experiences an abnormal status, the multi-colored indicator light will help to determine the situation with different colors signifying different conditions. During normal operation this indicator light is off, so there is no worry about light contaminating the image.
Specifications
Model
QHY5III715C
CMOS Sensor
Sony IMX715
Pixel Size
1.45um*1.45um
Effective Pixel Area
3840*2192
Effective Pixels
8.4 Mega Pixel
Fullwell
5.7ke-
Readout Noise
0.87-2.17e-
AD Sample Depth
12-bit (output as 16-bit and 8-bit)
Built-in Image Buffer
512MB DDR3 Memory
ROI Frame Rate

Full Resolution 42FPS @8BIT 23FPS @16BIT
1920Lines 83FPS @8BIT 47FPS @16BIT
640Lines 99FPS @8BIT 99FPS @16BIT

Exposure Time Range
11us-900sec
Shutter Type
Electric Rolling Shutter
Computer Interface
USB3.2 Gen1 Type-C
Guide Port
st4
Telescope Interface
1.25-inch, compatible with CS-port and C-port lenses by replacing the front-end connector
Back Focal Length
17mm(with adapter)
8±0.5mm(without adapter
Chip package size
5.6mm x 3.2mm
Debayer
GBRG
Weight
90g
Why Should You Trust All Star Telescope?
We've Made All The Mistakes
So You Don't Have To
Learn More