Brand: Sky-Watcher
Sky-Watcher EvoStar 100ED APO Refractor Telescope OTA (S11120)
050234111201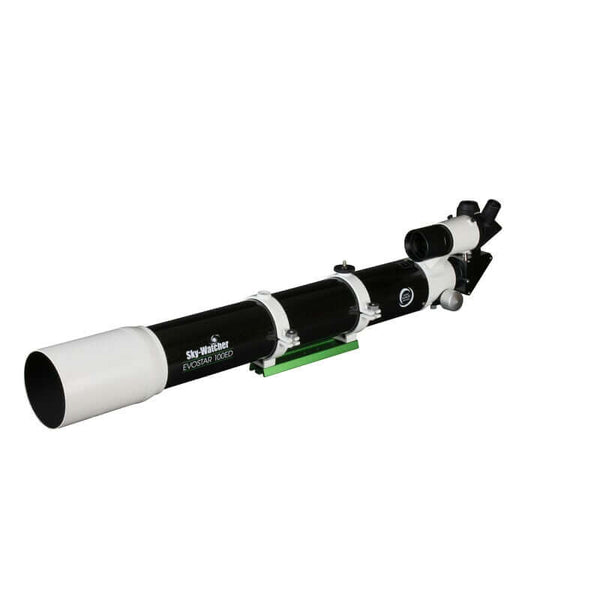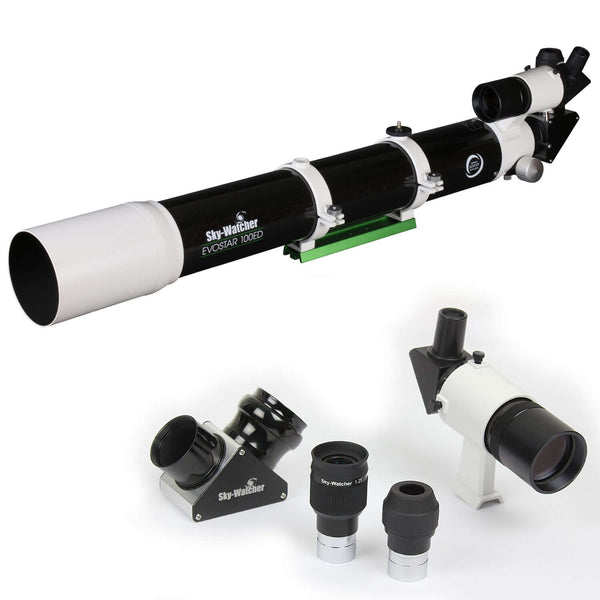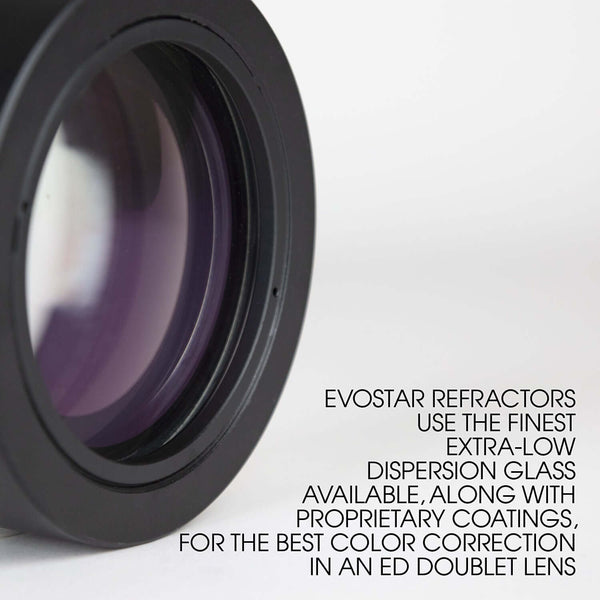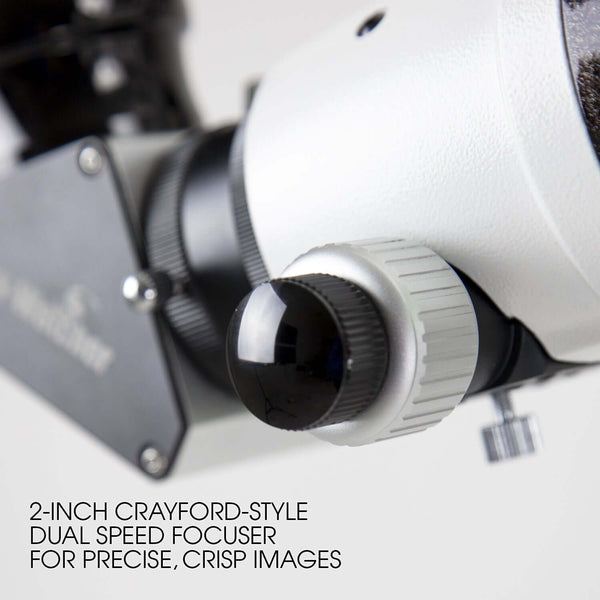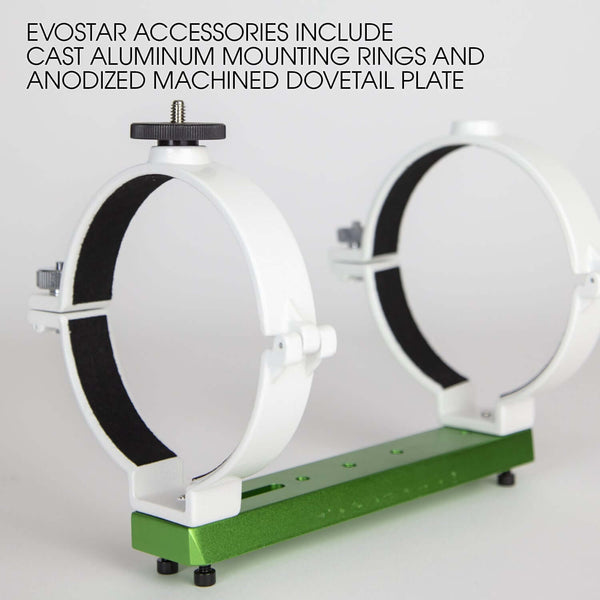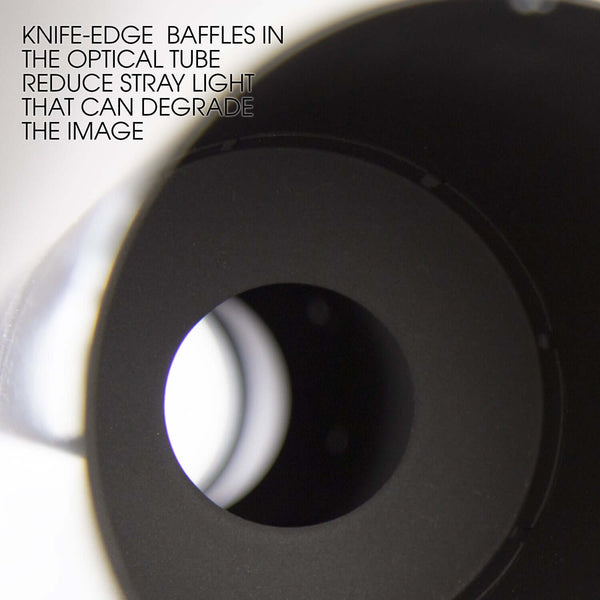 Brand: Sky-Watcher
Sky-Watcher EvoStar 100ED APO Refractor Telescope OTA (S11120)
050234111201
Free Expert Support
Why Purchase from All-Star Telescope?
Stress Free, Secure Shopping
Why we love the Sky-Watcher EvoStar 100ED APO Refractor Telescope OTA (S11120)
Product Description
Sky-Watcher's Evostar apochromatic doublet refractors are the perfect blend of superior extra-low dispersion glass and affordability. The Evostar refractor lens assembly utilizes a proprietary combination of matched lenses, delivering tack-sharp stars with charcoal-black, contrast-rich skies. All ED glass elements are fluorite-based and feature our proprietary Metallic High-Transmission Coatings (MHTC), virtually eliminating all false color while triple-baffles prevent stray light from affecting your photography. Like the optics, the tube is beautifully crafted using aluminum and finished with a black diamond metal-flake finish.
Using a doublet refractor instead of a triplet has some advantages: less glass means less weight, less weight means a less expensive telescope, so you can dedicate more money for your camera or laptop while benefiting from a lightweight astrophotography rig.
The Evostar 100ED comes in a foam-lined aluminum case fully loaded with accessories, including: 2-inch Crayford-style focuser, 2-inch dielectric diagonal, two 1.25-inch eyepieces (5mm and 25mm), an 8x50 right-angle finderscope, tube rings, and a V-style dovetail.
What can I see with a Sky-Watcher EvoStar 100ED APO Refractor Telescope OTA (S11120)?
Here are some simulated views of common objects. Results with your telescope will vary with viewing conditions, obrits, equipment and more.
Jupiter with
25mm Eyepiece - 36x Magnification
(Included with This Telescope)
Jupiter with
5mm Eyepiece - 180x Magnification
(Included with This Telescope)
Jupiter with
5mm Eyepiece - 180x Magnification
Sold Separately
Moon with 25mm Eyepiece
36x Magnification
(Included with This Telescope)
Moon with 5mm Eyepiece
180x Magnification
(Included with This Telescope)
Moon with 5mm Eyepiece
180x Magnification
Sold Separately
Andromeda with 36mm Eyepiece
25x Magnification
Sold Separately
Andromeda with 25mm Eyepiece
36x Magnification
(Included with This Telescope)
Andromeda with 5mm Eyepiece
180x Magnification
(Included with This Telescope)
What's in the Box
Specifications
Optical Info
Optical Design
ED Doublet
Lens Coatings
Fully Multi-Coated
Glass Type
BK7/FPL-53(ED)
True Aperture (mm)
100
Primary Aperture (mm)
100
F/Ratio
9
Focal Length (mm)
900
Observational Info
Dawes Limit
1.16
Rayleigh Limit
1.4
Limiting Mag.
12.5
Minimum Magnification
14
Maximum Magnification
197
Light Gathering (compared to next size down)
56%
General Info
Focuser
2" Dual Speed Crayford
OTA Length (Retract/Ext.)
34"
OTA Outer Diameter
4.5625"
OTA Weight (with accessories)
8.4
Accessories
Included Finder
8x50 RACI
Included Diagonal
2" Dielectric
Mounting Accessories
Rings/V-Rail
Included Eyepieces
25mm LET/5 Planetary
Magnification w/ Included Eyepieces
45x/180x
Included Case
Yes
Corrector
No (optional)
First impressions - Excellent scope, finder scope did not work for me, eps ok
First impressions
- Excellent scope for visual work, only a few observations so far. I think this scope will be a much better balance of portability vs aperture vs my 8" dob. I bought a cheap tripod elsewhere, which was a mistake. Explore Scientific Twilight I tripod is on the way, hopefully that will work much better.
-Finder scope did not work for me. I was not able to calibrate it, may have been a build quality problem. Red dot finder on the way.
-Eyepieces are ok. 2" 38mm and 1.25" 15mm eyepieces have arrived to fill in gaps around 25 mm and 5 mm, will try these out once the proper tripod arrives.
I choose this specific ota because as i discovered sleuthing it had an excellent bench test and most crucially also had an excellent and consistent word of mouth on the astronomy sites.
I have tried and had a few other types of telescopes (like a great C8 & an astonishing TV Pronto (stolen!!) so I knew what a limited aperture, going down to four inches would do, but I also knew the exceptional contrast one would gain from an apochromatic unobstructed optic would more than make up for it.
---NO COMPARISON WHATSOEVER---as i discover wonderfully/gleefully with performance that is only limited by light and atmosphere.
I could write reams of remarkable things after using it for three years now but i wil keep it short.
I am now at 4K$ in eyepieces for this astonishing tube completely blowing my 500$ original plan to  smithereens. Still got a $1K to go !!
I bought a 3.5XW because this tube is a monster.
Still need a 3.3TOE for Mars. 6Ethos for Luna.
--I had a Mars view (at opposition 2020) with a 2X Barlow + 6.5Morpheus in perfect seeing @268X that i go to sleep remembering every saturated nuance of Syrtis Major in an ETCHED  Mars.
Honestly made a 1metre pic du midi image seem blah !!!! Tremendous colours !!!
This F/9 has shot up in cost recently but I will argue its less than half the price of a Tak at equal performance (or better!!)
Truly folks this happened: ~800X on the Alpine Valley rille with exceptional seeing and a boosted Mk. IV zoom in an Olivon brand 3element 2X ED Barlow.
Spent an hour going up and down it electric slewing way with my easy EQM-35 mount at 4X siderial.
Another view of ten lifetimes and I have dozens of them !!!
I am dreaming of a binocular scope with two of these in my deepest fantasies as an optical geek.
Astonishing optics that maybe your own will not quite aspire too but its shipped with an 180X eyepiece. That should tell you its potential !!!
This has me laughing now that i have four thousand dollars worth of scope for less than ¼ that (when i got it!).
AND
Crying (alot) all of that saved cash was channeled into world class oculars..... thousands - much too high for a pensioner !!
IMHO with the release of Esprit & the new Evolux, which I have 62mm as G&G (62mm) neverminding the Evostars remarkable reputation (for the entire series!!) SW is on rapid ascension in the apochromatic telescope game as the little Evolux has zero false colour anywhere.
Shhh...but Nickolas testing the little 62Evolux with me had awe in his voice when he saw that it showed ZERO false colour OUT OF FOCUS (with a 4mm Takahashi TOE at 100X) off of a brilliant glint and so did I, mouth completely agap !!!
Even the 4" (100mm) F/9 shows a tiny bit of it out of focus.
Its my lifetime scope but far too big for G&G duty so i expect the little 62mm apo to go with me everywhere; especally when for mountain hiking and birding.
So both are visually Fully Apochromatic- with beyond exceptional blacks and zero scatter.
Airy rings are exquisite when still seeing allows in the F/9.
Perfectly mated to the EQM-35 mount; is very quick to setup and at a very manageable weight.
If you seek the highest FPL-53 glass and inconceivable views --this is it.
Cheap for what you get!
Focuser is excellent, despite myth, but as i use very heavy oculars a small once a year tweak is necessary.
Hey Tak has issues there too !!
IME an unobstructed tube with tremendous glass and a near perfect figure provides views that transcend time.
IF your a DSO fan -for the dim smudges or want brilliant globs then perhaps a Dob is for you.
A nuanced discriminating observer will do what i eventually did and got the best 4inch apo i could find.
Costly yes but the enjoyment in the view is priceless. Night after clear night.
Wowie Zowie folks !!!
Why Should You Trust All Star Telescope?
We've Made All The Mistakes
So You Don't Have To
Learn More