Brand: ZWO
ZWO ASI585MC Planetary Colour Camera (ASI585MC)
ASI585MC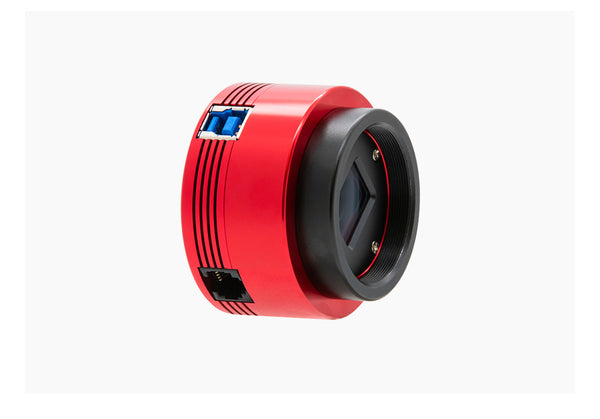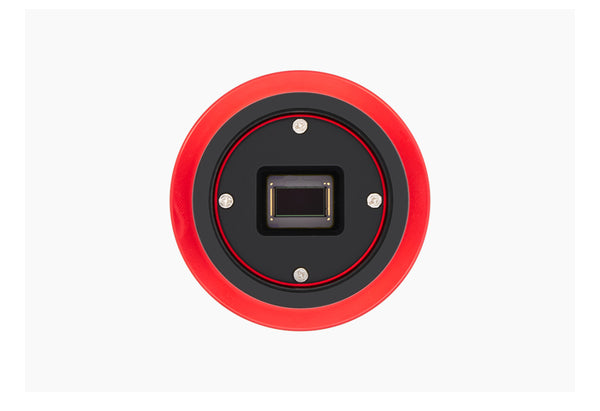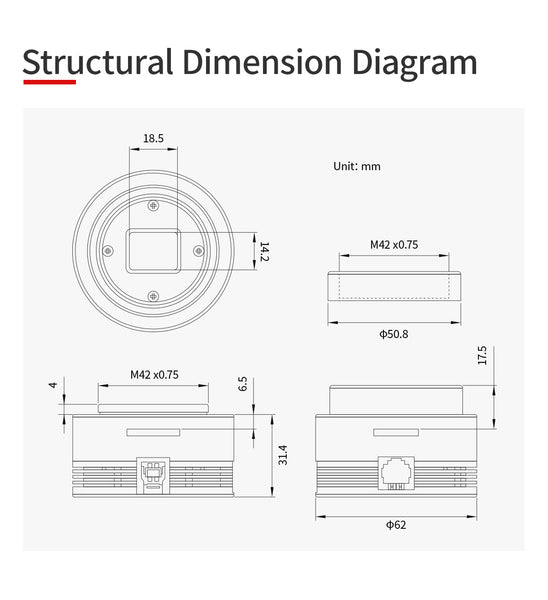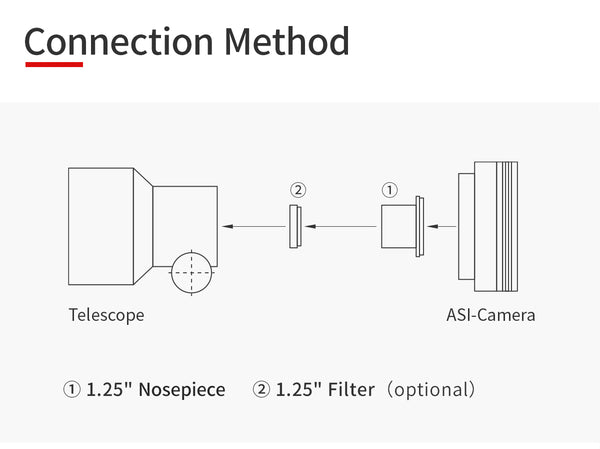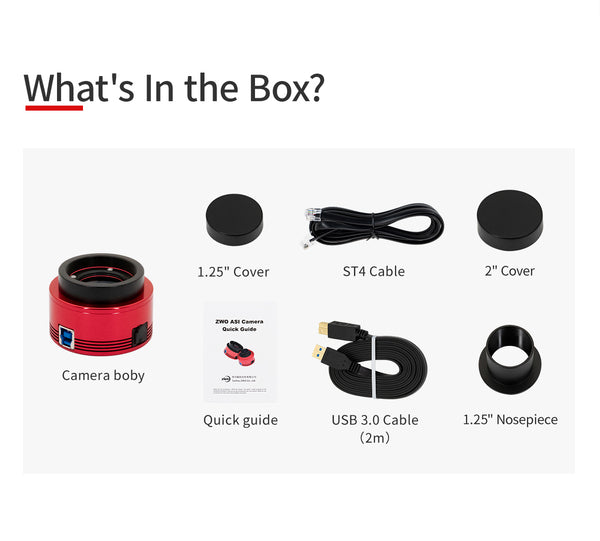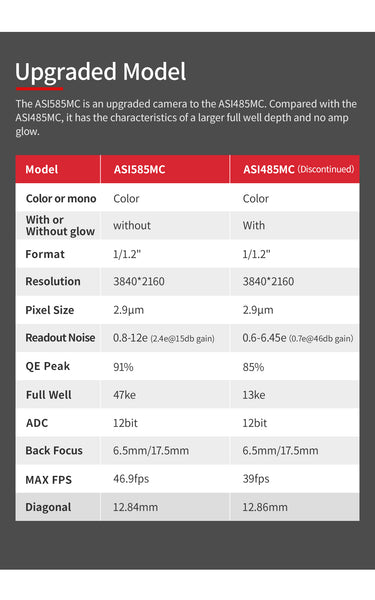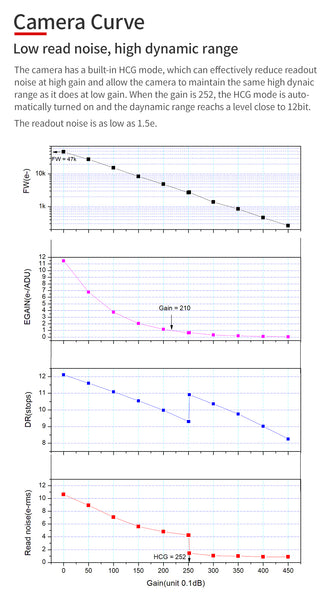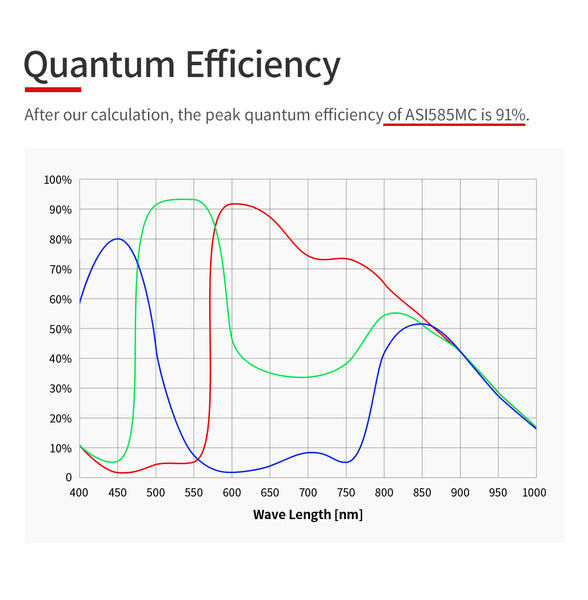 Brand: ZWO
ZWO ASI585MC Planetary Colour Camera (ASI585MC)
ASI585MC
Free Expert Support
Why Purchase from All-Star Telescope?
Stress Free, Secure Shopping
Product Description
ASI585MC adopts Sony IMX585 CMOS sensor. As one of ZWO's latest OSC planetary cameras, it features a large sensor format of 1/1.2", a high resolution of 3840*2160, and a surprisingly amazing characteristic of ZERO AMP GLOW! The pixel size is 2.9um*2.9um. In 12-bit mode, it produces 46.9 FPS with super low readout noise!
8.29MP Sensor
ASI585MC has the same pixel size of the ASI462MC at 2.9um, but its resolution is 4 times that of ASI462MC, which is a total of 8.29 megapixels. The sensor size is 11.13*6.26mm, and the diagonal length is 12.84mm. The 1/1.2" large sensor format makes it very suitable for solar and lunar imaging. It can also be used as an all-sky camera or live camera to observe and monitor cloud cover, rain, meteors and other weather conditions.
Starvis 2
ASI585MC adopts the latest SONY IMX585 sensor with STARVIS 2 technology.
Featuring zero amp glow, lower dark current noise, and 3 times larger full well capacity, this camera is regarded as an upgrade of ASI485MC. It is also more sensitive to red, green and near infrared (NIR) lights compared to ASI485MC, especially in >850nm wavelength range, its light sensitivity is 1.5 times greater than ASI485MC.
Upgraded Model
The ASI585MC is an upgraded camera to the ASI485MC. Compared with the ASI485MC, it has the characteristics of a larger full well depth and no amp glow.
Large Full Well Depth
Thanks to the back-illuminated sensor structure and advanced pixel tech- nology, the camera has very low readout noise and a large full well depth. Especially in low light conditions, the camera performs excellent, capturing very clear images of celestial objects.
Low read noise, high dynamic range
The camera has a built-in HCG mode, which can effectively reduce readout noise at high gain and allow the camera to maintain the same high dynaic range as it does at low gain. When the gain is 252, the HCG mode is auto-matically turned on and the daynamic range reachs a level close to 12bit.
The readout noise is as low as 1.5e.
Specifications
| | |
| --- | --- |
| Sensor | 1/1.2" CMOS Sony-IMX585AAQJ1-C |
| Bayer Pattern | RGGB |
| QE peak | 91% |
| Back focus length | 6.5mm/17.5mm |
| Max fps | 46.9fps |
| Full well | 40Ke |
| Shutter | Rolling shutter |
| Resolution | 8.29Mega Pixel,3840*2160 |
| Pixel Size | 2.9µm |
| Exposure Range | 32μs~2000s |
| Interface | USB 3.0 /USB 2.0 Type-B |
| Protect window | φ32-2 AR |
| ADC | 12bit |
| Dimension | 11.136mm*6.264mm |
| Weight | 126g |
| Working Temperature | -5°C~50°C |
| Storage Temperature | -10°C~60°C |
| Working Relative Humidity | 0-80% |
| Supported OS | WIN7/8/10 32&64, Linux, Mac |
ZWO ASI585MC Planetary Colour Camera (ASI585MC)
Liking it so far
This is my first astronomy camera so I don't have a lot to compare it to, but I'm liking it so far. I use this on an Evolution 6 scope with the Celestron .63 reducer and t-adapter plus two extension rings for 93mm back focus. This gives me an effective focal length of 1100mm according to images I submitted to the Astrometry site. I can capture images up to 20 seconds without star trailing. Stacking these images in Sharpcap software gives me images of galaxies I would likely never see through an eyepiece with my tired old eyes. The use of the camera also enables plate solving in Sharpcap, which puts my target right in the center of the view if the mount doesn't have to slew far.
Why Should You Trust All Star Telescope?
We've Made All The Mistakes
So You Don't Have To
Learn More