Brand: Sky-Watcher
Sky-Watcher Esprit 100ED Super APO Triplet Refractor Telescope OTA (S11410)
S11410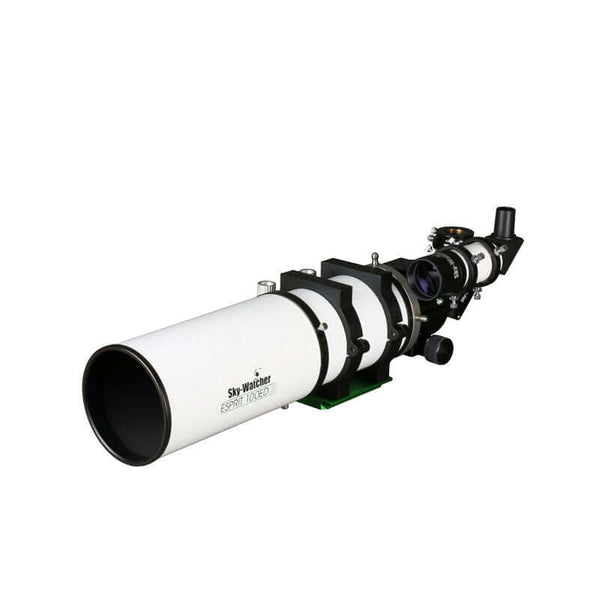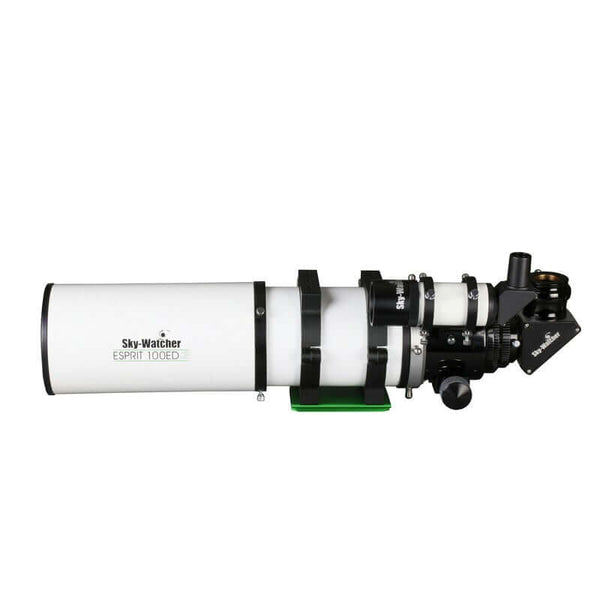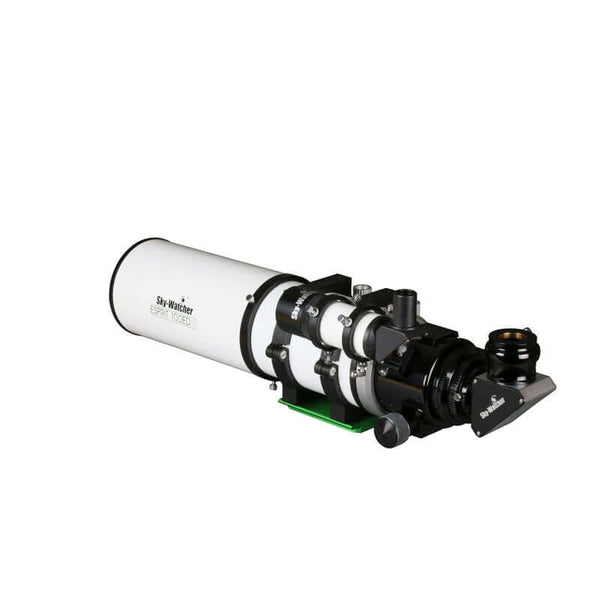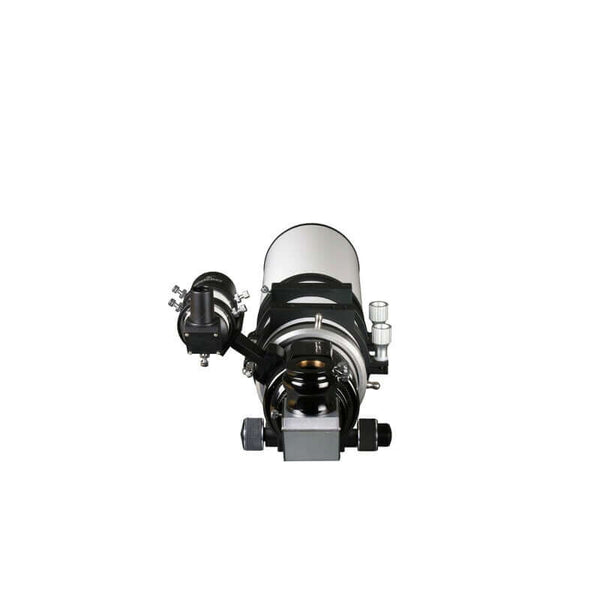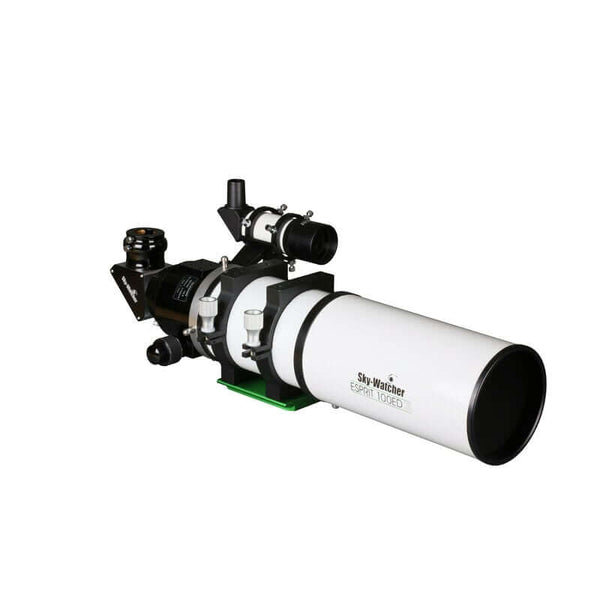 Brand: Sky-Watcher
Sky-Watcher Esprit 100ED Super APO Triplet Refractor Telescope OTA (S11410)
S11410
$3,650.00 CAD
Save: $680.00
Free Expert Support
Why Purchase from All-Star Telescope?
Stress Free, Secure Shopping
Why we love the Sky-Watcher Esprit 100ED Super APO Triplet Refractor Telescope OTA (S11410)
Product Description
Designed with the discerning astrophotographer in mind, Sky-Watcher's top-of-the-line refractors deliver the kind of imaging performance one would expect from telescopes costing thousands of dollars more. With the Esprit's three-element, air spaced objective lens design, false color is virtually eliminated, yielding exceptional contrast and sharpness. Each element is fully multi-coated with Sky-Watcher's proprietary Metallic High-Transmission Coatings (MHTC), producing a transmission rate that rivals any refractor on the market.
The Sky-Watcher Esprit 100 is a world class 4" refractor. It's a stunning instrument for deep sky imaging.
In addition to superb optics, all Esprits feature exclusive dual-speed, Helinear track focusers, which provide smooth, rock-solid focusing with zero image shift. Using a captain's wheel design all focusers can be rotated, giving astrophotographers flexibility when framing their image.
As is customary, Sky-Watcher supplies everything you need to get out under the stars, including a 2-element field corrector, which guarantees a flat field across the entire imaging plane. All Esprit refractors also come with an 8x50 right angle finderscope, 2-inch star diagonal, M48 camera adapter, mounting hardware, and padded case.
What can I see with a Sky-Watcher Esprit 100ED Super APO Triplet Refractor Telescope OTA (S11410)?
Here are some simulated views of common objects. Results with your telescope will vary with viewing conditions, obrits, equipment and more.
Jupiter with
25mm Eyepiece - 22x Magnification
(Sold Separately)
Jupiter with
10mm Eyepiece - 55x Magnification
Sold Separately
Jupiter with
5mm Eyepiece - 110x Magnification
Sold Separately
Moon with 25mm Eyepiece
22x Magnification
(Sold Separately)
Moon with 10mm Eyepiece
55x Magnification
Sold Separately
Moon with 5mm Eyepiece
110x Magnification
Sold Separately
Andromeda with 36mm Eyepiece
15x Magnification
Sold Separately
Andromeda with 25mm Eyepiece
22x Magnification
(Sold Separately)
Andromeda with 10mm Eyepiece
55x Magnification
Sold Separately
What's in the Box
Specifications
Optical Design
ED Triplet Refractor
Lens Coatings
Fully Multi-Coated
Glass Type
BK7 (2)/FPL-53(ED)
Primary Aperture (mm)
100
F/Ratio
5.5
Focal Length (mm)
550
Observational Info
Dawes Limit
1.16
Rayleigh Limit
1.4
Limiting Mag.
12.5
Minimum Magnification
14
Maximum Magnification
197
Light Gathering (compared to next size down)
56%
General Info
Focuser
3.4" Dual Speed R&P
OTA Length (Retract/Ext.)
18.3"/24.5"
OTA Outer Diameter
5.75"
OTA Weight (with accessories)
16
Accessories
Included Finder
8x50 RACI
Included Diagonal
2" Dielectric
Mounting Accessories
Rings/D-Rail
Included Eyepieces
None
Included Case
Yes
Corrector
Yes
Esprit 100ED
Amazing scope. You know what you pay for. Great Focal length for DSO. I took advantage of the sky watcher July sale!
Great service from all stars! Fast and free shipping.
Looking forward for the next sale!
Maybe for the esprit 150?
Esprit 150
I have purchased the Esprit 150, bigger brother, 2 years ago from AS telescope, and I could not be happier. It was a very big investment for me, you could call it dream scope. Prior to the purchase I have received advise from AS telescope about the scope and my wishes. The Telescope had to be ordered, I was kept informed of the status and its arrival time . After about 2 months the scope arrived at All-Star telescope where it was inspected prior to being shipped to me. The scope arrived in a case which was in a double lined sturdy carboard box. I am using it for what it was designed , deep sky wide field imaging
Thank you All-Star Telescope
Outstanding Clairty
Recently purchased Sky-Watcher Esprit 100ED... This telescope is amazing! It comes with a superior case and includes high quality extras. My favorite is the field flattener that is a must for astrophotograpy. The first view through this telescope was Jupiter. So sharp and vivid that I could easily see the planet's clouds in the image. Spectacular! Can't wait to start photographing when the sky finally clears.
This superior telescope is paired with a HEQ5 Pro mount, more than enough heavy duty features for Esprit 100. Also, the EQ6 PRO mount is highly recommended, just a bit more bulk for transporting to dark sky locations. The HEQ5 is my personal choice because it is a bit more portable. Together they are a great set of gear for star gazing and definitely not a disappointment.
Finally, I can't say enough about the excellent service I received from the crew at All-Star Telescope. Real professionals and a pleasure to do business with. Thanks.
Why Should You Trust All Star Telescope?
We've Made All The Mistakes
So You Don't Have To
Learn More