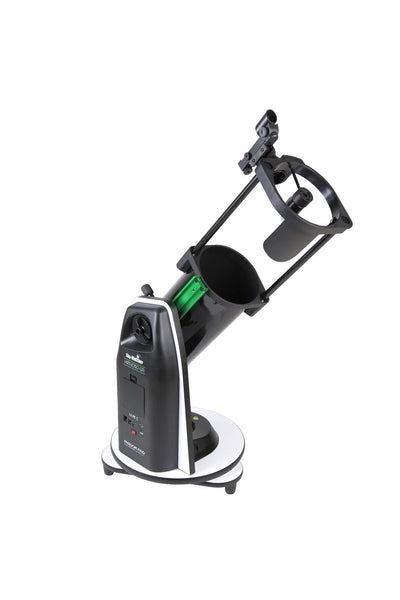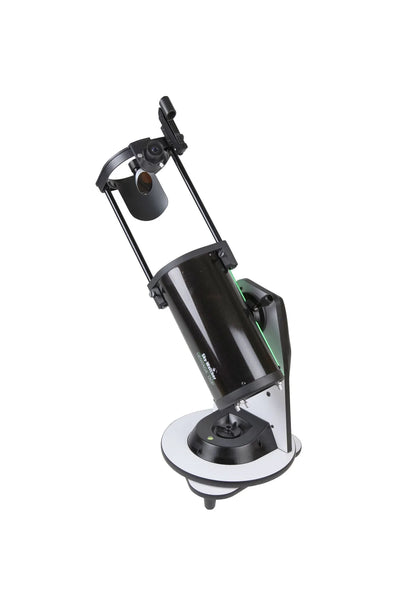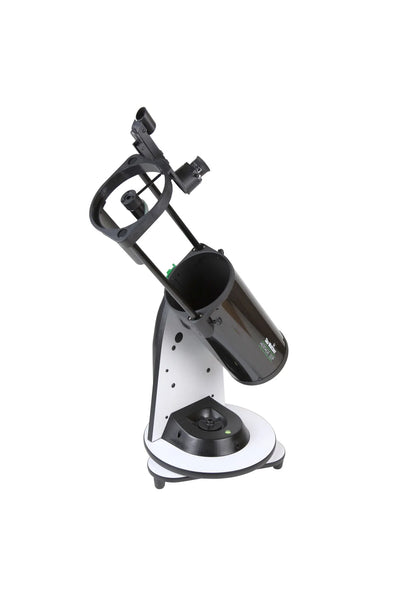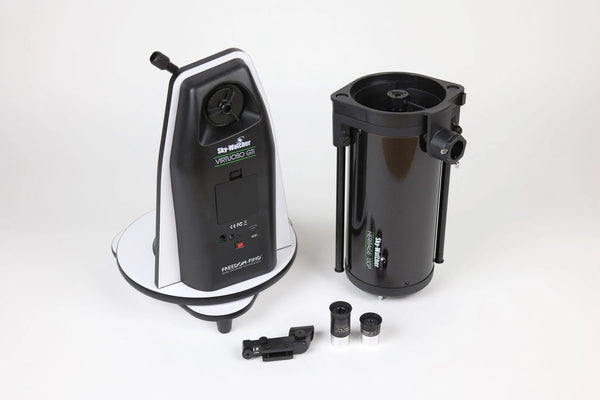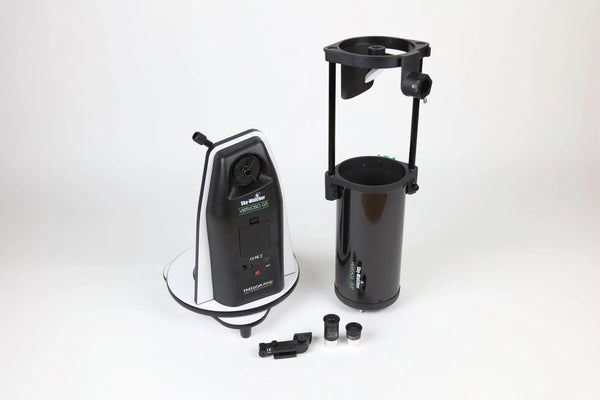 Products in the Same Family
Free Expert Support
Why Purchase from All-Star Telescope?
Stress Free, Secure Shopping
Product Description
Sky-Watcher's Virtuoso GTi collapsible tabletop Dobsonian is the ultimate combination of convenience, flexibility, and light-gathering power – now with Wi-Fi! Ideally suited for both the beginner astronomy enthusiast looking for a first telescope and as a casual backyard/travel alternative for the experienced observer, this small scope boasts big views and is the perfect camping companion for your dark sky getaways.
Available in either 130 or 150mm apertures, the Virtuoso GTi has undergone a major transformation from the original Sky-Watcher Virtuoso mount in all the ways that matter: Larger aperture, faster focal ratio, a collapsible optical tube assembly, and built-in Wi-Fi for full GoTo telescope control via a smartphone and Sky-Watcher's free SynScan app for iOS and Android. While the original Virtuoso from Sky-Watcher was more focused on planetary, solar, and lunar viewing with its long focal length and included solar filter, the all-new Virtuoso GTi borrows its collapsible optical tube design from the popular line of Flextube and Heritage Sky-Watcher Dobsonians for a versatile package that does it all.
Virtuoso GTi features Sky-Watcher's Radiant™ Aluminum Quartz (RAQ™) coatings on all optical surfaces for bright, bold views and comes complete with everything you need to start exploring the night sky mere minutes out of the box including a red dot finder and two eyepieces (25mm and 10mm). With the free SynScan Pro app – available for iOS and Android -- the user has access to a database that contains over 10,000 objects, including Messier, NGC, IC, and Caldwell catalogs. Align on the stars using one of four alignment methods to put Virtuoso GTi's internal computer to work and track objects like the Sun, Moon, and stars at precise rates. Also included is Sky-Watcher's patented Freedom Find™ technology uses dual encoders to allow manual control while retaining alignment and position information, providing exceptional convenience and flexibility while viewing.
What can I see with a Sky-Watcher Virtuoso GTi 130P (S21210)?
Here are some simulated views of common objects. Results with your telescope will vary with viewing conditions, obrits, equipment and more.
Jupiter with
25mm Eyepiece - 26x Magnification
(Included with This Telescope)
Jupiter with
10mm Eyepiece - 65x Magnification
(Included with This Telescope)
Jupiter with
5mm Eyepiece - 130x Magnification
Sold Separately
Moon with 25mm Eyepiece
26x Magnification
(Included with This Telescope)
Moon with 10mm Eyepiece
65x Magnification
(Included with This Telescope)
Moon with 5mm Eyepiece
130x Magnification
Sold Separately
Andromeda with 36mm Eyepiece
18x Magnification
Sold Separately
Andromeda with 25mm Eyepiece
26x Magnification
(Included with This Telescope)
Andromeda with 10mm Eyepiece
65x Magnification
(Included with This Telescope)
What's in the Box
Specifications
Optical Specifications
Optical Design
Newtonian
Mirror Coating
Protected Aluminum
Reflectivity
94%
Mirror Type (Monolithic/Conical/Fused conical)
Monolithic
Glass Type
Borosilicate
Primary Aperture (mm)
130
F/Ratio
5
Focal Length (mm)
650mm
Secondary Diameter (minor axis)
40mm
Secondary Obstruction by Diameter
31%
Secondary Obstruction by Area
10%
Primary cell supports (how many support points)
Edge Support
Optical Quality
Diffraction limited (1/4 wave)
Collimatable Cell
Secondary & Primary
Mechanical Specifications
Focuser Type
Helical
Focuser Size
1.25"
Focuser: Dual or Single Speed
Single
Compression Ring
No
Optical Tube length (extended/retracted)
25" / 14.75"
Optical Tube weight
6.5 pounds
Assembled base weight
10.9 pounds
Total Weight
17.3 pounds
Type of bearing used (telfon/roller)
Roller
Hardware included with base
Yes
Collapsible Tube
Yes
Tripod Mount
3/8 thread block
Electronic Specifications (GoTo only models)
N/A
Required Power
12v/AAs (8x)
Power port diameter
2.1mm
Freedom Find
Yes
Clutch Type
Hand Clutch
Can clutches be adjusted
Yes
Built-in WiFi
Yes
Hand Controller
Optional
Database
Complete Messier, Caldwell, NGC, IC and SAO catalogs, user defined objects. Total 10,000+ objects
Accessories
Eyepieces
25mm and 10mm SUPER eyepiece (1.25")
Collimation eyepiece
Yes
Included finder
Red Dot
Mounting Hardware
Dobsonian
Additional Accessories
None
Manual
Yes
Case
No
Shipping Weight
20 pounds
Shipping Dimensions (Box 1 / Box)
23"x17"x17"
Observational Info
Dawes Limit
0.89
Rayleigh Limit
1.04
Limiting Magnitude
13.05
Minimum Magnification
18x
Maximum Magnification
256x
Magnification with included eyepieces
26x (25mm) / 65x (10mm)
Light Gather (compared to next size down)
56% (Compared to 100mm telescope)
Intended use
Visual
Why Should You Trust All Star Telescope?
We've Made All The Mistakes
So You Don't Have To
Learn More