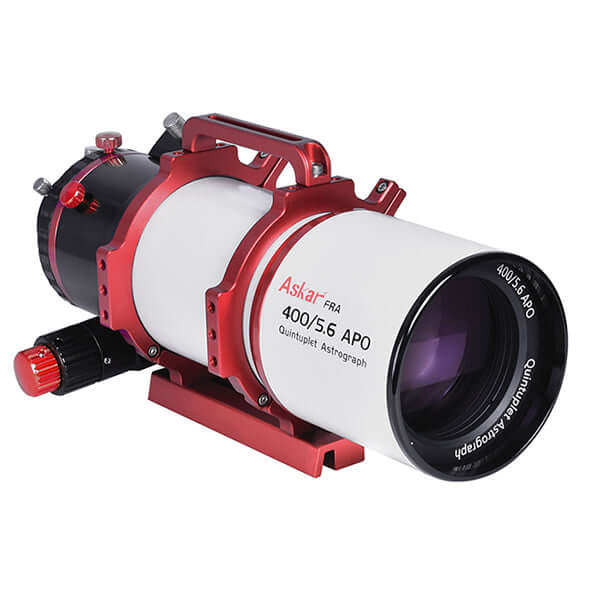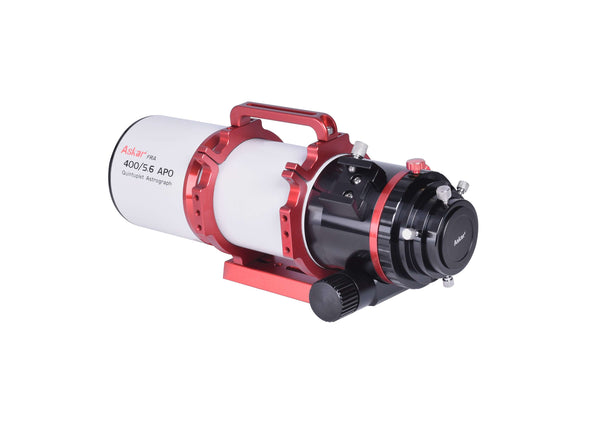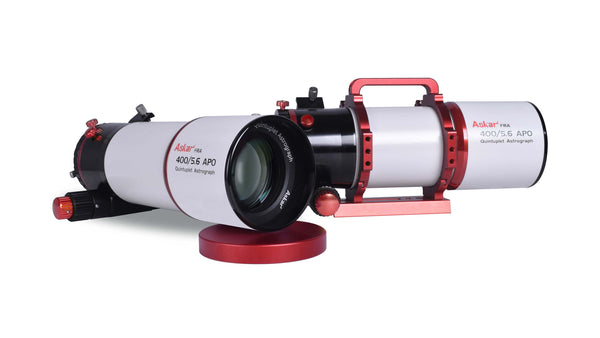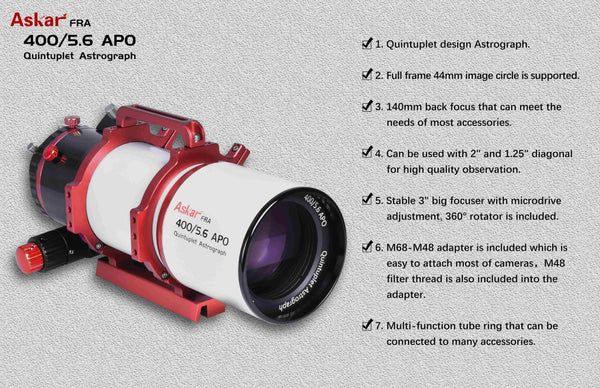 Free Expert Support
Why Purchase from All-Star Telescope?
Stress Free, Secure Shopping
Why we love the Askar FRA 400 Quintuplet APO Astrograph (FRA400)
Product Description
The FRA, which stands for "Flatfield Refractive Astragraph", is a refractive astrograph designed for built-in flat field correction. FRA also used in visual observation, this series creates versatile high-quality flat frame images for astrophotography, is the few great telescope of versatile optical tube.
For easy parameter conversion between different lenses, the first-come of the FRA family features a Petzval-like quintuplet design (two pieces of which are special ED glass) with an aperture of 72mm, a focal length of 400mm and a focal ratio of f/5.6, providing a 44mm image circle.
The FRA400 quintuplet astrograph has adopted modern optical design with a retractable dew shield, a 3" rack-and-gear-based high-precision reducer containing a 360-degree rotator, M68×1 thread, a 2" adapter ring and a 1.25" visual adapter. The reducer is equipped with fine focal adjustment function for more precise calibration in practical observation or sky imaging.
It is excellent in controlling and possibly avoiding chromatic aberrations. The image quality is also optimized to satisfy various observing or imaging purposes.
It's worth mentioning that FRA 400/5.6 has a pair of fashionable-looking and multifunctional patented tube rings. Various practical attachments are available on three sides of the tube rings which is really a convenience for practical observation or imaging activities.
The back focus of FRA400 is 140mm, starting from the base of mounting thread on the housing to the focal plane. And users don't need to worry about the calculation of back focus when using FRA400, as long as the object in the objective lens is focused.
The portable and versatile astrograph can go with many potential attachments of other accessories during your observation or sky imaging. It's definitely your intimate helper for your exploration.
F/5.6 is a relatively fast focal ratio for astrophotographic use, but we further provide an ultra focal reducer to satisfy the special needs of experienced imagers, greatly reducing the practical focal ratio to f/3.9. This inventive combination supports full-frame imaging and can dramatically shorten the exposure time, which is a pioneering design in the astrophotography field.
The inborn mission of Askar FRA400 is to simplify and enhance our customers' observing and imaging practice, bringing them infinite surprise when safariing the boundless universe.
What can I see with a Askar FRA 400 Quintuplet APO Astrograph (FRA400)?
Here are some simulated views of common objects. Results with your telescope will vary with viewing conditions, obrits, equipment and more.
Jupiter with
25mm Eyepiece - 16x Magnification
(Sold Separately)
Jupiter with
10mm Eyepiece - 40x Magnification
Sold Separately
Jupiter with
5mm Eyepiece - 80x Magnification
Sold Separately
Moon with 25mm Eyepiece
16x Magnification
(Sold Separately)
Moon with 10mm Eyepiece
40x Magnification
Sold Separately
Moon with 5mm Eyepiece
80x Magnification
Sold Separately
Andromeda with 36mm Eyepiece
11x Magnification
Sold Separately
Andromeda with 25mm Eyepiece
16x Magnification
(Sold Separately)
Andromeda with 10mm Eyepiece
40x Magnification
Sold Separately
What's in the Box
Specifications
| | |
| --- | --- |
| Aperture | 72mm |
| Focal Length | 400mm |
| Focal ratio | F/5.6 |
| Objective Type | Quintuplet dual ED air-spaced APO |
| Image Circle | 44mm |
| Back Focus | 140mm (from the end of rotator M68x1 thread) |
| Overall Length | 317mm |
| Weight | 2.56kg |
| Options weight | 2.88kg |
| Back-End Adapter | M68x1 male thread, 2" adapter/1.25" adapter |
Awesome scope!
I bought this a few months ago and now that I've had time to et the feel of it....I'm super impressed. This is actually my first refractor and I was worried about the new learning curve going from reflectors The built in reducer and adapter cones are a big plus and make the back focus simple and easy. This thing takes beautiful photos from edge to edge. I highly recommend it. I only wish it came with a carry case...other than that I cannot complain.
Here is an example. The Rosette nebula 100 - 60sec exposures, zwo533mc. just slightly cropped to remove stacking artifacts.
Great Scope
Heard about it from a friend..seems like an extraordinary buy
Great astrograph!
Got this from all-star last year, perfect stars edge to edge even without the reducer. Light enough for my cem25p as well.
Why Should You Trust All Star Telescope?
We've Made All The Mistakes
So You Don't Have To
Learn More