Brand: Celestron
Celestron CPC Deluxe 800 HD Computerized Telescope (11007)
11007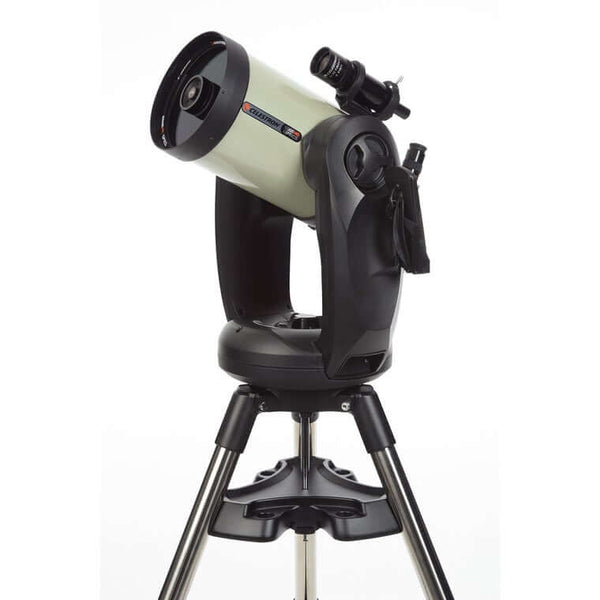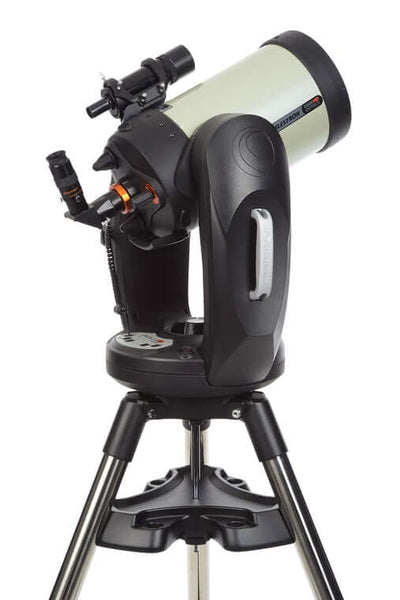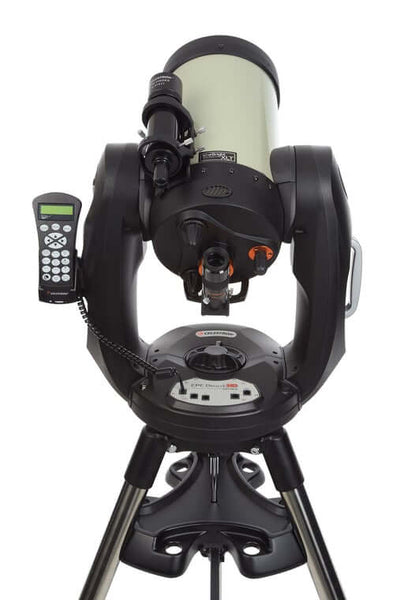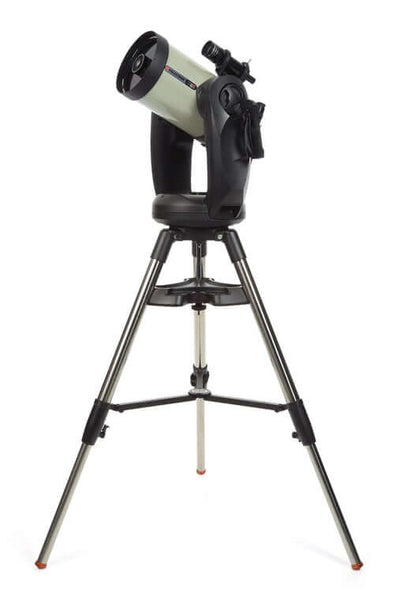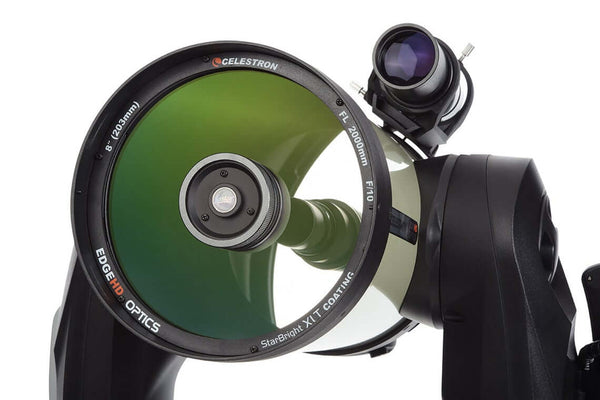 Brand: Celestron
Celestron CPC Deluxe 800 HD Computerized Telescope (11007)
11007
$3,640.00 CAD
Save: $680.00
Products in the Same Family
Free Expert Support
Why Purchase from All-Star Telescope?
Stress Free, Secure Shopping
Why we love the Celestron CPC Deluxe 800 HD Computerized Telescope (11007)
Product Description
Celestron's Best Optics
What makes the view through a CPC Deluxe HD unforgettable? It all starts with our proprietary EdgeHD optical system. This unique design corrects for both coma and field curvature, providing aberration-free images and pinpoint stars across the largest imaging sensors and all the way to the edge of the widest eyepieces.
Read more about how EdgeHD outperforms competing optical systems by downloading the EdgeHD whitepaper in the Support and Download tab.
All EdgeHD systems include our StarBright XLT coatings on all optical surfaces for brighter images and increased light transmission. Plus, every EdgeHD optical tube is Fastar compatible. Simply remove the secondary mirror and attach a third party lens assembly and you're ready to image the night sky at ultra-fast f/2.
Ultimate Versatility
Customers and reviewers have hailed the CPC Deluxe an all-around top performer, equally well suited to a star party or a university astronomy course. The beefy dual fork arm mount anchors the telescope for ultra-precise tracking, but weighs just 43 lbs and includes rugged carrying handles to make setup quick and easy.
As soon as you turn on your CPC Deluxe HD, you'll be guided through our simple SkyAlign procedure. The telescope walks you through centering any three bright objects in the eyepiece. From there, it's ready to locate and track more than 40,000 celestial objects.
To customize your experience under the stars, CPC Deluxe HD is compatible with all of Celestron's latest accessories. Add StarSense AutoAlign and your CPC will align itself in under 3 minutes. Or add the SkyQ Link 2 WiFi Module and control your telescope using a smartphone or tablet.
With this much versatility, the CPC Deluxe HD is a telescope that will serve you well for years to come, no matter what you choose to do with the hobby-including astroimaging.
Built with Imaging in Mind
Most altazimuth telescopes are designed primarily for visual use, but not the CPC Deluxe HD. It offers all the same high-end features you'll find on our German equatorial mounts. Out of the box, your CPC Deluxe can track accurately for up to 30 seconds without adding a wedge, thanks to a reengineered drive train with a 6-inch brass gear, stainless steel worm gear, and both steel and nylon ball bearings.
If you'll be doing longer exposure astrophotography, adding the HD Pro Wedge turns this telescope into an astroimager's dream setup. With a wedge, you can take advantage of the All Star Polar Alignment procedure, which has you polar aligned in just minutes. You can also train your mount to be even more accurate with Permanently Programmable Periodic Error Correction. Finally, your CPC tracks smoothly through the meridian without doing a meridian flip, enabling you to capture objects in the best part of the night sky.
What can I see with a Celestron CPC Deluxe 800 HD Computerized Telescope (11007)?
Here are some simulated views of common objects. Results with your telescope will vary with viewing conditions, obrits, equipment and more.
Jupiter with
40mm Eyepiece - 51x Magnification
(Included with This Telescope)
Jupiter with
10mm Eyepiece - 203x Magnification
Sold Separately
Jupiter with
5mm Eyepiece - 406x Magnification
Sold Separately
Moon with 40mm Eyepiece
51x Magnification
(Included with This Telescope)
Moon with 10mm Eyepiece
203x Magnification
Sold Separately
Moon with 5mm Eyepiece
406x Magnification
Sold Separately
Andromeda with 36mm Eyepiece
56x Magnification
Sold Separately
Andromeda with 40mm Eyepiece
51x Magnification
(Included with This Telescope)
Andromeda with 10mm Eyepiece
203x Magnification
Sold Separately
What's in the Box
Specifications
OPTICAL TUBE INFO:
Optical Design:
EdgeHD
Aperture:
203.2mm (8")
Focal Length:
2032mm (80")
Focal Ratio:
f/10
Focal Length of Eyepiece 1:
40mm (1.57")
Magnification of Eyepiece 1:
51x
Finderscope:
50mm Finderscope with quick release bracket
Star Diagonal:
1.25" Star Diagonal
Optical Tube:
Aluminum
Highest Useful Magnification:
480x
Lowest Useful Magnification:
29x
Limiting Stellar Magnitude:
14
Resolution (Rayleigh):
0.69 arc seconds
Resolution (Dawes):
0.57 arc seconds
Light Gathering Power (Compared to human eye):
843x
Secondary Mirror Obstruction:
64mm (2.5")
Secondary Mirror Obstruction by Diameter:
31%
Secondary Mirror Obstruction by Area:
9.77%
Optical Coatings:
Starbright XLT
Optical Tube Length:
432mm (17")
Optical Tube Diameter:
238mm (9.37")
Optical Tube Weight:
42 lbs (19.1 kg) with mount
Dovetail:
None
MOUNT INFO:
Mount Type:
Computerized Altitude-Azimuth Dual Fork Arm
Height adjustment range (includes mount and tripod):
1295.4mm - 1422.4mm (51" - 66")
Tripod leg diameter:
50.8mm (2") Stainless Steel
Mount Head Weight:
42 lbs (19.1 kg) with optical tube
Accessory Tray:
Yes
Tripod Weight:
19 lbs (8.6 kg)
Slew Speed:
9 slew speeds - max speed 5°/second
Tracking Rates:
Sidereal, Solar and Lunar
Tracking Modes:
Altazimuth, EQ North and EQ South
GPS:
Internal 16 channel
Dovetail Compatibility:
none
Number of Auxiliary Ports:
2 AUX Ports (Hand Control can use any of the AUX Ports)
Autoguide Port:
Yes
USB Port:
Yes, on hand control
Power Requirements:
12 VDC-1.5A (Tip positive)
Motor Drive:
DC servo motors
Alignment Procedures:
Sky Align, Auto Two-Star Align, Two-Star Align, Solar System Align, EQ North Align and EQ South Align
Periodic Error Correction:
Yes
Computerized Hand Control:
2 line x 18 character backlit Liquid Crystal Display, 19 LED backlit buttons, USB 2.0 Port for PC connection
NexStar+ Database:
40,000+ objects, 100 user defined programmable objects. Enhanced information on over 200 objects
Software:
Celestron Starry Night Special Edition Software and SkyPortal App
Total Telescope Kit Weight:
61 lbs (27.6 kg)
Solar Warning
Never look directly at the Sun with the naked eye or with an optic (unless you have the proper solar filter). Permanent and irreversible eye damage may result.
Never use your optic to project an image of the Sun onto any surface. Internal heat build-up can damage the optic and any accessories attached to it.
Never leave your optic unsupervised. Make sure an adult who is familiar with the correct operating procedures is with your optic at all times, especially when children are present.
Why Should You Trust All Star Telescope?
We've Made All The Mistakes
So You Don't Have To
Learn More