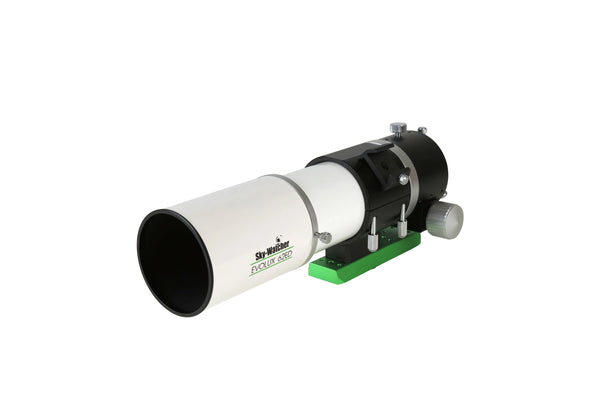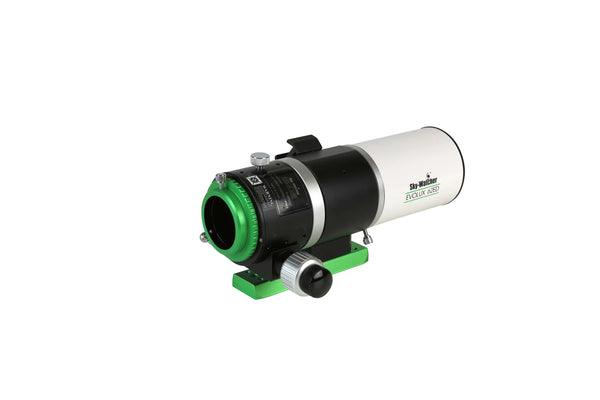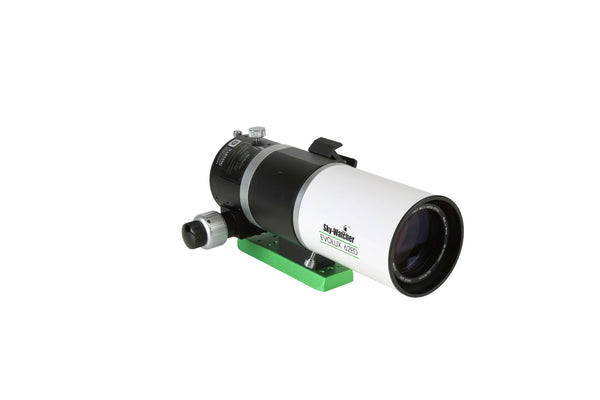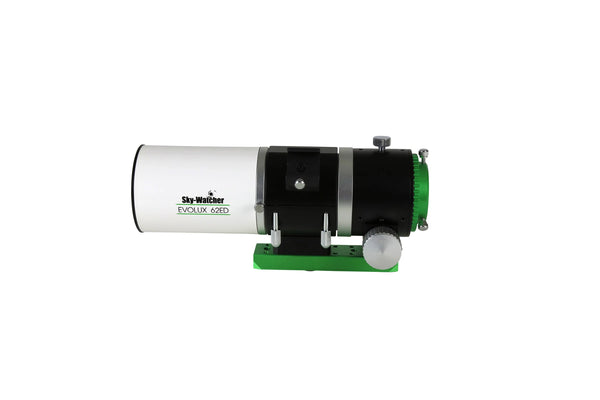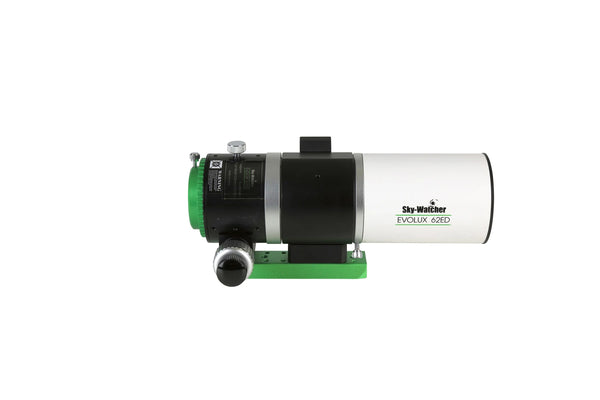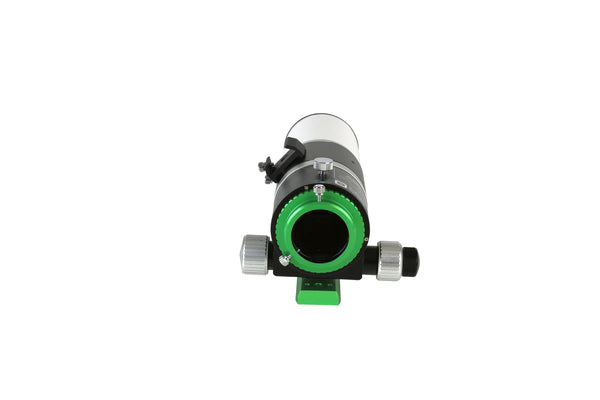 $450.00 CAD
Save: $190.00
Free Expert Support
Why Purchase from All-Star Telescope?
Stress Free, Secure Shopping
Why we love the Sky-Watcher Evolux 62ED Doublet Apo Refractor OTA (S11305)
Product Description
Building on the foundation of the popular Evostar line of refractors, Sky-Watcher has developed the all new Evolux. Designed for the savvy astrophotographer looking for a lightweight scope that still packs a punch with key upgrades in the optics and the mechanics, Evolux is a perfect fit for a widefield grab and go setup.
Sky-Watcher's Evolux apochromatic doublet refractors are the perfect blend of superior extra-low dispersion glass and affordability. The lens assembly utilizes a proprietary combination of matched lenses, delivering tack-sharp stars with charcoal-black, contrast-rich skies. All ED glass elements feature our proprietary Metallic High-Transmission Coatings (MHTC), virtually eliminating all false color while the adjustable dew shield prevents stray light and condensation from affecting your photography.
Evolux comes in a foam-lined aluminum case with a 2.4-inch dual-speed rack-and-pinion-style focuser, dual finderscope brackets, a V-style dovetail, clamshell ring, adjustable dew shield, and the optional reducer/corrector.
What can I see with a Sky-Watcher Evolux 62ED Doublet Apo Refractor OTA (S11305)?
Here are some simulated views of common objects. Results with your telescope will vary with viewing conditions, obrits, equipment and more.
Jupiter with
25mm Eyepiece - 16x Magnification
(Sold Separately)
Jupiter with
10mm Eyepiece - 40x Magnification
Sold Separately
Jupiter with
5mm Eyepiece - 80x Magnification
Sold Separately
Moon with 25mm Eyepiece
16x Magnification
(Sold Separately)
Moon with 10mm Eyepiece
40x Magnification
Sold Separately
Moon with 5mm Eyepiece
80x Magnification
Sold Separately
Andromeda with 36mm Eyepiece
11x Magnification
Sold Separately
Andromeda with 25mm Eyepiece
16x Magnification
(Sold Separately)
Andromeda with 10mm Eyepiece
40x Magnification
Sold Separately
Specifications
SKU
S11305
UPC
50234113052
Optical Info
Optical Design
Apochromatic
Lens Coatings
Fully multi-coated
Lens Design
ED Doublet (Air Spaced)
Glass Type
ED Doublet
Optical Quality
Diffraction limited (1/4 wave)
Collimatable Cell
No
Primary Aperture (mm)
62
F/Ratio
6.45
Focal Length (mm)
400
Observational Info
Dawes Limit
1.87
Rayleigh Limit
2.25
Limiting Mag.
11.44
Minimum Magnification
9x
Maximum Magnification
122x
Mechanical Specifications
Focuser
2.4" Dual Speed (11:1) Rack & Pinion
Focuser: Rotatable?
No
Compression Ring
Yes
Retractable dew shield
Yes
OTA material
Aluminum
OTA Length (Retract/Ext.)
11.5"/14.5"
Dew Shield diameter (mm)
90mm
OTA Diameter
80mm
OTA Weight (with accessories)
5.5 lbs
Mounting rings
Yes
Dovetail type
V-style dovetail
Dovetail length
6"
Optional Corrector/Reducer Specifications
Corrector Name
Evolux 62ED 0.9x reducer kit
Optional Corrector/Reducer SKU
S20206
Reduction (reducer only)
0.9x
Corrector - insertable or thread-on
Thread-on
Corrector thread size
M56x1 female/M48 male
Corrector back focus
55mm
Corrector illuminated field
30mm
Includes one ED element
Yes
F/Ratio with reducer installed
5.8
Focal Length with reducer installed
360mm
Corrector adapter needed?
Yes
Corrector allow for 2" filters?
No (Adapter included with reducer)
Accessories
Eyepieces
No
Diagonal
No
Mounting Hardware
Clamshell/Dovetail
Camera Adapter
No
Flattener or Corrector
No
Collimation eyepiece
No
Finder
No
Case
Yes
Case Dimensions
14.25" x 9.5" x 6.5"
Shipping Weight
11 lbs.
Shipping Dimensions
18" x 13" x 10"
Amazing economy in a knock around scope
I picked this up recently because I wanted a scope of this size range.
It is optically pleasing. It isn't perfect at all, but, it doesn't have any serious imperfections in terms of significant distracting chromatic aberrations.
It is solidly built, bit that comes at the cost of weight. ITS HEAVY, and that is one reason for so few stars. I was going to use this as a guidescope pair on a az-eq 5. What I realize is that this won't work.. it's too heavy. The parts are heavier than they need to be, but that's the price of economy.
I have been more than satisfied with its performance both visually and photographically. It's a nice scope to throw on a mount and take a quick look or walk. It's also cheap enough, it's not something to worry about excessively.
I would buy it again.
This little scope has the finest optics i have ever seen. Zero chromaticy !!!
Worth every penny.
Why Should You Trust All Star Telescope?
We've Made All The Mistakes
So You Don't Have To
Learn More